Here in the Northwest Corner we are fortunate to have a myriad of things to do year-round. Even during the cold, dark days of winter Litchfield County offers up plenty of activities for everyone. Whether you're a winter sport enthusiast or prefer to stay indoors on blustery days, check out this list for inspiration.
1. Don your skis and goggles and hit the slopes of Mohawk Mountain in Cornwall for some alpine skiing. They now offer tubing as well.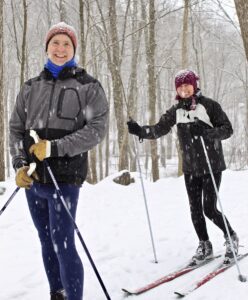 2. Prefer cross country skiing or snowshoeing instead? White Memorial Conservation Center in Litchfield, Macedonia State Park in Kent, and Flanders Nature Center in Woodbury offer many trail options for both.
3. Go ice fishing at one of the many lakes or ponds. (Bantam Lake, Mount Tom Pond, Burr Pond and Saltwater Pond, Mohawk Pond, East Twin Lake, etc.) But please read about ice safety before you go.
4.  See a theatrical production at the Warner Theatre in Torrington.
5. Visit the Sharon Audubon Society in Sharon where you can explore their visitor's center, learn about their wildlife rehabilitation clinic, and participate in programs and events.
6. Curl up with a good read at one of Litchfield County's independent indie bookstores like House of Books in Kent or Hickory Stick Bookshop in Washington.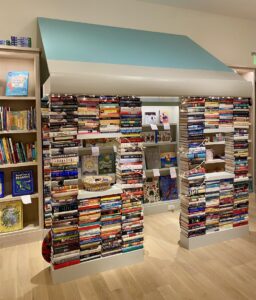 7. Visit the Railroad Museum of New England in Thomaston to learn about the region's rich rail history.
8. Cozy up with a warm hot chocolate and a delicious pastry at The Smithy Cafe in New Preston, Marty's Cafe in Washington Depot, or Arethusa A Mano in Bantam.
9. Sample some delicious hard cider and purchase some local food stuffs at Hogan's Cider Mill in Harwinton, which has been making cider since 1912. The second floor of their barn is also filled with quirky antiques to explore (not for purchase), including a phone booth from the 1800s.
10. Go for a Holiday themed train ride with the Railroad Museum of New England and pretend you're on the Polar Express.
11. Book yourself a spa treatment at one of the Northwest Corner's full-service spas like The Spa at Litchfield Hills in Litchfield, The Winvian Farm Spa in Morris, Byrde + the b or The Well at Mayflower Inn in Washington.
12. Taste the local liquor and wine in the tap rooms of area vineyards Walker Road Vineyards in Woodbury and Hopkins Vineyard in Warren, and the tasting rooms at Litchfield Distillery and Mine Hill Distillery.
13. Take the time to meander through lifestyle and apparel shops J. Seitz, Plain Goods, WKND in Warren, George Home and Favorite in Washington, Terston in Kent, and Oliphant, R. Derwin, Milton Market, and Blueprint CT Kitchen in Litchfield.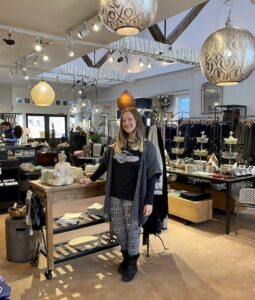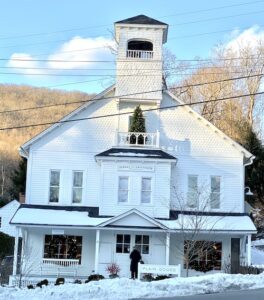 14. Scavenge for vintage finds at The Housatonic Trading Company in Bantam, or Maison St. Germain in Woodbury.
15. Learn about Native American life in the Washington area during the 16th century at The Institute for American Indian Studies where you can visit a life-size replica of an Algonquin village with wigwams and longhouses constructed using traditional techniques. Try out their award-winning Wigwam Escape room.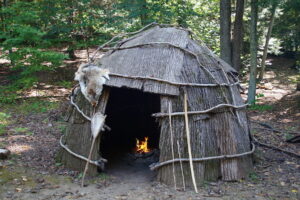 16. Work on your fitness by exercising indoors at gyms like New Milford Fitness and Aquatics Club in New Milford, Studio Lakeville in Lakeville, W. Rhythm Fitness & Wellness Studio in Kent, or Litchfield Hills Fitness in Litchfield.
17. Perhaps yoga is more your thing when it comes to indoor winter exercise? Try a class at EVOLVE Yoga in New Milford, or Charym Yoga in Litchfield.
18. Stay warm and catch a show at the Infinity Music Hall in Norfolk.
19. Enjoy some down-home country comfort food at a barbecue restaurant like When Pigs Fly in Sharon or Wood's Pit BBQ in Bantam.
20. Take part in Twin Star's events in New Milford.
21. Check out your local library to find out what programs, events, and talks they are offering this winter.
22. Visit one of Litchfield County's many art galleries. Check out the art galleries housed in the Kent Barns in Kent, KMR Arts in Washington, Jen Abbott Tillou in Torrington, and The Gallery in Woodbury.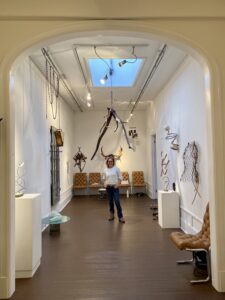 23. Go ice fishing at a local lake or pond, but please read about ice safety before you go.
24. Explore locally made ceramics at Bantam Tileworks, Guy Wolf Pottery, and Dumais Inc. in Bantam, Jane Herold Pottery in West Cornwall, and Cornwall Bridge Pottery in Cornwall.
25. Peruse Whiting Mills in Winsted. These old former mill buildings now house an eclectic mix of artists, craftspeople, retail shops, and small manufacturing companies who all offer their wares for sale.
26. Gift yourself personal training sessions with Rika Keck of NY Integrated Health in Washington Depot or Suzanne Blaicher of Fit Coach in the Hills.
27. Connect with nature and visit a local nature center such as the Pratt Nature Center in New Milford, the Flanders Nature Center in Woodbury, or the White Memorial Conservation Center in Litchfield.
28. Go for a walk at a local preserve, but be cautious of icy conditions!
29. Visit the covered bridge in West Cornwall—breathtaking in every season.
30. Sip brews at Housatonic River Brewing, Kent Falls Brewing in Kent, Woodbury Brewing in Woodbury, or Clocktown Brewing in Thomaston.
Originally written by Elise Sadtler – updated 2/6/23