The Towns
At a Glance and On Their Own
Welcome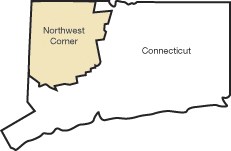 Known as much for its fall splendor than as a "destination to get away, go into hermit mode," the towns that comprise the Northwest corner of Connecticut are anything but quiet. At least upon further inspection. While you're welcome to take things easy, we hope to provide a bit of incentive for looking around a bit, peeking around the corner, so to speak, to find something unexpected. But we understand if you find yourself pacified by the clean air, a blanket of stars, and the absence of urban cacophony. For the rest of us, we've got this down to a science – a social science – where the latest opening is a celebration of family news mixed with a bit of friendly gossip and the annual rummage sale provides a good excuse to snag a friend's sweater, all legal and ladylike, of course.
The Northwest Corner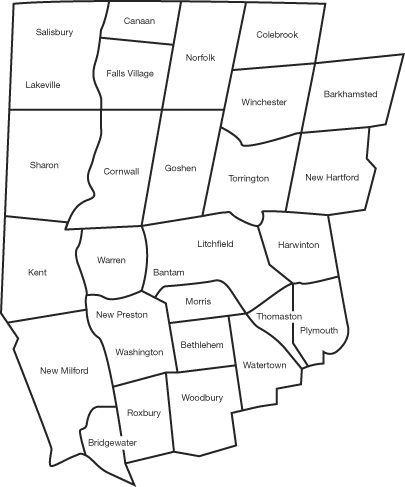 View By Town To See All Of Its Listings
Northwest Corner Facts
Also called Litchfield County
Known as The Hidden Corner or the Secret Corner
1,000-square-mile enclave tucked into the foothills of the Berkshire Mountains
Situated in Southern New England
A collection of 26 small towns, and a few independent villages
Uncrowded, unspoiled
A second home for many New Yorkers
Home to 150,000 residents
Litchfield County has the lowest population density of any county in Connecticut and is geographically the state's largest county.
Borders the states of New York and Massachusetts
Less than two hours' drive northeast of New York City
100 miles from New York City and 155 miles from Boston
Close to Metro-North's Harlem-Valley train route to Grand Central Station in NYC
25 miles from end to end
Eastern US Time Zone, 5 hours behind Greenwich Mean Time and 6 hours behind Western European time
Two area codes: 860 and 203
Tipping is customary in Connecticut; for very good service a 15% to 20% tip is appropriate.
Has 4 distinct seasons
Has more state parks and public lands than any other area in Southern New England
Mohawk Mountain is the site of Connecticut's largest ski area
NEIGHBORING TOWNS
The NW corner offers plenty to do and see, but we also enjoy a pleasant Sunday ride or day-trip, especially when it entails driving a mile outside the county border. Here are a handful of nearby villages and towns worth a detour.
Amenia, NY
Brimfield, MA
Great Barrington, MA
Lenox, MA
Middlebury, CT
Millerton, NY
New Britain, CT
North Adams, MA
Northampton, MA
Pine Plains, NY
Pittsfield, MA
Rhinebeck, NY
Sheffield, MA
Sherman, CT
Southbury, CT
Stockbridge, MA
Wassaic, NY
Check out our DAY TRIPS section for listings in these towns