For those of us lucky enough to call these 945 hydrangea-filled sprawling square miles home, consider Litchfield Magazine a place to dream up weekend plans, learn about your neighbors, and find things to do in the area. If you haven't been to this verdant area of the world yet, or it has been a while, we aim to make carefully selected suggestions of the mustn't miss.
"But what do you DO up there?"
We're always surprised to have this question lobbed our way.
In this case, the 'up there' refers to Litchfield County in the Northwest Corner of Connecticut and its surroundings. It's a picture-book New England landscape flush with undulating hills, dense forests, and more than a few lakes and streams. The 'do' is a lot. The area is not only rich with natural resources but also culinary pleasures, cultural pursuits, and shopping options from tag sales to high-end boutiques.
Behind sliding barn doors of small organic farms and lively distorted glass windows of stately homes, you might meet an artisanal cheese maker or novelist grasping for just the right word. This scenic, quiet place seems to attract the contemplative creative type. That's not to say we don't have our characters.
Open spaces are largely protected, along with the distinctive charm of town greens and villages. Yankee pride or simply an appreciation for scenic vistas, wildlife habitation, and history, the beauty and heritage of Litchfield County is well preserved.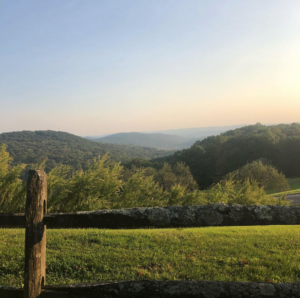 A land of four seasons, yes the fall foliage is spectacular with an equally ablaze gallery scene, but spring is stunningly gorgeous while winter affords ample outdoor activities and a valid excuse to recline near a fire. And in summer? Well, summers are special. Families convene for backyard cookouts. There are contra dances and early morning estate sale excursions, ice cream shacks, and canoe rides around glacial lakes.
The Litchfield Magazine Team
Mary Beth Lawlor is the Publisher of Happening in the Hills LLC and Editor-in-Chief of Litchfield Magazine, a high-quality regional lifestyle magazine showcasing the best of Litchfield County.
Ten years ago, after moving from New York City, Mary Beth became the founding editor of Mommy Poppins CT, a website sharing fun things to do with kids in CT. She also became involved with many of the area nonprofits, helping them with their communications, marketing, and their largest fundraising events. In 2017 she was hired by TownVibe Media as Editor of Litchfield Magazine. In 2019, she purchased the Happening in the Hills website. In March of 2020 she purchased Litchfield Magazine and is now the Publisher and Editor-in-Chief.
Mary Beth connects people in the community through her work and also just for fun. She started a business women's networking group with her co-founder, Helen Waldron, in June of 2019. In her spare time Mary Beth loves to hike, meditate, browse local boutiques, work in the garden, and spend time with her family and friends.
Jill Lawlor is the Advertising Sales Executive for Litchfield Magazine and media, and has been helping clients find the right advertising solutions for almost a decade. With over 30 years experience in print sales, marketing, and account management, she works with clients to develop the best media plan to drive their business growth and success. In her spare time Jill loves to hike/explore the great outdoors, enjoy delicious food (especially Italian), and spend time with friends, family, and her Maltipoo Rustie.
Our Team is out there every day, compiling information, talking to folks, and keeping you clued in to what's happening in Litchfield County. Our thanks to Vanessa Hammond, Allie Steers, Deb Hayn, Sharon Peck, Steve Lombardi, Lisa Berte, Jill Lawlor, Lynn Higgins, numerous writers, photographers, and wonderful interns, for all their talent, expertise, and good work.
Our Writers: Charles Dubow, Elizabeth Maker, Clementina Verge, Hannah Van Sickle, John Torsiello, Joseph Montebello, Kerri Arsenault, Tovah Martin.
Don't miss a beat and subscribe to our email list and magazine. Make sure to follow our Facebook and Instagram pages as well!
Color drawings were created by Jacqueline Schmidt.
Happening in the Hills merged with Litchfield Magazine in March 2020. Happening in the Hills website was originally created by Teresa Fernandez.