By Linda Tuccio-Koonz
Ken and Joyce Wood love the wild beauty of a winter snowstorm—every branch of every tree coated in sparkling splendor. Then, when the fields and wooded trails of their Terryville farm are blanketed in white, at least six to eight inches deep, it's time to harness the horses for sleigh rides.
"People hear the words 'sleigh ride' and seem to just light up and think it's a romantic thing, and it is," says Ken, who grew up on Wood Acres Farm, where elegant Percherons make the magic happen. "It's a winter wonderland out there."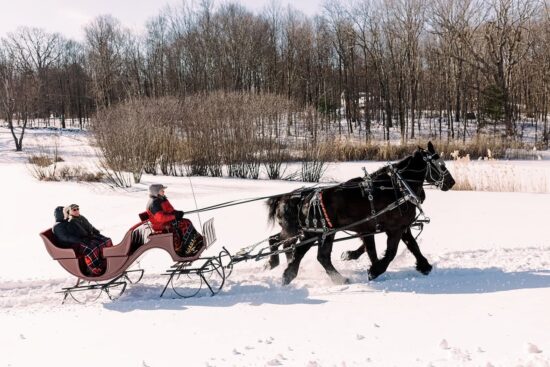 The 25-acre property—like a Currier and Ives scene, with two ponds—has been in his family for five generations. Ken, a farrier, began running sleigh rides in 1972; they do more than 200 in a good season.
Joyce, who is not a skier (she laughs at the idea of it), says winter can be challenging for outdoor fun, but sleigh rides are enjoyable for all ages. Visitors love the experience because it's a chance to "slow down, get off your phone, and enjoy nature."
Families, large groups, and couples reserve rides—some celebrate birthdays or other occasions. There's even been wedding proposals; Victorian-style sleighs set the mood.
When couples come, Joyce invites them inside the cozy farmhouse that serves as the office for their business (Wood Acres Farm is also a wedding venue). Music plays and candles glow.
"I give them blankets (warmed in a dryer) as they go off on their ride," says Joyce, who knows many of the farm's visitors cherish this old-fashioned experience as a bucket list item.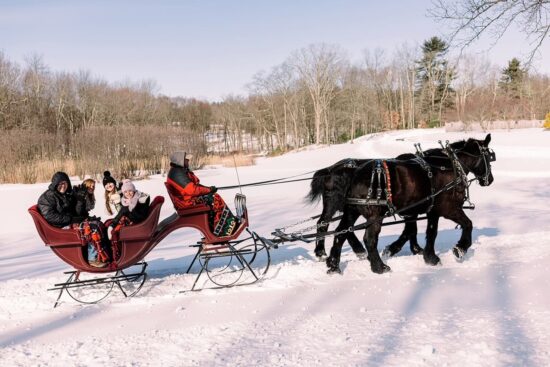 Afterward, she serves cookies and hot cocoa. "I love watching them get warmed up and listening to their stories about going off into the woods, especially after a freshly fallen snow."
If you call for a reservation, you'll likely reach longtime office manager, Taylor. She'll answer your questions about everything from what to wear—dress warmly; they recommend snowsuits for kids—to how long you'll be out—figure 35 to 40 minutes.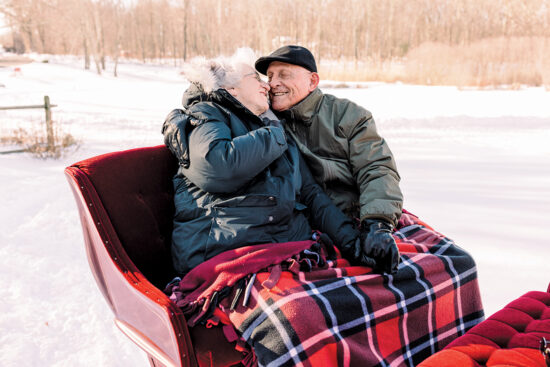 "There's absolutely something magical about traveling via horse and carriage," Taylor says. "There's a quietness to it. You feel like you're floating on the snow. It feels like you're going back in time, and you get those rosy cheeks…"
Taylor especially enjoys when couples who were married on the farm return for sleigh rides with their growing families. "We get to see their kiddos, and how their love story is continuing."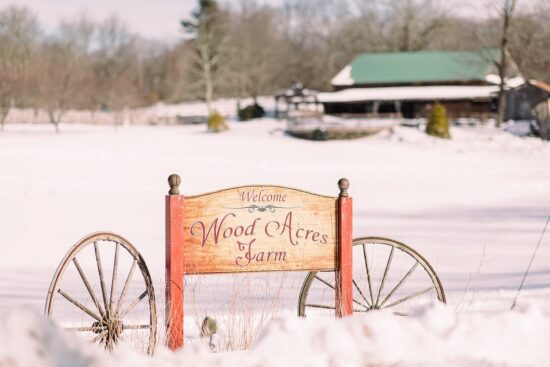 Terryville residents Fred Messenger and his wife, Exelda (friends call her Zel), say they'll never forget their sleigh ride. Fred gave Zel a certificate for her birthday. She'd wanted to go since she was a child, even more after seeing such classics as White Christmas and Dr. Zhivago, plus Hallmark creations.
"He surprised me; I never even realized there was a place (in Terryville) that did this with beautiful carriages and majestic horses. They put a blanket over us and we were one with nature."
Ken says he's always loved working with horses, and recently found himself with a great side gig. When not taking the reins at Wood Acres Farm, where carriage and wagon rides are always available, he drives horse-drawn carriages in HBO's historical drama, The Gilded Age.
Set in 1882, this captivating series follows the lives of New York's elite, including an aristocrat played by Connecticut's Christine Baranski. Filming for season two began in May. Ask Ken about it, or anything involving the farm, if you visit for a sleigh ride. He's happy to share. —woodacresfarm.com