Restaurateur John Bourdeau has opened a new wine bar called The Owl in the historic village of New Preston. It has quickly become the talk of the town.
New Preston Village has always been a popular destination with its cool shops and historic beauty. When Oliva Café left the area and reopened in Bethlehem, it was a loss for the community. Architect Harold Tittman purchased the building, gave it some much-needed repairs, and moved his architectural firm upstairs. There were many rumors on what he was going to do with the main floor, but none of them materialized. Now we have a reason to be excited. A new wine bar has opened there and the word on the street is that it is the place to be.
John Bourdeau is no stranger to the food and wine industry. He is a restaurateur/chef with extensive experience in food and wines. A local resident of Woodbury, he owns The Main Street Grill in Watertown and co-owns Highland Brass Co. in Waterbury. See our past article on his restaurant HERE.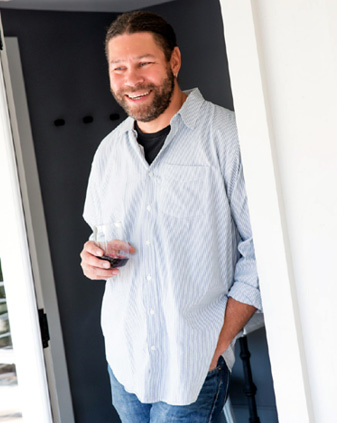 The Owl is not a large space, seating about 20 people inside and another 20 outside on the patio, but the intimate atmosphere is inviting and the wood burning fireplace provides another level of warmth. With sounds of jazz coming from the speakers, blending in with laughter and conversation, the vibe is cool at The Owl.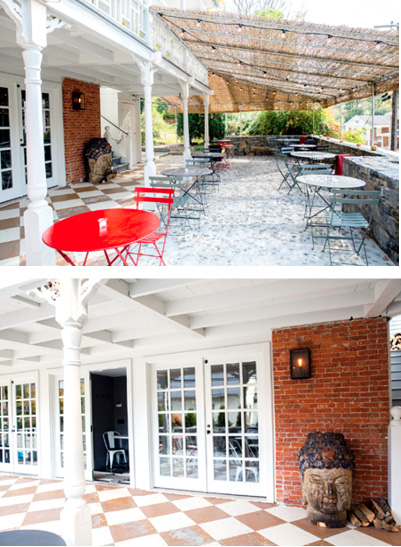 Washington residents are thrilled to have another place to go to after a movie, after work, or a concert. The new wine bar is a place to gather with friends, enjoy a glass of wine or two, and nibble on cheese and crackers without having a huge meal. With John Bourdeau at the helm, The Owl will surely be a success. We spoke with John during a recent visit. Here's more from the man himself: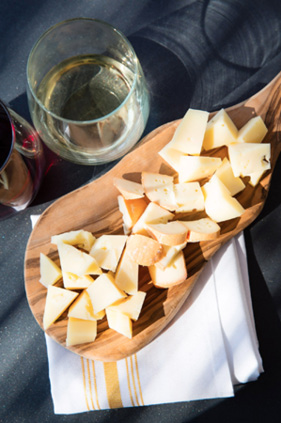 You already have a fabulous restaurant in Watertown and a cocktail bar in Waterbury, what made you decide to open a wine bar in New Preston?
After Harold Tittman purchased the building that was home to Oliva, many people were interested in whether he would be putting some kind of restaurant back in the building somewhere. After reaching out to me about the possibilities for the space we decided that a wine bar would be a good fit for the building and for New Preston village.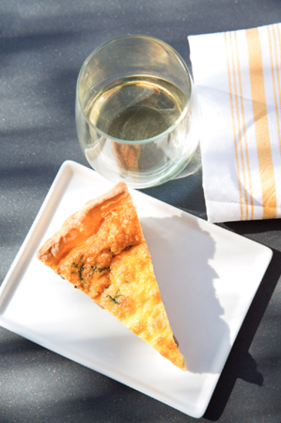 How many wines will you be offering at The Owl?
We are starting with 10 reds, 10 whites, and 4 sparkling wines, all available by the glass and bottle, with a reserve list of special offerings. With Dimitri Zaharidas on board as manager, he will also be putting together some wine, vermouth and sherry cocktails.
How are your wines priced?
Wines by glass run from about $9-$16 with some reserve wines occasionally being offered in the $20 plus range.
Do you have a favorite wine?
My favorite wine on the list right now is the Blu Franc by Jed Steele in California, it's an Austrian grape formerly known as Blaufrankisch or Limburger. It's a dark red wine with lots of tannin but very nice fruit.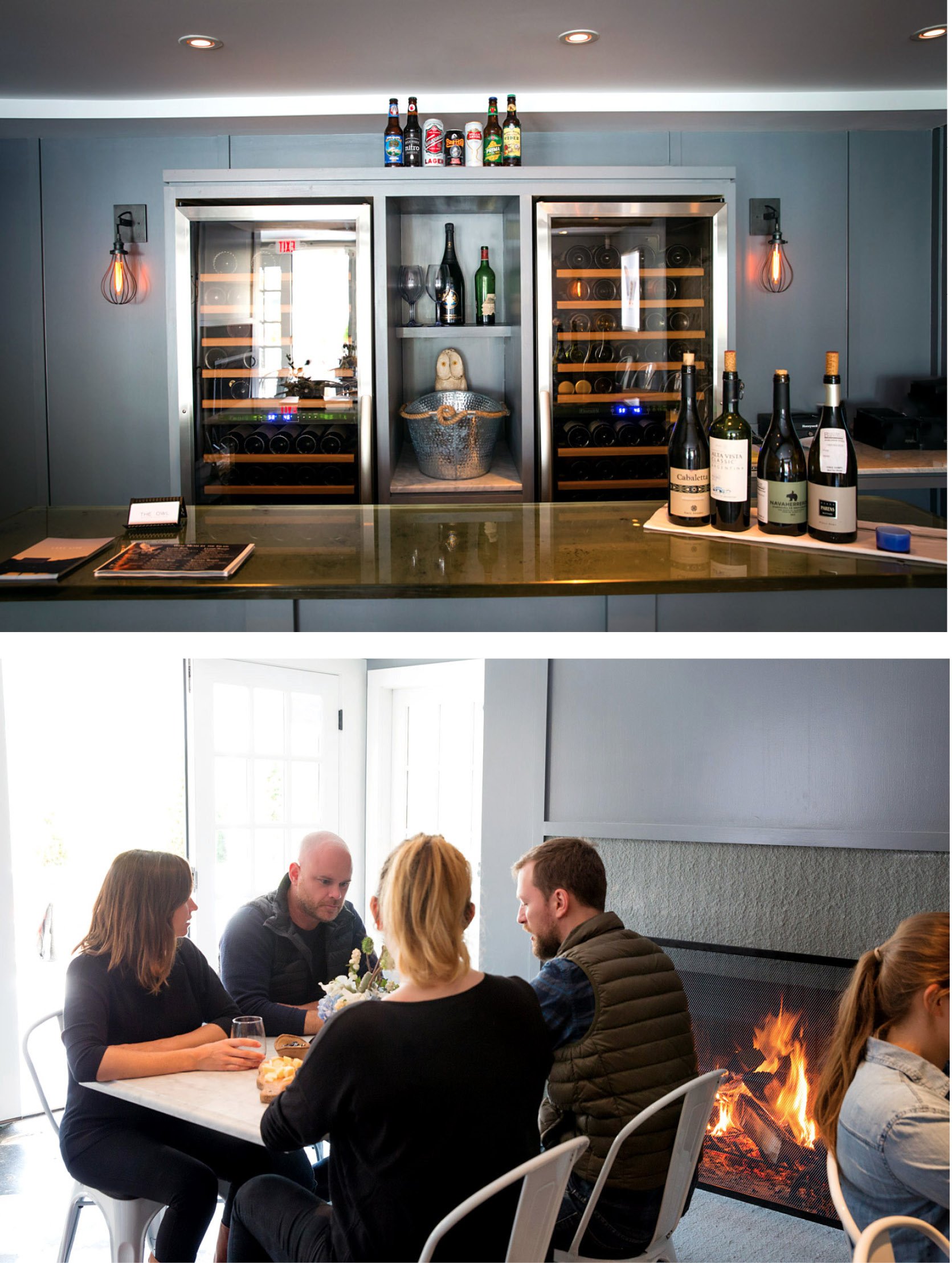 The wine bar feels very hip, modern, and casual. What was your approach to creating the look?
The space is very small inside, so keeping it sparse added to the modern feel, with the help of Harold and his great sense of space and design we put together a cozy, intimate interior that maximizes our seating. The large porch and patio give it a very Euro feeling that lends itself to long conversations while enjoying our wine and noshing on the snacks we offer.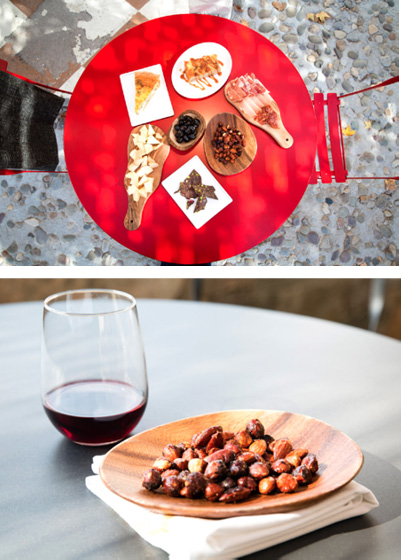 Speaking of snacks, what kind of nibbles do you have?
We serve spiced nuts, citrus rosemary olives, cheese and charcuterie as well as seasonal soups, quiche and panini. With very limited kitchen space, our menu will always be a small one with snacks to compliment our wines and craft beers.
What kind of music can we expect to hear while sipping our wine?
We usually start the night with some cool jazz like Coltrane, Thelonius Monk or Esperanza Spaulding and as the night moves on we may move in on Al green, Motown or even the Blues direction, depending on our moods and the feeling in the room.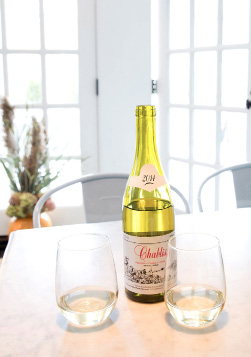 Will there be special events at The Owl?
We will plan monthly events like wine tastings and pairing classes, as well as some summer BBQs on the lawn over the summer. On Thursday, the 17th of November we are a having Beaujolais Nouveau party celebrating the release of this year's Beaujolais, a delicious young wine made with the Gamay grape and traditionally a great wine for Thanksgiving.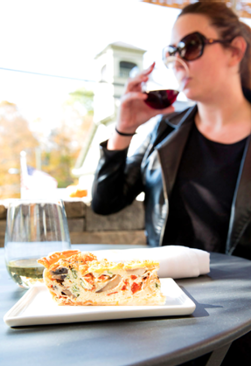 How has the wine bar been received in the community?
So far it seems the local community is very excited about the opening of The Owl, many of them stopping in just to check out the space and see exactly what we are doing.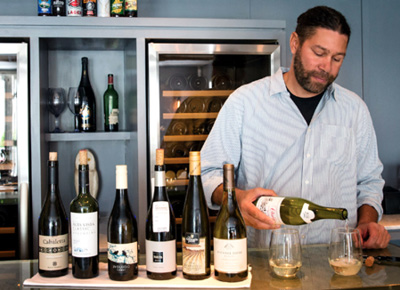 Hours: Wednesday – Friday: 4 – 9 pm; Saturday and Sunday: 1 – 9 pm. However, the wine bar will stay open if customers are still there.  
The Owl
18 East Shore Road
New Preston
860-619-0585
www.owlnewpreston.com