In September Washington residents came together to honor Judy Black for her lasting legacy towards the creation of The Judy Black Memorial Park and Gardens.
"I wish to create a garden, a place to relax,
to dream, to experience the unfolding of nature.
I wish to create a park, a place for friends, neighbors,
and children to gather, to explore, to play, to further
the spirit of the unique, vibrant and beautiful
community of Washington."
– Judy Black (1948 – 2015), A lover of flowers
  and gardens, nature and art
This was Judy Black's legacy statement. She had a vision and she threw herself into making it a reality. Her role in the transformation of the abandoned Texaco gas station in Washington Depot into an inviting community space was in developing the gardens. On a warm Sunday afternoon in September of this year, hundreds of residents gathered in the park to honor Judy with a dedication ceremony. The presentation touched the hearts of those who attended. To understand how this beautiful park changed the way the town's residents engage in their community, we must go back to the beginning.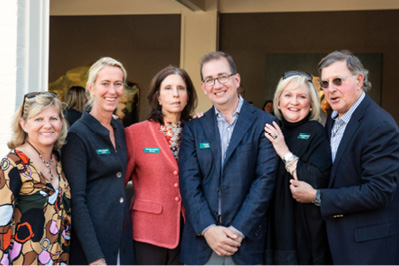 The Washington Park Foundation was created in 2013 to find a solution to the eyesore in the center of Washington Depot. The former Texaco gas station was in a prime location yet sat unused for years. As Douglas Day, the Foundation's President put it, the first four "bold originals" were Barbara Bouyea, Peter Talbot, Michael Ackerman, and Denise Trevenen. They had a dream and were willing to invest in the future of the space.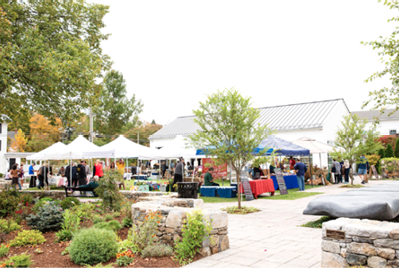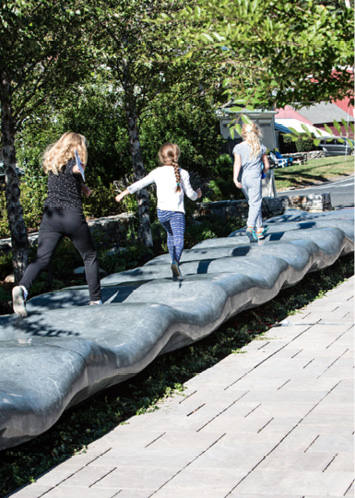 Soon after the foundation was created, there were two Leadership Gifts, one from Rita and Gus Hauser, (they were the first gift givers) followed by a gift from Edwin and Patsy Mathews. Forty more people gave donations in 2013. And in the winter of 2014/2015, Michael Leans worked with the Park Foundation for a year. There was also financial support from Mark and Lauren Booth and the Ingrassia family. A $675,000 capital campaign was launched in May of 2015. Almost 100 local families and businesses stepped up to help.
One day, out of the blue, Doug received a call from Carolyn Setlow to introduce her friend Judy Black, who was terminally ill with cancer and wanted to give a gift of lasting beauty to the town she loved.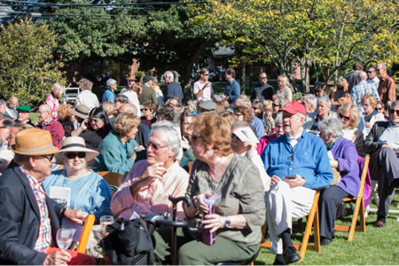 Judy Black grew up in New York City and Westport, Connecticut. Her mother was an artist, a water-colorist who loved nature. Judy's  childhood was spent exploring nature and art with her brother Leon. They grew up in a home that had many visitors, both local and international, and it was a household that combined family, business, gardens, and art. They loved to travel.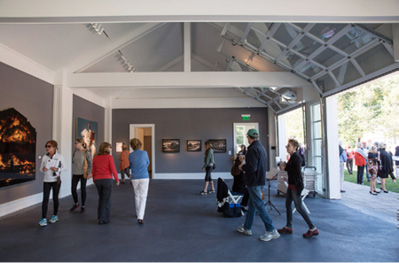 Upon graduating college, Judy Black became an early childhood teacher. After earning an MBA from Columbia, her career as a business woman led her to the internet and cable, and she introduced the potential applications to markets and large audiences around the globe. As one of the early new media strategists, Judy led various advertising industry committees, and ultimately became chairperson of the New Technologies Committee of the American Association of Advertising Agencies. Her business travels allowed her to follow her passions, her curiosity, and search for beauty.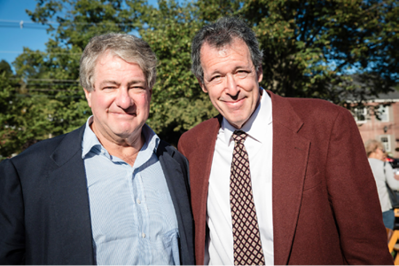 When Judy Black and her husband of 35 years, Richard Schlosberg moved to Connecticut in 1983, they found a welcome embrace in the town of Washington. Judy began lasting friendships and engaged with the community in many ways. She became the head of the Greater Washington Coalition of Jewish Life. She was involved in the interfaith community and found inspiration from the two pastors up on the hill, at the Congregational Church and at the Episcapol Church. She saw a sense of generosity in her friends and neighbors and was inspired by it. "She found the beautiful spirit of our town."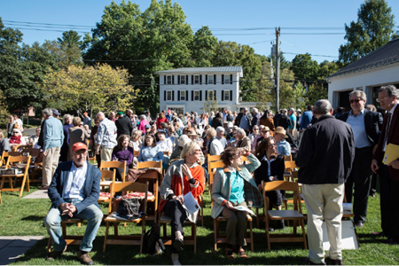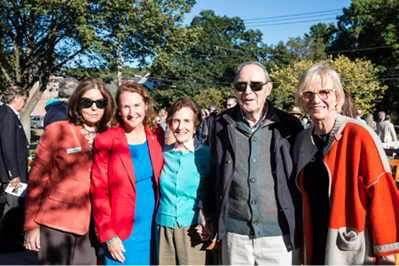 "Judy was a serious person and she took flowers seriously. She believed flowers are an integral part of our existance," explained her husband Richard. "Daffodils were among her favorite flowers."  This passion was manifest in her efforts to save the native habitats in Florida, her involvement in the Wewaka Brook Preserve off of Keeler Road in Bridgewater, and finally, in her legacy with the Park and Garden in Washington Depot.

Judy was warm, engaging, bright, funny, and totally without pretense. She was both a dreamer and a pragmatist. On October 25, 2015, her energy fading, but her resolve unwavering, she signed over her vision in the form of an agreement and she asked Carolyn to be her Successor Trustee.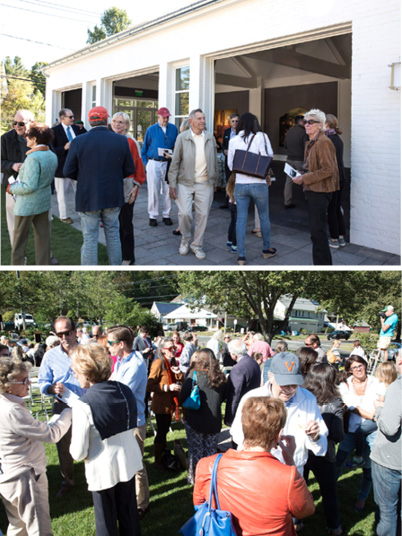 Today, the Board of Trustees of the Washington Park Foundation are: Douglas Day, President; Denise Trevenen, Vice President; Barbara Bouyea, Vincent Casey, Ronald Garfunkel, Kathy Gollow, Hilary Houldin, and Carolyn Setlow. They are strong leaders within the community and have a collective history of successful achievements that have impacted the town in a positive way.
Work began in the fall of 2014. The Saturday Farmers Market became a huge success, and events were held inside the building. A 45-foot sculpture made of polished granite called Currents was gifted by talented, local artist Mark Mennin, who carved it by hand. The sculpture was conceived to be used by the public as a place to sit and converse, and it was created to encourage people to engage with art. Over time people were drawn to the park and it came to life.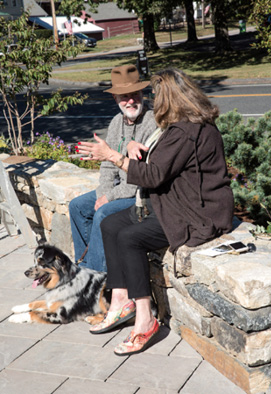 In keeping with Judy Black's vision to use all local professionals and vendors, she hired Richard Rosiello of Meadowbrook Gardens to do the landscaping. She wanted the garden to be a full-season garden and became involved in selecting the plants and flowers. The hardscaping, including those lovely stone walls, was provided by Justin Moore. Shawn Woodward did the work on the actual building, an inviting space with its clean lines, vaulted ceiling, and understated beauty. Darryl Wright has provided all of the electrical work, an in-kind gift over a three-year period.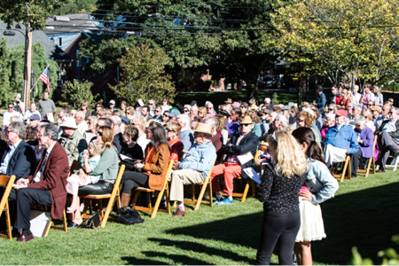 In September of 2016, the town of Washington came together to dedicate the new community building and park. They honored Judy Black for her generous donation. Welcoming remarks were given by Douglas Day, President of the Washington Park Foundation Board of Trustees. Richard Schlosberg spoke of Judy's life as a very thoughtful, patient person, a listener, who was caring to her friends. Judy's brother, Leon, who enabled her dreams was there. Congresswoman Elizabeth Esty, representing the 5th Congressional District of Connecticut spoke as well and closing remarks were by Carolyn Setlow, Judy's good friend. Music was performed by Mary Constanza, who placed the cello. Drinks and delicious mini apps were prepared by Executive Cuisine.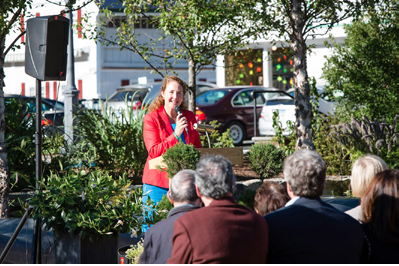 The opening speaker that day in September was Douglas Day, the foundation's President. He thanked Judy's family, and all those who have been involved since 2013. Congresswoman Elizabeth Estey spoke on the day of dedication of the warm and loving community she found in Washington, of the residents' generosity, spirit, optimism, resolve, and commitment. The Park was created for the public to enjoy and for children, who could sit, touch and play on the sculpture. She was also impressed with the fact that the Park Foundation had committed the financial support to maintain and secure the Park for future generations. That is often overlooked in other towns. "The Town of Washington represents the best of New England Neighborliness," the Congresswoman said. "Hats off to all of you." Indeed, and so Judy Black's lasting legacy continues.