Landscape architects, Dirk and Sam Sabin (a father/son team), say that winter is the time to assess your garden's form, enjoy its winter beauties, and plan for the soft warm ground of May.
The job of the landscape architect is an ancient art, going back to the time of the Great Pyramids and the cultivation of fields in the Fertile Crescent. Also known as the Cradle of Civilization, this area saw the development of some of the earliest human civilizations, which flourished thanks to the water supplies and agricultural resources available. Technological advances made in the region include the development of writing, glass, the wheel, and the use of irrigation. Today, masons mix cement and lay a wisely-selected stone, laborers rake and dig, and plantsmen install plants for a variety of uses—much as it was back then. Though machines ease the work, they have not fundamentally altered the  work of landscape architects since ancient times.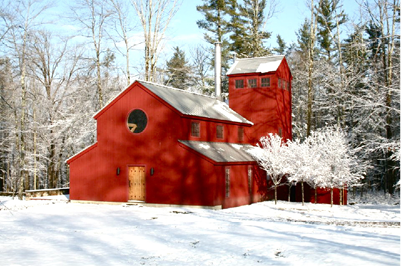 Dirk Sabin and his son, Sam Sabin, operate Dirk Sabin Ltd., a firm that specializes in Landscape Architecture & Environmental Planning, in Washington. They are acutely aware of their role and its deep roots to the past. "Our mission is to join with our clients in the exploration of time, history, nature and architecture that makes a landscape the transcendent and transporting thing it can be."
Before they arrive at a design concept, they look at each site and landscape as a unique entity, made up of many individual elements that are combined, like music, to create an overall feeling. During the design conversation with their clients, each element of the total composition is discussed in great detail. Only then, do they pursue an approach for the landscape.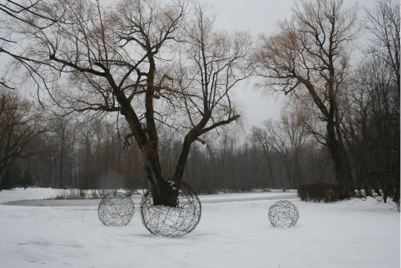 Plants, soil, rock, wildlife, the movement of air, climate and light are some of the elements that the Sabins work with. The design and construction of a landscape is a process that is both fascinating and enriching to behold. "Unlike much of the static, man-made world that breaks down over time, landscapes assume a life of their own, growing more robust with the passage of time."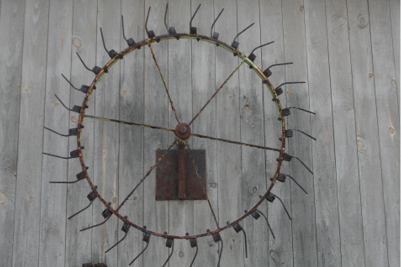 The Sabins create all types of landscapes, from residential estates to swimming pools, multi-family housing and commercial properties. Though all are as unique as their individual clients, sites or uses, each must be planned to be beautiful, practical, and responsive to budgets, land use regulations and site conditions.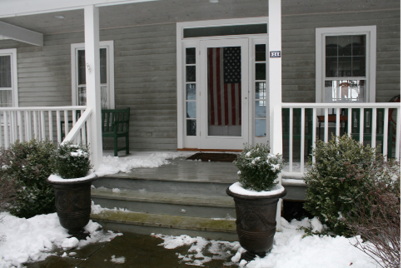 With a degree in Landscape Architecture and Environmental Planning from Utah State University and further studies in Bioengineering, Concrete, Soils Science, and Physical Oceanography, Dirk Sabin's career is rich and varied—from landscape construction in Utah and Vermont, to working for a pool company, and on to working in many landscape architectural and engineering firms in Connecticut. For years, he was involved locally with the Planning Commission, The Inland Wetlands Commission, and the Conservation Commission of the Town of Washington. He has presented many lectures on stone, water, color, and sculpture in the landscape. His son, Sam Sabin, joined him as a partner at the firm in 2009. The father and son team took the time to answer some of our questions:
Dirk, how did you become interested in landscape architecture? Were either of your parents gardeners?
DS: I was always interested in nature as a kid. I was raised in a house my father designed at the base of the Wasatch Mountain Range in Ogden, Utah with a big view that extended out to western sunsets over the Great Salt Lake. Out the backdoor, we had literally thousands of acres of sand dunes, sagebrush flats, river valley and really extreme mountains to roam around—aside from the neighborhoods fronting the range.
My first memory of planting is sowing seeds of radishes with my mom. They come up quick, and as a kid with limited attention span, its a great first introduction to the wonders of planting.
My father was a structural engineer and architect, and when I was young, I told him I wanted to be an architect or a veterinarian. He knew my inclination was to play in the dirt, so he introduced me to a landscape architect he knew named Leonard Grassli, a Swiss-American Landscape architect who founded a very good firm in Utah. I was immediately attracted to building in the landscape. I eventually took a job as a foreman in his Design Build wing and the rest is history.
My nickname growing up, given my constant dirty hands and pants was "Dirty Dirk."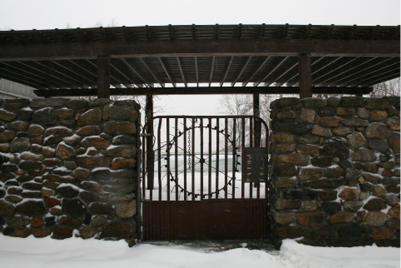 Your background covers a wide range of experience with skill sets in many areas. How does this rich knowledge influence what you are doing today?   
DS: Landscape architects, it has been said, are generalists in an era of specialization. We deal with structure, drainage, wildlife, soils, plants, various clients and use this far-ranging knowledge to create spaces for humans to enjoy while preserving environmental quality. It is a "Big Picture" profession even though we may work on small sites.
I'll never forget a site inspection I once had with my first boss Don Ferlow (an exceptional guy) at an urban plaza we had done on Summer Street in Stamford, Connecticut. The place had maintenance issues which we were both irritated about given our client's less than assiduous attention to maintenance. While we were carping about it, a songbird landed on one of the Shadblow trees we planted in downtown Stamford and plucked a berry from the tree. Don, who always carried a camera, snapped a photo of it and announced :"What a great success."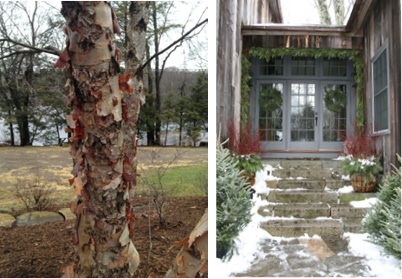 How has the field of landscape architecture changed over the course of your career?
The field is ancient even though its name of "landscape architecture" only arose in the 19th century with Olmstead. I suppose the biggest change is the technology of drawing and illustration offered by computers as well as the great power of modern machinery. But still, workers on our sites are still doing things that the ancients were doing when they built. That is one of my favorite things about the field. Sam is bringing us into the modern era, computerizing drawings while we still scrawl hand-drawn sketches.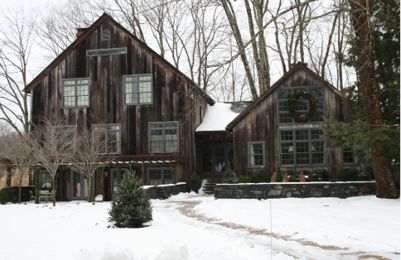 As chairman of the Ad Hoc Conservation Commission of Washington, Connecticut, you oversaw the publication of a GIS Natural and Cultural Resource Inventory. How was it received in the community?
DS: It was well received. In fact, many copies were sold around the state as an example of what the new mapping technology could bring to planning. We (the Town) won an award from the Northwest Conservation District. It did not start out that way, we had push-back from certain elements who thought we were making trouble but we had raised funds and the document went forward. I'm very proud of what we all did. It is a great field guide to the landscape of the town.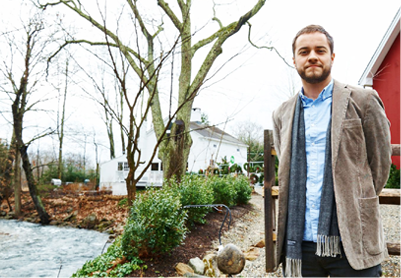 Sam, how did you get involved in working with your father in landscape architecture? Did you study it as well?
SS: Although I was always interested in the outdoors, as Dirk is, I didn't have the same professional inclination early on. My first passion was music, playing in a variety of acts from the age of 12 up until now. In high school, I funded my passion for music working as a mason with one of Chris Bruzzi's install crews. I immediately was drawn to the craft and to the satisfaction of creating something tangible within the landscape.
My first inclination was to go to study music in school, but later I realized I'd rather maintain it as a hobby rather than a daily grind. During a year of exploration at Brooklyn college and a summer of building houses I decided that the combination of artistic pursuits with my appreciation of the built world were incapsulated in landscape architecture. I was drawn to the department at University of Oregon where they nurtured artistic, ecological and sustainable exploration within the profession. I obtained a degree Landscape Architecture there. After college I moved back to the east coast and found myself  in a fabrication studio called the Brooklyn Guild.
From welding to plastics to carpentry, my responsibilities ran the gamut with high-end fashion houses being the clients.  Quickly becoming a project manager the position demanded a very sharp attention to detail up against very tight production schedules. Daunted by the fashion industry I left the Guild to work with Dirk where we work with the same level of detail and scheduling, but produce projects with a much longer shelf life.
During my childhood, I spent a lot of time in nature— my father and I took many hikes at Steep Rock Reservation, here in Litchfield County. Playing music is one of my passions, and I like to think it's not unlike the landscape—both have rhythm.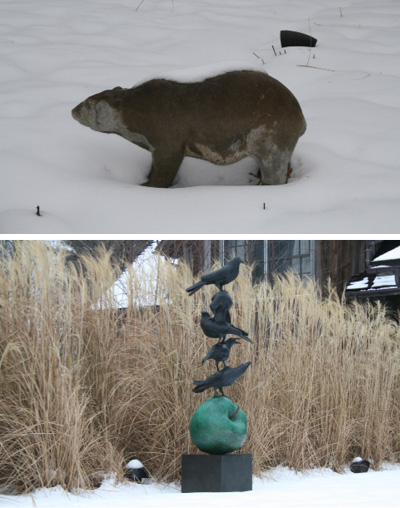 How do the two of you work together? Do each of you have separate roles within the firm, or different areas of specialization? Do you work together on every project or handle your own projects?
DS: Aside from being my boss, Sam is in charge of bringing me into the current century.
SS: Skills that I have brought to the firm are new technologies. Beyond simply the introduction of computer aided drafting—between Dirk's experience and my more recent academic pursuits—we have been exploring more contemporary practices within the field including green roof systems. I have been maintaining an office in Brooklyn, New York where we have been working on anything from green roof feasibility studies to urban work of all scales.
While Dirk is the principal of the firm, we collaborate on almost all the projects that come onto either of our desks.  Collaborating with each other, as well as with a team of skilled professionals(architects, contractors, artists, etc) is one of the principle joys of the profession. That said, we certainly divide project management responsibilities in correlation with our skill set as well as geographically, where the projects take place. With projects ranging from Florida to Vermont, dissemination of responsibilities is crucial. I am beginning to develop the southern New York branch of our firm while Dirk maintains work within Litchfield county and points north.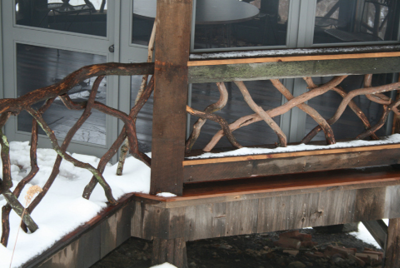 Do you work with local masons, sculptors, and other craftspeople when combining different elements to create a composition?
DS: We work with a whole host of local crafts people and enjoy every minute of tight interaction with them. This is one of my favorite aspects of the profession, working with people who build.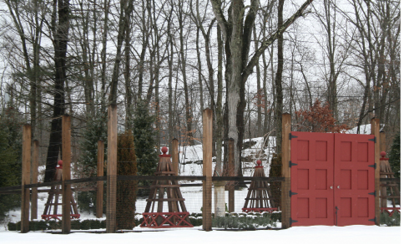 What is your favorite type of project to work on?
DS: I don't have a particular favorite. I've worked on corporate headquarters, industrial parks, college campuses, major estates, multi-family housing, parks, urban street-scapes and they all offer their charms. I suppose the best projects are a combination of a very atmospheric site and a client who grants us the most freedom to bring out its best potential.
What is the most common mistake people make when planning their property's landscape?
DS: Not planning ahead and not listening to the site itself, aside from not hiring people who know how to work with the land's special sense of place. Not maintaining a sense of humor is also a classic mistake, as is trying to change a certain piece of land into something it is not. With climate change, proper drainage in this new atmosphere is often overlooked.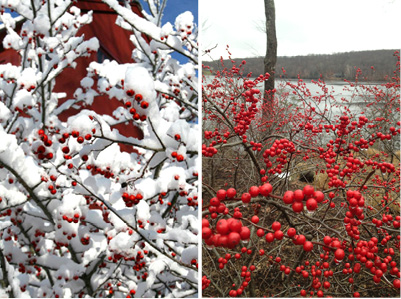 How do you approach designing for a winter scape?
DS: The winter landscape has the charm of removing the cloak of foliage off the rocky terrain we possess. That, and designing in conifers and berry producing plants, along with the lovely qualities of dried ornamental grasses are some of the ways we approach winter scapes.
To see more of their work, go to: dirksabindesign.com
To contact Dirk or Sam Sabin, email them at:
[email protected]
Dirk W. Sabin, Ltd.
PO Box 2400
Marbledale, CT 06777
860-868-0558