As the owner of The Golden Button in Woodbury, Kate Gorham wants people to take time out of their busy schedules and their chaotic lives, sit down and relax, and have fun while learning.
The Golden Button Arts & Craft Studio is for people of all ages. Offering classes, workshops and custom events, it's a warm and friendly place to be. From painting nights for adults (with cocktails and snacks) to children's birthday parties, machine sewing classes, crochet, hand sewing, woodland arts, needle felting, and even family art nights, there's something for everyone. The founder, Kate Gorham, is a painter and crafter, herself, working in many different mediums from paint to fibers. Kate always welcomes you with a smile, is very creative, and really fantastic with kids and adults. As a teaching artist, she passes on her passion and experience to her students inspiring them to create and enjoy the process.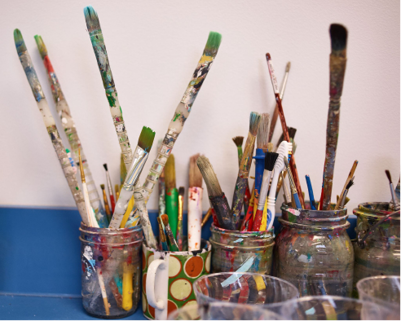 Born and raised in Southbury, Kate left the area to study at Montserrat College of Art in Beverly, Massachusetts. After graduating with a Bachelor of Fine Arts degree in Illustration in 2004, she returned to teach Art Exploration at CAST Preschool and other local schools, and became a published illustrator. She has won awards for her illustrations and paintings, and created murals all over the state.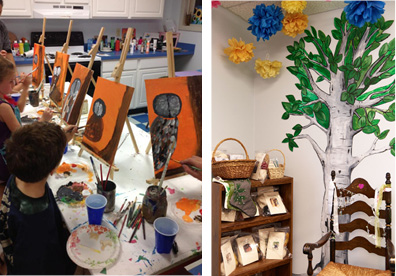 For the past 3 and ½ years, she has operated The Golden Button Arts & Craft Studio, first in the historic distric of Southbury, and more recently at its new location in Woodbury. With the Studio, she has combined her love of art and teaching. "The move to Woodbury has been well received. We have met many new people, as well as lots of our old friends have come to visit and create. Birthday parties are proving to be a big hit, as well as guided painting nights for adults. We are very busy and very happy!"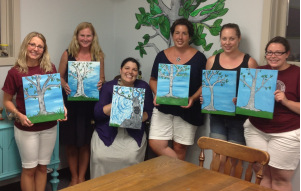 Kate enjoys teaching children and adults alike and is currently teaching classes at at the Woodbury Library and several local schools, as well as at her Studio. Along with teaching, Kate makes a living creating paintings, crochet creations, and many other custom items for people. She often joins other artists in curated shows.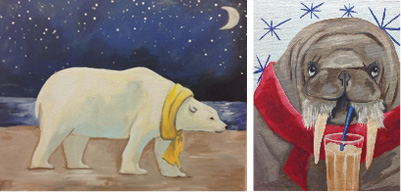 This past December, Kate had a solo art show in the gallery at the Woodbury Library called "Animals in Scarves"  featuring a series of brightly colored acrylic paintings where animals wearing scarves were found where they do not belong, eating things that they would not eat, dressed in clothing they would not wear, in climates they would not live in. Her work is whimsical and joyful, a reflection of Kate's outgoing personality.  An animal lover, she adores her two cats, Dallas and Kale, and is attracted to goats and llamas, in particular.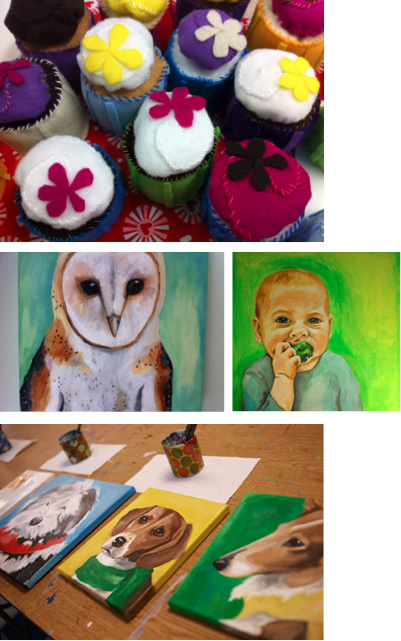 As a local business owner, Kate has always supported local craftspeople. Kate believes in "The Hand-Made Pledge" which is that you try to buy items that are hand-made or made in the United States, whenever possible.
​Looking into the future of The Golden Button, Kate says their goal is simple: to grow and expand. "We are currently looking at a few people to teach more classes… including jewelry making, knitting, weaving, and more." She is also working on an online store so folks can get their needle felting supplies and great locally-made items. For now, The Golden Button just wants people to Be Happy and Make Art!
To sign up for classes or workshops, book an event, or to commision paintings, crochet items and other treasures from Kate, contact her at [email protected].
The Golden Button Arts & Craft Studio
122 South Pomeraug Avenue
Woodbury
203.910.9948
goldenbuttonshop.com