Back in the '70s, Washington resident, master chef and cooking teacher Perla Meyers was ahead of the times as an advocate for fresh, seasonal and local foods, from farm to table.
Long before the natural, local, and seasonal movement came around, Perla Meyers was cooking with fresh seasonal foods and teaching people how to cook and eat in tune with the seasons. Her cooking was influenced by her European roots, by the peasant dishes of the countryside, and her love for fresh vegetables, herbs, and fruits.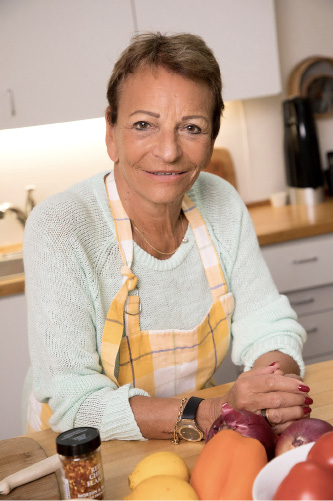 Born in Vienna, Perla Meyers grew up in Barcelona, and has lived in France, Spain, Germany, and the United States. She studied at the Ecole Hoteliere in Lausanne, Switzerland, the Cordon Bleu in Paris, and Vienna's Hotel Sacher. "When I was attending interpreter school in Geneva I was close to the evoke hotelier which is one of the world's best hotel management schools and I took the cooking courses offered at night there," Perla explains. Having learned six languages back in Europe, when she arrived in Manhattan from Europe in the late 60s, Perla initially worked as a translator in Spanish and French at the United Nations.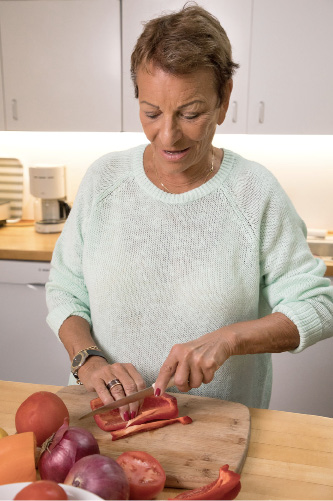 Unlike other chefs, Perla did not open a restaurant in the United States. "I always wanted to be a chef and own a restaurant but this was the sixties and very few women went into this kind of work." Instead, she founded a cooking school on the east side of Manhattan called The International Kitchen which was immensely popular for over 20 years. She eventually sold it to Macy's. (The school is still operating today under the name Degustibles School.) Perla still offers cooking classes today, at the Silo Cooking School in New Milford, and other organizations around Connecticut, and applies the same approach from back then to her teaching. She says that cooking successfully comes down to one third philosophy, one third the recipe, and one third taste buds. You can be learn to be ingeniously technical, but you can't learn taste. Taste is something you develop over years. You have to give people a slice of something that has taste. "I teach people to taste." Still connected to the academic side of cooking, every year Perla is a judge for the graduates of the French Culinary Institute in NYC. "Cooks usually lack in the area of seasoning. There is a saying: You can learn to be a pastry chef but you are born to cook."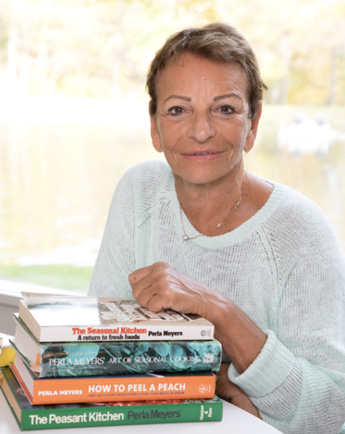 Her first cookbook The Seasonal Kitchen, A Return to Fresh Foods became a huge hit, and broke new ground by featuring a photograph of Perla shot by photographer Art Kane. It was the first time an author appeared on the cover of a cookbook. The book went on to win Best Cookbook of the Year, Best Basic Cookbook, and The Best Author's First Cookbook—the first cookbook ever to win all three awards.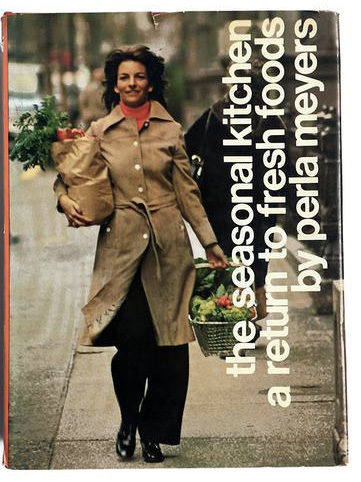 Perla is also a gardener which punctuates her connection to the seasons and her love of vegetables. She is interested in specific foods and what she can make with them. An example she gives is "early turnips". She made pasta, chips, and tartar with them, but two weeks ago, it was all about onions.
The foundation of Perla's cooking is in the basic French technique, but along with it is her love of Asian food. "Foods that cook without needing constant attention", as she puts it. At home, Perla always serves a three-course meal. Sometimes it is Bronzino, other times it is lamb. And she uses her cast-iron pan for many of those meals. Years ago, Perla wrote a well-read article for the New York Times on how to season a cast-iron pan. She also wrote for many other magazines such as Fine Cooking, Eating Well, Bon Appetit and Food & Wine Magazine.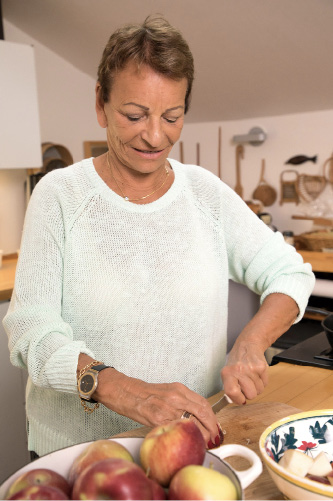 These days, however, Perla is interested in what is happening closer to home. She talks about the restaurants and eateries in the area and makes a compelling case to the young, emerging chefs among us. "In Connecticut, we are lucky that we have a lot of ingredients available to us so that we can finally be creative in our own right. Maine and Vermont are establishing their own local and regional cuisines. And Connecticut can do the same, without being the stepchild of New York and California.We should create dishes that show we have our own character. There are very few cooks who are creative with food here, who approach the lesser seasons with their creative touch. Even if asparagus is available all year long, we should use local seasoning. We should take advantage of the quality of our chickens and pork, and not rely on other regions. Why can the Hudson Valley do it? And why can't Connecticut do it? I say to the next generation of Connecticut chefs, don't copy the latest chefs in food magazines. We are still lacking specialties from Connecticut. Look at what we grow and create our very own dishes and become famous for them. Stress that it is CT grown and Connecticut-made."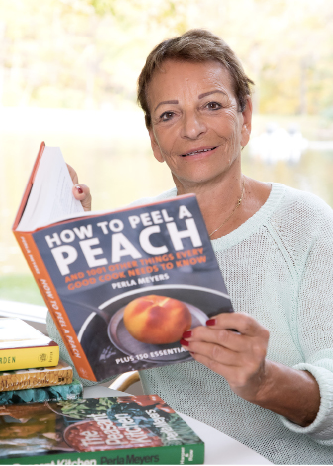 Perla and her husband split their time between the city and Washington, Connecticut. How did they come to live in the Northwest Corner of Connecticut? "Robert and I ended up in Litchfield county over 4o years ago simply because we fell in love with our property and also because we had met Ruth Henderson who suggested that we find a place here as she had started a cooking school at Hunt Hill Farm Trust. I was able to teach there but I also taught in my own kitchen in Connecticut for many years."
"If I had to do my life over again, I would have taken the jump and started a restaurant. But in a way I am glad I did not do it. I loved teaching cooking and did it all over the country for 27 years. It is always fun and I still love to teach."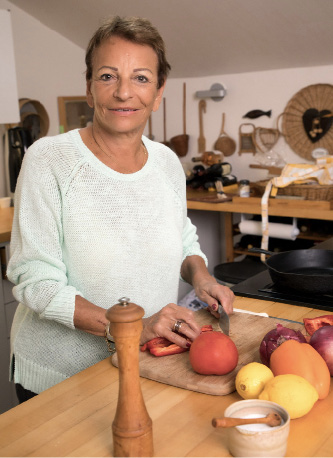 Perla is always travelling. Last week she was in Vermont tasting maple syrup, last year she was talking to chefs in South Africa about how they cook their fish. She's a very curious person constantly seeking out other chefs' thoughts, ideas, and tips. "You learn from everybody," she adds.
Early in her career, Perla Meyers was a spokesperson for Le Creuset and it lasted for over 20 years. Perla now does recipe development for Whole Foods and Trader Joe's. She is also working on a new cookbook which will be her eleventh book. And she gives hands-on cooking classes. After a long successful career in the culinary world, Perla is still going strong. She carries that passion to create good, simple meals and to pass it on to others. Her knowledge of techniques, flavor profiles, and history is extensive. Her understanding of food and cooking is innate to who she is. This legend was born to cook.