Pearly's—the new family restaurant in West Cornwall—has opened with great success by a welcoming community. Stop by for breakfast, lunch, dinner or a cup of coffee, and take in the views.
A new eatery named Pearly's Farmhouse Café has opened in West Cornwall where the Wandering Moose restaurant once was. Located next to the covered bridge, the café was recently renovated by owners Justina and Sean Aylmer and they opened its doors in early October. The couple moved from Marlborough, Connecticut after seeing an ad for the space on Craig's List. "Our first question was: where is West Cornwall? Our next words were: it's too far to commute, but let's take the drive anyway. After a 2-hour conversation with the landlord and learning about the area, we got back in the car and said this is the one—3 months later we opened."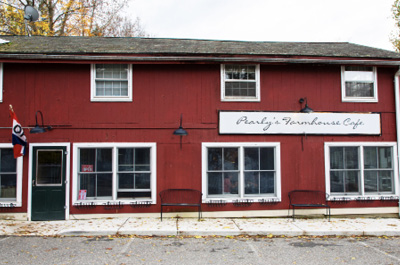 Sean Aylmer is a chef and restaurateur. "I believe you need to be both," he says. "I studied at Johnson and Wales for a short time, and have been in the restaurant industry for over 30 years, starting as a dishwasher and working my way through every position in a variety of restaurants." Sean also served for 13 years in the military as a chef, including the Marine Corps. He has always been passionate about food, ever since he was a teenager. For years he dreamed of one day having his own restaurant— a dream finally fulfilled with Pearly's.
Pearly's, named after Sean's late mother, is a family-oriented restaurant that offers a variety of food to their guests. Every morning Sean bakes fresh breads from scratch. Breakfast is a popular time at the café. Whether you are dropping by for a cup of coffee and toast, or enjoying their Eggs Benedict, you will find the house full. The choices are many—there are several Eggs Benedict choices and a Western Omelet with steak. They serve breakfast and lunch every day of the week, and stay open for dinner on Thursday, Friday, and Saturday.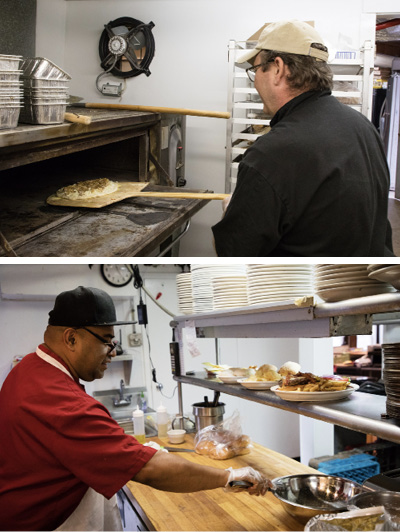 For lunch there are personal pizzas—Sausage and Maple Ricotta Pizza is becoming a top choice among customers. Other selections are Margarita, Chicken, Pulled Pork BBQ, or Oven-Roasted 3 Mushroom Blend with Pepperoni Pizzas, just to name a few. Also on the menu are Chicken Pasta Rosa (grilled chicken, bacon, roasted mushroom blend, baby spinach, cavatappi pasta dressed in a tomato cream) and Caesar Salad with a Parmesan Crisp (both are made in-house). If you want it a little heartier, add chicken.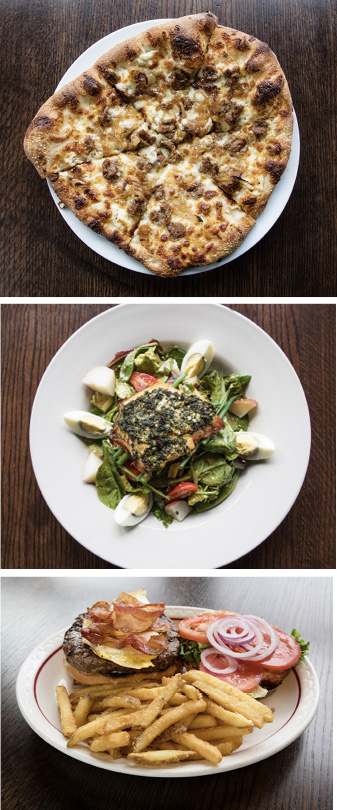 "We offer a modern melting pot of American foods, from scratch and sourced locally whenever possible," Sean explains. "After three weeks, it's the panninis and burgers that are the solid leaders in meals, however the pizzas are starting to catch on." Other favorites are mac and cheese, as well as vegetarian pasta, and shrimp asparagus risotto.
Judging by last month's success—since the café has been open—there has been a steady flow of customers. Sean and Justina plan to make Pearly's a family restaurant that the community can enjoy, but it's not just for the locals, it's also for the out-of-town visitors, the biker community, and passers by who stop to enjoy the views and end up staying for coffee and conversation.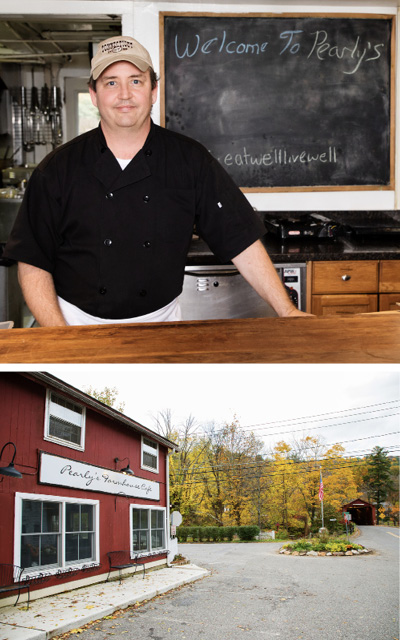 Breakfast and lunch are served every day until 3 pm, and dinner is served on Thursday, Friday, and Saturday, staying open until 9 pm. On Sundays, they offer an extended breakfast from 7 am- 1 pm, followed by lunch from 1 – 5 pm.
Pearly's Farmhouse Café
421 Sharon Goshen Turnpike
West Cornwall
860.248.3252
[email protected]
pearlysfarmhousecafe.com