In Bridgewater, a stable of prize winning Arabians
By Wendy Carlson
If the world had an animal ambassador it would be an Arabian, insists Mary Trowbridge, who with her husband, Pat, owns Trowbridge's LTD in Bridgewater; a farm where they breed and train purebred Arabians and Half-Arabians.
Aside from sharing their passion for the breed, Mary and Pat are committed to giving back to the equine community. When the pandemic struck, the Arabian Horsemen's Distress Fund, which they founded in 2004, disbursed more than $150,000 in just one month to help Arabian owners and farms through the crisis.
"Certainly, nothing prepared the fund for the events of the last few months, but the outpouring of support from within the tight-knit community of the Arabian horse world has been overwhelming, and is enabling the fund to assist hundreds of people," Mary says.
It is easy to understand why so many horse enthusiasts are enamoured with Arabians. On a visit to Trowbridge's one day, I met a sweet dapple-grey named Atlanta Blue who had me at hello. He nudged me gently with his soft muzzle and tempted me to linger. But one stall over, Fandango, a palomino Half-Arabian with a silky white mane and the sculpted features of a Breyer model horse, beckoned me with one turn of his handsome head.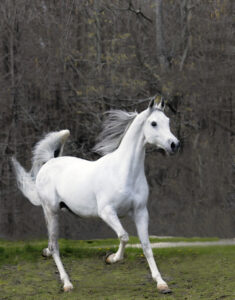 Besides their striking looks––characterized by a long, arched neck, dished face, diminutive muzzle, and high tail carriage––Arabians are known for their ability to bond with humans. The breed originated in the deserts of the Middle East as war horses and were so prized by the Bedouin families that they were used as currency and kept in tents with the families; which Mary believes explains their natural ability to connect with humans.
Mary has an innate understanding of equines, which she has honed since she was a horse-crazy kid growing up in upstate New York. At age six, she got her first horse after making an agreement with her parents that as soon as she could carry a bucket of water from the house to the barn she could get a horse. Mary hightailed it down to the hardware store and bought the smallest bucket she could find. "They never said what size the bucket had to be," she quips.
Without any formal training, she eventually started winning ribbons at regional 4-H and county fairs. The more she became involved in the Arabian community, the more she felt it aligned with her down-to-earth personality and began breaking barriers in what was then a highly male-dominated field. In 1978, she took a break from college to work at Sir William Farm in Hudson Valley, NY, under the tutelage of legendary horseman Bill Bohl, where she learned the ins and outs of horse breeding and training. 
In 1989, she met Pat, a former cattleman, and the two joined forces. With Mary's training and breeding expertise and Pat's farm knowledge and business savvy, the couple launched Trowbridge's LTD in 1991 in Salisbury, and in 1994 leased and eventually purchased their current farm from Broadway and movie producer, Mike Nichols, who was an avid Arabian enthusiast himself.
The farm office is bedecked with red ribbons and medals, a testament to the farm's success in the show ring and producing hundreds of horses found in pedigrees throughout the world. The core of the business remains breeding, training, and showing client horses, but the farm also offers a thriving lesson program. And if you ask Mary, we all can benefit from spending time with these handsome creatures.
She notes that since social distancing began, more people have been heading outdoors and enjoying the scenic road that borders the farm property. As they walk past the farm, they are drawn to the horses grazing in the fields; and true to their nature, the horses are drawn to the folks on the other side of the fence. That kind of emotional connection is crucial not only to humanity, but to Mary's passion of building awareness of the Arabian community. And, with ambassadors like Fandango and Atlanta Blue, she already has a leg up.