The Nutmeg Ballet Celebrates a Half-Century Milestone
By Joseph Montebello
Fifty years ago Sharon Dante followed a dream and started a classical ballet training program that grew into the Nutmeg Ballet Conservatory—an organization that has trained thousands of dancers across the country and abroad, many of whom have gone on to successful careers with some of the premier dance companies in the world. And it all began in a modest studio on Migeon Street in Torrington.
"When I started my school I was immediately asked by folks here in town to become involved with the Torrington Arts Festival, which had just been funded by the Connecticut Commission for the Arts. And I set three goals for myself: first, to create world-class dancers using Vaganova fundamental training and to win major ballet competitions so that the name Nutmeg would make its way into the larger ballet world. Secondly, to see the Warner Theater reopen with live performances and be restored to its original glory. And lastly, to build a major training complex with beautiful studios, a production department, and housing for students."
Mission definitely accomplished. The Warner Theater reopened in 1983 with the Nutmeg's production of Coppelia.The main role of Swanilda was performed alternately by Victoria Mazzarelli and Donna Mattiello, who now hold the positions of Artistic Director and Academic Director, respectively. As a young dancer, Mazzarelli went on to win the first New York International Ballet Competition in 1984.
In 2001 the Nutmeg moved into a 40,000 square-foot complex with five dance studios, seven dressing rooms, a community room, and full costume and dance shops. There are three student lounges, a fitness room, and a physical therapy room. The state-of-the-art building also contains rooms for boarding students.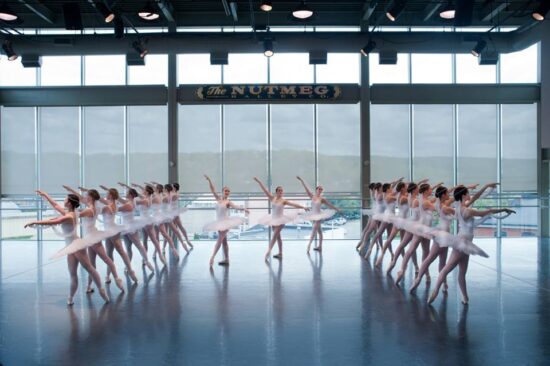 Denise Warner Limoli, who recently retired as Professor Emeritus in Dance at Skidmore College, has returned to the Nutmeg as Senior Ballet Mistress. "I met Sharon in 1968 when I was a young dancer with the Hartford Ballet," recalls Warner Limoli, "and performed as a guest dancer for several years. I am thrilled to be back in Torrington and continuing my work with Sharon and the Nutmeg team."
Warner Limoli's husband, Michael, serves as the principal pianist for the ballet company. The Limolis recently curated a public exhibition to celebrate the 50th anniversary of the Nutmeg Ballet, housed in the conservatory's gallery.
Before everything changed with the advent of the coronavirus pandemic, plans were in place to celebrate the company's milestone anniversary. Former students from all over the world had plans to return and participate. Teaching has continued during the shutdown and has been challenging but successful. "The most interesting transition has been taking our ballet classes online," says Mazzarelli. "We've set up a Zoom studio at the Conservatory with a ballet barre, a chair, a yoga mat, and a sound system. It's not the same as being in our regular studio, but there are things we do that work very well on Zoom, and the students are very accommodating."
Mattiello commented that the academic aspect of the students' education continues without interruption since the Nutmeg partners with organizations that offer online curricula.
While it remains to be seen when traces of normality may return, the Nutmeg faculty will continue to work virtually, nurturing the talents of youngsters who will become the next generation of ballet stars. And perhaps some of them will join the ranks of those like Mazzarelli, Mattiello, and Warner Limoli who have returned to the fold and carry on Dante's dream.