Electric bikes have come to the Northwest Corner. Robert Ensign discovered the joys of this new cycling experience and opened up an electric bike rental shop in West Cornwall.
Robert Ensign is originally from Norwalk. He and his family also lived in Wilton and Washington Depot, and finally settled in Sharon in 2014. As a good-sized family, they explored and enjoyed every activity in Litchfield county. One of his children had ridden an ebike and loved it so Robert decided to give it a try as well. "I thought it was the greatest thing ever." He researched electric bicycles, trails and roads in the area, and decided to bring ebikes to the Northwest Corner of Connecticut.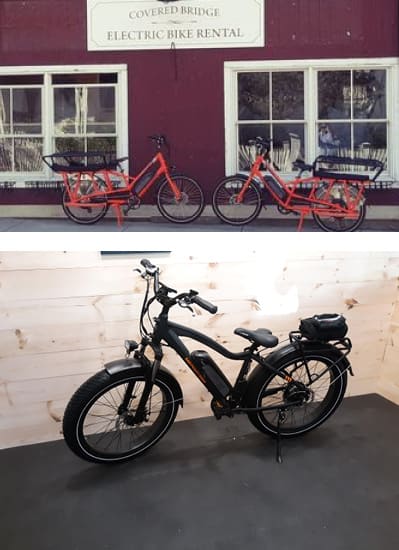 The Covered Bridge Electric Bike Rental shop is located in West Cornwall in the building that was Pearley's Farm Café, and before that the Wandering Moose restaurant. Choosing a location for his new business was easy. Robert's family had always enjoyed visiting West Cornwall and going to the Wandering Moose. When the space became available, he realized it was the perfect space to open the ebike shop. "River Road is a hub to many different places. And it is flat-out beautiful around here," Ensign says enthusiastically.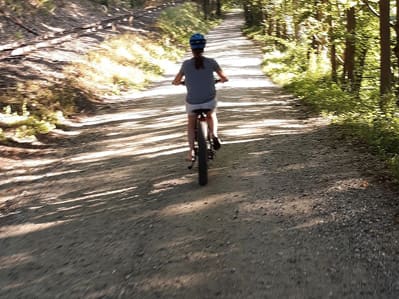 Before this new venture, Robert Ensign ran a large construction company for a property management company. His background in construction means that Robert has experience with safety measures. "Safety is paramount." He suggests taking roads that are less well-travelled, to slow it down a bit. The shop provides maps and routes for their customers. They will get you from one place to another. "If you want to go to Lakeville and would prefer not to see cars, we will show you a good route to take. We do our best to keep you on quiet country roads throughout."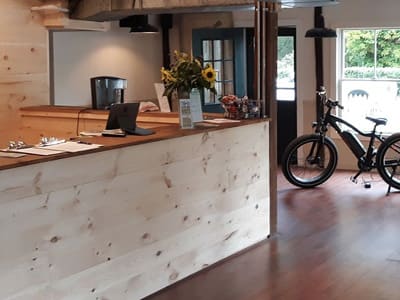 The minimum age to operate ebikes is 18 years. There are 3 different styles of ebikes available at the shop, depending on customer's height and experience. This area has some really experienced cyclists, but some people haven't ridden a bike in 20 or 30 years. "We provide training which takes about 10 minutes. River Road is flat, making it a good place to learn." And, of course, helmets are provided or you may bring your own.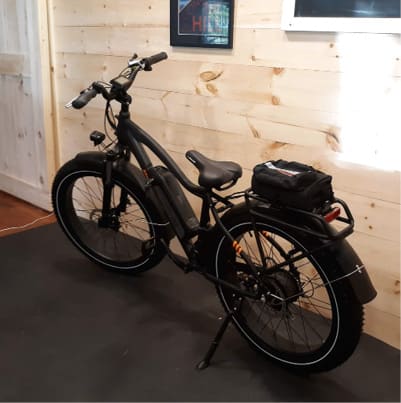 If you need power, the ebike gives you power, but if you don't need it, you don't have to use it. The bikes come charged with enough power for about 40-45 miles. Typical routes are 15 to 30 miles, round trip. You choose the level you feel comfortable with. All levels are welcome. There are a few factors that determine the range of the rented ebike such as terrain and cycling efforts. Sometimes the hills are challenging, so it helps to use the electric power. This new cycling experience gives a lot of people a whole new opportunity to be outside with beautiful scenery and wildlife and to get some exercise and fresh air. It's better than a stationery bike for those who want to exercise. "Driving on the back roads, you feel the wind in your face, smell the hay, this area is unbelieveable in many respects," Robert goes on about riding to Ashley Falls in Norfolk. "Enjoy the quiet and solitude on our selected routes." Geese, egrets, herons, wood ducks and bald eagles are common sightings as you head out and along the Housatonic River.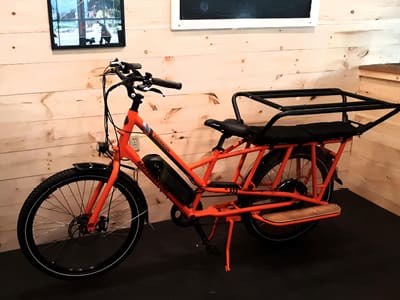 Before heading out for a ride or upon your return, enjoy fresh brewed coffee, cold drinks, and snacks on the patio by the bridge. There are plenty of seats and tables available overlooking the West Cornwall Covered Bridge.
Ebikes are also great for group outings. Bring a picnic and bring your friends. You can book ahead for your group. It's best to book a day or two in advance to secure your ebikes during the week. A couple of days in advance is even better for the weekends. Children can sit in the carrier on the back of some bikes for short rides. There is a 130 maximum capacity and a $10 charge for the additional passenger. This is a brand new opportunity to rediscover the history and the beauty of Cornwall and Northwest Connecticut.
Rates:
$25 for first hour
$50 for first two hours
$60 for half day (four hours)
$85 for full day
The rental bikes have fully charged batteries. The cost for an additional battery is $30 per day.
Covered Bridge Electric Bike Rental
421 Sharon-Goshen Turnpike
West Cornwall, Connecticut 06796
860.248.3010
Coveredbridgeebike.com
Hours: Open 7 days a week from 9 am to 5 pm and Sunday from 10 am to 5 pm. Please ask about an earlier start if it better suits your groups' schedule.