By Joseph Montebello
After writing five memoirs, including the bestselling Hourglass: Time, Memory, Marriage and Inheritance: A Memoir of Genealogy, Paternity, and Love—Dani Shapiro has returned to fiction. It has been 15 years since her novel Black and White was published. It is well worth the wait, for in Signal Fires Shapiro is at her best. And the history of the novel's creation is just as fascinating.
"I think I always expected and hoped I would return to fiction," she says. "It's how I started and launched my career. I understand the long detour into memoir, which is what I've become known for. But I really didn't know what was next. I was working on my podcast, doing some screenwriting. And then at the beginning of the pandemic I decided to clean out my office closet.
On the top shelf I found these 120 typewritten pages of a novel I'd started in 2009. I created this world and these characters that I loved. I was trying to structure a novel moving backwards in time. The first part takes place in 2010, then shifts back to 1999. I hit a wall and never thought I would go back to it. This was the book that got away."
Well, not exactly. Shapiro sat down in her office right then and read what she had created and stored away.
"I'm not in the habit of reading my older work because I usually think I can make it better. But I didn't feel that way about those pages; I thought they were good! The two sections I'd written take place ten years apart. Who would these people be in 2022? I felt I had to tell the story."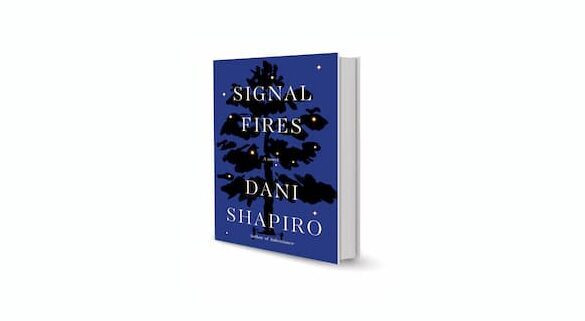 And all her many fans will be happy that she has. Two families, arriving at different times across the street from each other. The older doctor and the younger boy, who he delivered in childbirth, strike a bond that carries through the various time changes in the novel.
"I always wanted to write a novel that spans a significant amount of time with the same characters and really look at the way one family grows and changes over time," explains Shapiro. "And I didn't want time to work linearly. I think time moves around inside of us when we have memories. It's like everything that's ever happened keeps on happening in a way, and I wanted to capture that."
And Shapiro does that in spades.
With the pandemic, hopefully, behind us, Shapiro's publisher has planned an old-fashioned book tour rather than resorting to only online media. She will be traveling nationally and internationally, beginning in Connecticut with a signing at the Hickory Stick Bookshop in Washington and R.J. Julia Book Store in Madison. Meanwhile Shapiro continues her widely acclaimed podcast "Family Secrets," now in its sixth season with over 25 million downloads.