Arts Patron and Philanthropist Anne Bass Was One of a Kind
By Joseph Montebello
Elegant. Discreet. Quiet. Generous. Cultured. Curious. These are some of the adjectives that were used to describe Anne Bass by those who knew her. A resident of South Kent for many years Bass died of ovarian cancer this past April. And while she kept a low profile she will most be remembered for setting the bar high on preservation, restoration, and conservation in Litchfield County. She also owned property in Fort and Nevis, where she maintained the same exacting standards.
Heather Watts, former principal dancer with the New York City Ballet, has known Bass for over 40 years and was one of her closest friends. "We met through dance," Watts explains. "She was involved with the School of American Ballet and was living in Fort Worth with her two girls. We became quite close and traveled together. We both loved flowers and we'd go to the Chelsea Flower Show. I'd be admiring the flowers; she'd be taking notes and became a botany expert. She was perpetually inquisitive." Author and garden specialist Jane Garmey profiled Bass and her property in Private Gardens of Connecticut. 
"Anne was a serious scholar and astonishingly and sometimes even dauntingly knowledgeable about horticulture, garden history, and garden design. While she worked with Russell Page and Madison Cox on her gardens in Fort Worth, South Kent, and Nevis, in recent years the continuing design was all her own. Her gardens offered a private sanctuary from the outside world and are a fitting tribute to an impassioned and talented gardener."
"Anne has always been a champion of preservation and conservation efforts," says philanthropist and neighbor Agnes Gund. "She was very generous and interested in learning about gardening all over the world, including how plants could survive in all kinds of climates. She was a perfectionist and everything she enjoyed was perfect, yet fun and filled with good conversation. I shared many wonderful times with Anne over the years."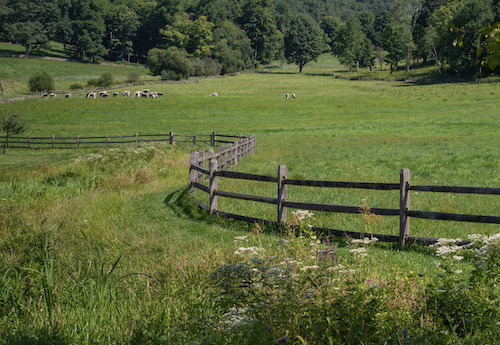 Hiram Williams, president of the board of directors of the Weantinoge Heritage Land Trust, joined the board of trustees at the same time Bass did and also worked with her on the revitalization of the Kent Center.
"Anne was instrumental in transforming Weantinoge into the largest land trust in the state. She kept a low profile yet was influential in so many areas. She was certainly a great benefactress and philanthropist, but she was also a worker and she worked hard. A Midwestern ethic in the nicest way. She also championed Joel Viehland and supported him in the opening of Swyft in the historic Kent Barns."
Fellow Connecticut resident Carolyne Roehm admired Bass for her inquisitiveness.
"She was always the student," Roehm recalls, "wanting to learn everything she could about a particular subject. I myself learned a lot just observing her. I so admired her curiosity about everything and the style in which she did things." 
Literary agent Lynn Nesbit, who met Bass in New York many years ago and shared her love of Litchfield County, reaffirmed what others said about her passions.
"She cared deeply about climate and preserving the heritage of the land and certainly did that with her own property and the historic houses she restored."
"Anne did everything in the most extraordinary way," recalls interior designer Robert Couturier. "She was always beautifully dressed and charming but very modest. It was all perfection and she worked hard to maintain her standards. She was very interested in making sure that the land and properties she loved and developed would continue to be protected after she was gone. Her devotion was unsurpassed."
Her gardens, according to her family, will be preserved, probably as some kind of land conservancy. Nothing will be sold in Connecticut, Nevis, or Texas. Thus there will always be reminders of the extraordinary woman who was Anne Bass.
Photos by Larry Lederman, copyright(c) all rights reserved. There will be a spread about Anne's Garden in a forthcoming book by Larry Lederman called: Garden Portraits: Experiences of Natural Beauty. The book will be published by Monacelli Press this coming October, 2020.