By Pamela Brown
Sue Donato cherishes memories of her family's Woodbury Farm Market (WFM), but one that stands out is when her father sold a Christmas tree to Marilyn Monroe in 1957.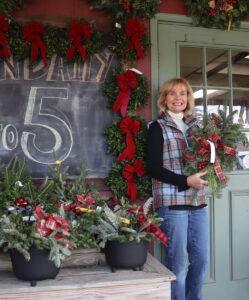 "It was his first Christmas season there. My mother liked to tell the story that she was working that day, pregnant with my sister Wendy, when Marilyn came in asking for a tree.  She liked to say my father 'very enthusiastically' found her the perfect tree," recalls Donato.
Growing up, Donato spent days at WFM packing peaches, carrying boxes, and restocking paper bags. "My earliest memory is waking up at the crack of dawn as a four-year-old to go to work with my father for the day.  My brother, Todd, Wendy, and I would ride the 20-mile trek to Woodbury from Woodbridge in my father's truck to work on Saturdays," she said.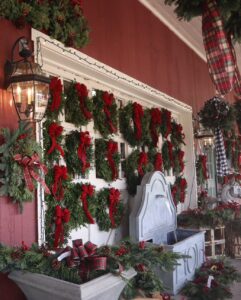 Christmas at WFM, a full-service garden center and gift shop that features organically-grown plants, is a special time and one of its busiest. "A lot of love and pride goes into our Christmas products," said Donato. 
A small staff, along with seasonal employees, and a reliance on family bring holiday magic to WFM. "My husband Joe can be found in the greenhouse on the wreath machine the whole month of December.  Wendy hand ties the boxwood and juniper wreaths, which was taught to her by my father. I make the boxwood wreaths as well."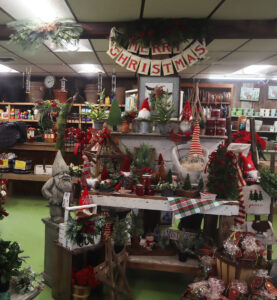 Wreath-making starts in November and the staff festively decorates the store from top-to-bottom.    "Wendy makes the most beautiful bows all season long and we have a great selection of holiday pots and arrangements, live and potted Christmas trees, poinsettias, boxwood and juniper wreaths, mixed evergreen wreaths, magnolia wreaths, holly wreaths," said Donato whose children who grew up at the store also help out.
Donato's parents, Eugene and Eleanor Cozzolino, opened the market in 1957. After her parents retired in 1994, Donato and her husband took over.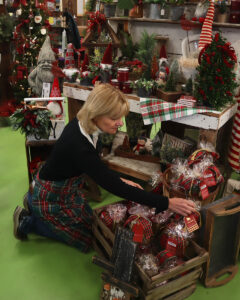 "I saw how hard they worked and the fulfillment it gave them.  I saw their honesty, integrity, and how they always did things the right way," said Donato.  "My parents influenced my life in every way. Because WFM was such a huge part of their life, it became a huge part of mine."  
Although earning an M.B.A, Donato notes "the best education in my life was from watching the way my parents lived their lives.  I saw the interactions they had with customers and I felt the pleasure it gave to them. This place has a history here and nothing delights me more than to see old customers who remember my parents and tell me how proud they would be to see WFM today." Donato hears stories from men who worked there as teenagers 50 years ago and the positive influence her father had on their lives.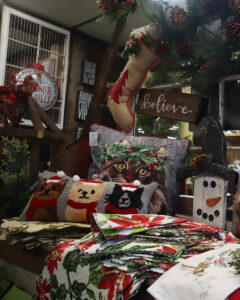 Donato looks forward to each day. 
"It's easy to keep joy in a 7-day workweek when you love what you do.  I'm surrounded by natural beauty and I love taking care of the plants, chatting with customers, and being outdoors," she said. "There's no better place to go each day than a place you love." 
717 Main Street, South, Woodbury, (203) 263-2175, woodburyfarmmarket.com