By Anne Franco McAndrew
16 years ago Jill Scholsohn was standing in her booth at the New York gift show held annually at the Javits Center. The first person of the day to enter her booth was a representative from Sundance, the ultra-cool catalog of boho style inspiration. Jill shrugs nonchalantly and says, "The aging hippy is my market, I knew it would be a good match." The rest, as they say, is history. Scholsohn's jewelry is featured in every single issue of Sundance.
If you are a person who embraces a departure from the mainstream you will most certainly revel in the distinctiveness of Scholsohn's jewelry. The business name is Riverstone and the essence of her hippy-dippy global style are amulets and talismans along with precious and semi-precious gems from around the world. Her designs range from a solid strand of stunning sameness to a circus train of color interspersed with the most intriguing of silver or gold beads. It's not uncommon to get lost in the architecture of a piece; the natural beauty of each bead, each nugget, is mesmerizing.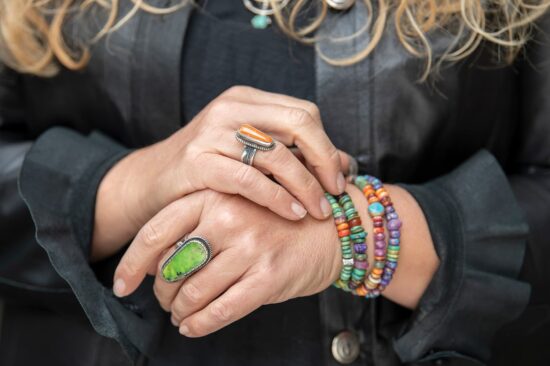 Don't be fooled by Scholsohn's folksy, front-porch style personality. Scholsohn and her husband Dan Greenbaum have two grown children, River and Zoe. She is an EMT with the Kent Volunteer Fire Department and is Assistant Ambulance Chief. She is a world traveler, having been to 57 countries. Her background in anthropology comes into play when sourcing her beads. Most are from Thailand, Afghanistan, India, and Arizona. "Color is my inspiration yet spirituality also plays a part." She uses gaspeite, ancient coral, Indian rubies and many more exquisite gemstones. A favorite, though, is the spirit lock, a padlock-shaped charm worn by tribes in Laos and Thailand. It is often a highlighted amulet signifying security and protection against disease and depression. Scholsohn bought her spirit lock in Thailand in 1991 and hasn't taken it off since.
Scholsohn started her career in 1997 as an EMT in New York City. Following the terrorist attacks of 9/11, she decided that weekending in the Berkshire Hills would help relieve the stress of her work. She started taking kayaking lessons and immediately fell for her kayak instructor, Kent native, Dan Greenbaum. Day visits turned into weekend stays which ultimately turned into foreverness. They share their passion of travel and circle the globe together, experiencing other cultures and collecting artifacts. The lovebirds would never leave Kent permanently though, "Dan has a lot of family history here. His grandfather had a camp on North Spectacle Lake and his father ran the garbage business in town. Kent is home."
Scholsohn's style is easy to spot and although she won't disclose who, it is worn by many entertainers and actors. It lends itself to casual dress but can also be worn formally. The fact is it isn't a fashion piece, "it's artwork." Locally it's at Heron Gallery in Kent and also at the esteemed Westport Farmers Market and the internationally-known Columbus Circle Holiday Fair in NYC. Her Kent showroom is open by appointment. Her work is in boutiques nationwide and in some St. John's island stores. —riverstonejewelry.com