Transforming Bodies and Lives
By Clementina Verge
Photos by Ryan Lavine
Julie Haesche's journey into the healing arts was prompted by struggles with psoriatic arthritis and the desire to empower others. Today, the Washington resident is a certified, award-winning yoga and meditation teacher hosting outdoor classes throughout Litchfield County.
"The physical and emotional toll of PA led me on a mission to heal myself and find balance in my life again. Regular practice of yoga and meditation provided relief for physical symptoms and opened a new world of self-discovery and self-care," explains Haesche, who is also a reiki master, nutrition counselor, life coach, and founder of Washington Wellness.
Founded in 2022, the holistic studio on Washington's historic Green "celebrates the incredible talent of wellness practitioners in the area," offering services that support physical, mental, and emotional wellbeing, including acupuncture, massage therapy, art and music therapy, and, of course, yoga.
"The beauty of yoga lies in its adaptability to individuals of all backgrounds, ages, and abilities," assures Haesche, who also teaches students and faculty at The Frederick Gunn School. "Whether someone hasn't exercised in a long time, feels "not good enough," or has injuries or pain, yoga can be a beneficial practice for them."
Yoga also led Haesche back to nature. 
Raised in Branford, she spent much time sailing, fishing, and water skiing, activities that inspired a deep appreciation for the environment. In 2019, along with her partner, she relocated to Litchfield County, fulfilling the dream of immersing themselves in farm culture; they care for sheep, chickens, bees, and a rescue cat, and delight in the area's picturesque landscapes.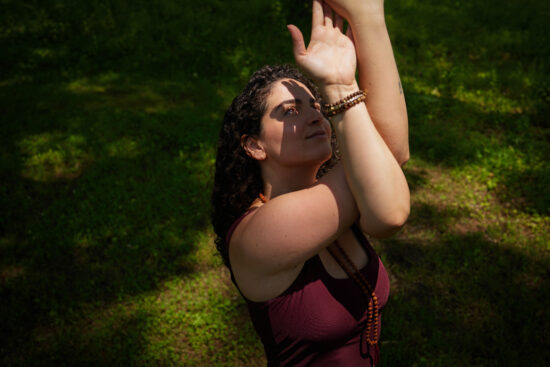 This natural beauty is why Haesche offers outdoor classes, along with the desire to make them accessible. 
"Someone intimidated by entering a yoga studio may feel more comfortable taking a class at a farm, in a garden, or at a vineyard," she says. "Uniting our nature with the greater nature that surrounds us fosters a sense of belonging and interconnectedness." 
A variety of yoga styles—yin, hatha, restorative, and kundalini—can accommodate individual needs and limitations. 
"Whether it's practicing in a chair, a pool, or even in bed, I meet students where they're at and incorporate movements and poses that they can comfortably engage in," she notes. "The focus is on progress, not perfection, and every step forward is meaningful." 
Yoga's benefit lies in its ability to simultaneously address the mind, body, and spirit. Practicing physical postures enhances flexibility, strength, balance, and coordination. It improves posture, alleviates physical tension, and enhances breathing patterns, leading to improved lung capacity, energy control, and even a balanced metabolism. 
Its mindfulness cultivates present-moment awareness, fostering a sense of harmony and calmness. Yoga also encourages self-reflection, self-acceptance, and self-compassion, promoting a positive mindset and emotional resilience. 
Intricately connected to Ayurveda, its sister science, yoga emphasizes a holistic approach to living, encompassing diet, sleep, and daily routines. 
"Yoga is not limited to our good days; it extends to our challenging days as well," she notes. "By uniting the mind, body, and spirit, which is actually a formal translation of yoga—union, yoga provides a comprehensive toolkit. My mission is to empower individuals to discover their innate capacity for healing and transformation, embarking upon journeys towards greater health and happiness." —washingtonctwellness.com