Animals Help Veterans Break Down Barriers 
By Wendy Carlson
Photos by Ryan Lavine
Renee Bouffard has always had an innate sense that animals, particularly horses, have a healing effect. Back in high school when she was having a bad day, she would hang out in the barn with her horse Sparky. Just being around him lifted her spirits.
But it wasn't until she was pursuing a degree in clinical social work in graduate school at UConn that she learned about equine-assisted therapy. The method engages clients in basic caretaking activities with a horse under the guidance of an equine specialist. For Bouffard, it was an "aha" moment, an opportunity to merge both her passions into a career.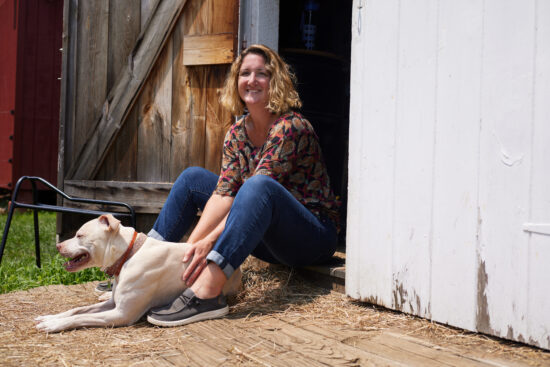 In 2016, she launched Healing Hoofbeats of CT, Inc., and enlisted Sparky and several other horses to be therapy animals on the nonprofit's seven-acre farm in Bethlehem. Since it was started, the organization has expanded to include a variety of programs, two additional therapists, and started Operation Warrior.
In 2020, Bouffard partnered with Nicole DeFelice, an Army combat veteran and mental health counselor, to launch the psychotherapy program for veterans with trauma-related conditions. 
DeFelice's own transition back into civilian life involved participating in a program that included horses. "She loved how powerful the experience was, and at the time she was earning her bachelors and interning at Healing Hoofbeats so it was perfect timing," says Bouffard.
Equine therapy is vastly different from therapeutic riding, the work is done unmounted and is largely about observing.
As Bouffard explains: "Horses are prey animals, which means that they are on high alert to the dangers around them. They must surmise situations using their instincts and respond in that moment. Once they know they are out of danger they become less stressed."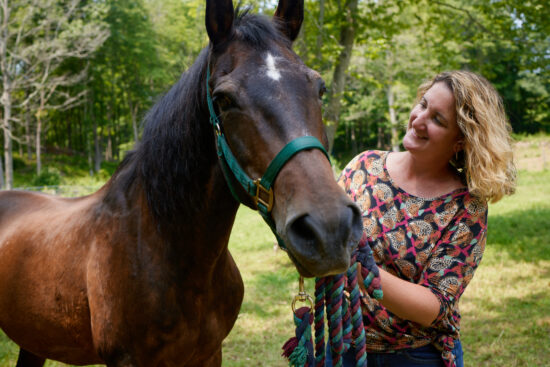 Similarly, veterans who have experienced combat during their tours of duty, are used to being hyper vigilant. As a result when they return to civilian life they often struggle to modify that behavior, which ultimately affects their relationships. "The skills that kept them alive during their tours become detrimental to them in their civilian lives," says Bouffard.
During the eight-week, two-hour sessions, veterans learn to let their guard down by working one-on-one with the animals in a routine of grooming, feeding, and observation.
Beyond working with veterans, Healing Hoofbeats runs a variety of other programs for children and young adults aimed towards getting them to connect to nature through the farm activities. Aside from horses, the farm has goats, chickens, barn cats, and a pig named Hazel. In 2024, the organization will launch a capital campaign to raise funding to build a new barn, an indoor meeting area and to bolster its financial aid program, which is a major component of the nonprofit's mission. Bouffard is adamant about not turning anyone away because of financial hardship.
"The work we do is amazing," she says. "What a client might achieve with a therapist in a chair in a year, we achieve in 16 weeks. You can see the results. "And," she adds, "the animals love it."