Scratching the Itch to Find Vintage Treasures
By Cynthia Hochswender
The Elephant's Trunk Flea Market in New Milford must be one of the worst-kept secrets in the world. It's not exactly advertised but certainly it has its own website, and certainly everyone in Litchfield County who loves vintage fashion and home design goods—and, of course, toys from the 1970s and old 33 RPM vinyl records—already knows about it.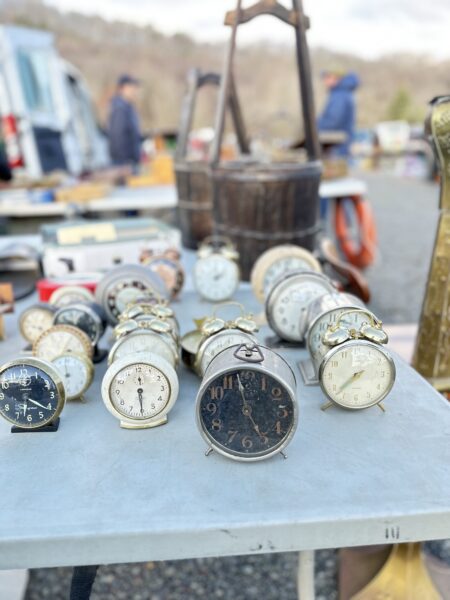 Why, then, do professional designers scurry furtively from stall to stall, refusing to speak to friendly reporters from regional magazines? The answer is, perhaps, obvious. No one wants to share the good thing that they've found. 
Certainly, the Elephant's Trunk is not for everyone; and, probably, the client who has a design professional will not want to drive to New Milford on a Sunday at 5 am and wait in line for the privilege of peering into truck windows with the help of a flashlight, hoping to get first dibs on that perfect something for that perfect somewhere.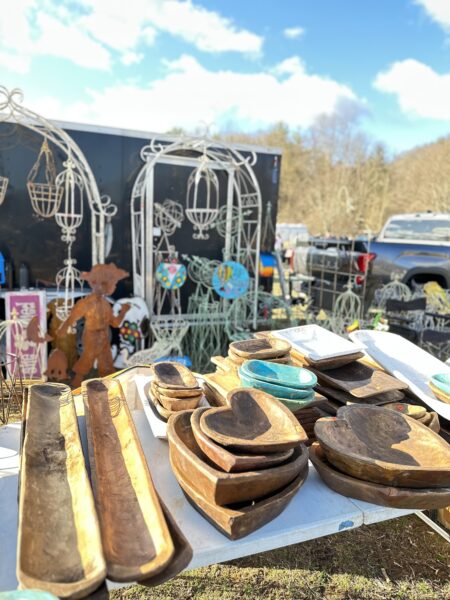 Flea market shoppers and vendors (and many shoppers who used to be vendors and many vendors who used to be shoppers) are an itinerant bunch. They travel the region in search of choice goods at low prices, swapping tales about what they've bought and what they've sold.
"This market is much better than Brimfield," they all confide, every single vendor and shopper. The consensus seems to be that Brimfield is too big and too famous now. The Brimfield May to September flea market has as many as 400 vendors on each of its 21 fields (yes, that's a possible total of 8,400 vendors!).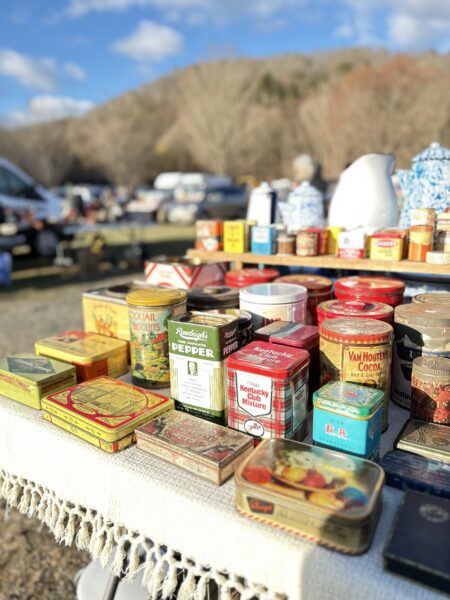 The Elephant's Trunk, which has been around since 1972, has a substantially more modest vendor tally of about 500 each Sunday. Vendors pay a modest $70 to reserve a prime space at the Elephant's Trunk—which means, of course, that they can keep their prices low because their overhead is low. Many sellers come every week; some show up only when they happen to have a bunch of stuff to sell. A handful of the vendors clean out estates as their "day jobs." Some of the vendors are selling stuff they've collected over the years at this and other flea markets. 
One vendor is a professional entomologist who often has butterfly wings leftover from her research projects; she displays (and sells) them beautifully, in frames and small bottles.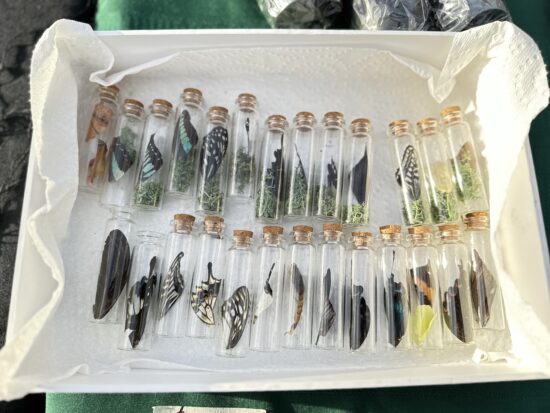 There is a little bit of everything at the Elephant's Trunk: books, vintage license plates, rusted household implements from the 1870s, clothing and music from the 1970s, framed drawings and small paintings, cookware, dishware, glassware. Most vendors try to carry a variety of items, to appeal to a diverse clientele. Most things are old, but there are some old-looking but newly made garden ornaments and piles of new clothes (but mostly piles of old clothes, tossed with reckless abandon on folding tables or on blankets on the ground).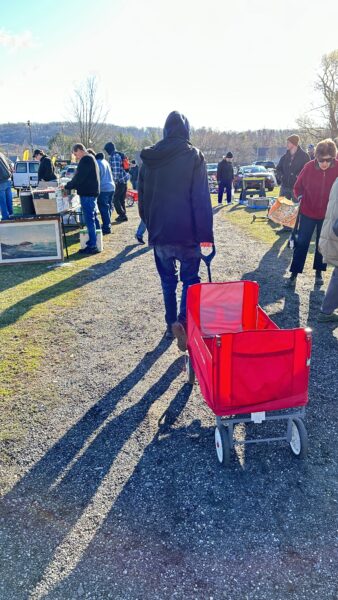 It's best to get there early. Although the vendors remain until mid-afternoon, most of the really special items have been claimed by 7 am. —etflea.com