Kristin Kunhardt took a retail space in Washington Depot and turned it into a successful, thriving art co-op, wellness center and gathering place for conversation and community.
Almost two years ago, Kristin Kunhardt was living in Philadelphia and going through a personal transition when she decided to return to her roots— Washington, Connecticut, where she grew up—and to be closer to her father. She and her two business partners were looking for a space to share and found it right in the heart of the Depot. They made the decision to combine their services into a cooperative that focused on wellness, teaching and practicing healing arts. In November of 2016 Valley Spirit opened its doors in Washington Depot. Now in its second year, the co-op is thriving as the community embraces the opportunities and services it has to offer. We spoke with Kristin about how it started and where it's going.
Where are you originally from and how did you end up in the Northwest Corner of Connecticut?
I grew up in Washington, CT. My grandparents moved here in the early 40s and had a farm on Nettleton Hollow. My father and mother settled here right after they got married in 1954. I moved back to the area four years ago to be near my father, Hank.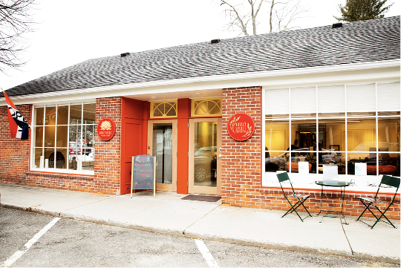 Tell us about your background? Where were you educated and how did you get into Wellness?
I went to Shepaug, then to Taft for high school before venturing out to Northwestern University in Evanston, IL where I majored in Performance Studies. I got into wellness not as a practitioner but as a receiver of complementary healing arts. The healing I experienced with massage therapy and acupuncture led me to meditation.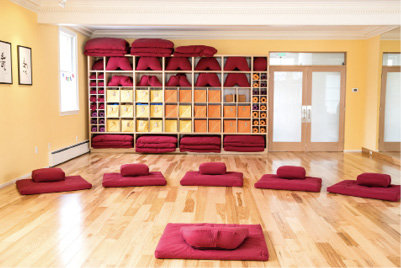 What inspired you to launch Valley Spirit Wellness Center & Co-op? What is its purpose and mission?
My business partner Lee Kancher and I had been looking for a space outside of my home office to collaborate in and when Jampa Stewart, MSOM, L.Ac. opted to move up to Connecticut from Texas after we met at a meditation retreat, I thought it would be interesting to have him teach Tai Chi and practice acupuncture in the same space. The three of us opted to "cooperate" with one another, bringing together visual and performance art (Kristin), design and graphic art (Lee), and healing and movement arts (Jampa) so that we might all benefit from one another's strengths as we evolved our businesses. Our idea became Valley Spirit: an art co-op, wellness center and gathering place for conversation and community. Our mission is to contribute to the community by offering services, teachings, and products that support healing and growth while enhancing awareness, communication, good health, peace, and consciousness.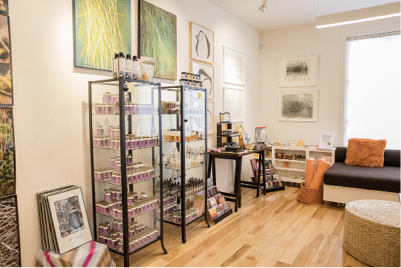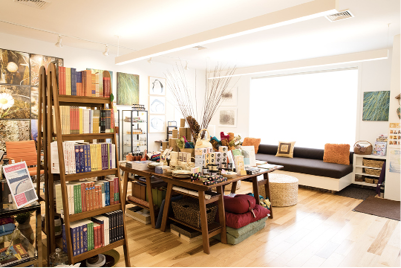 There are 3 co-owners and then the teachers and service providers join the co-op… how is it structured?
My two business partners and I opted to open up the space to other practitioners, teachers, and artists that shared our mission, increasing our capacity to serve the community and one another's businesses. The "all boats rise" mentality, which is often lacking in mainstream business, led the way as our unique business model. The other practitioners and teachers are not co-owners of a traditional co-op model, but we cooperate together within a single space. They benefit from having a highly visible location to offer their practices in, and the community benefits from having multi-faceted offerings under one roof.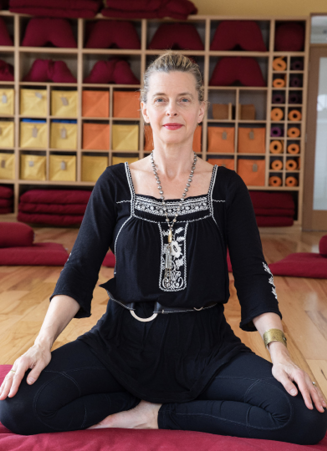 From facials to yoga, from acupuncture to poetry readings, you cover a broad range of services and classes which are both on-sight and off-sight – how do you manage so many and such a range?
It is important for us to offer and maintain a wide variety of services and classes. More than anything, we are a wellness center, a place of healing. The combination of various modalities (acupuncture, massage therapy, herbal medicine, and so forth) and ways to promote self-healing (classes, books, meditation supplies, essential oils) is key. Each person that walks in our door is unique. We offer them the opportunity to choose what speaks to them. We are living in the era of superstores, online shopping, and virtual reality. In order to meet the needs of the village, we offer a varied menu of services. If we had opened as a Tai Chi studio or an art gallery we would be relying on that one thing to draw people in. The people of Litchfield County are cultured and have highly diverse interests. We opted to respond to that population in kind.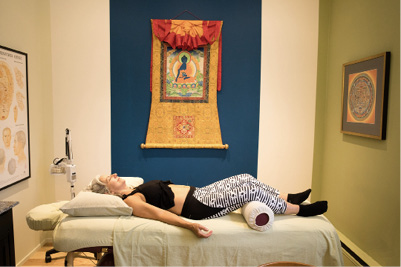 If folks prefer to be home or organize support in their workplace we offer in-home and corporate packages: Corporate Qi & Bring the Spirit Home. The mini holiday retreat or day spa experience we have created cooperatively with other Depot businesses can weave together massage and/or acupuncture treatments, Tai Chi and yoga classes and organic facials at Valley Spirit with hair stylings at Byrde + the B and mani-pedi nail care at The Nail Chalet followed by lunch at The Pantry, Norimaki or Marty's, all within a short walk of our center. Town businesses that support each other, grow together.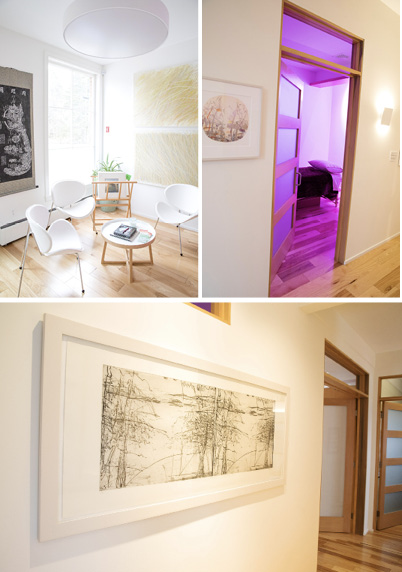 What are your most popular classes? And most popular services?
If I answer that question based on numbers of students I would say Tai Chi and yoga are most popular, but if I reflect on which classes get the most enthusiastic response I would say they are all equal in popularity. Those that know about and come to meditation or Barre-ilates love the classes as much as the more frequented Tai Chi and yoga. The most popular services are acupuncture and massage therapy, but similarly, the folks that have been in for our other services such as organic facials and Medical Qi Gong are well satisfied, repeat clients. So those treatments are becoming more popular as we move fully into year two. The quality of teachers and practitioners Valley Spirit has attracted is top notch. The testimonials we are collecting reflect the high caliber of treatments our patients and clients receive.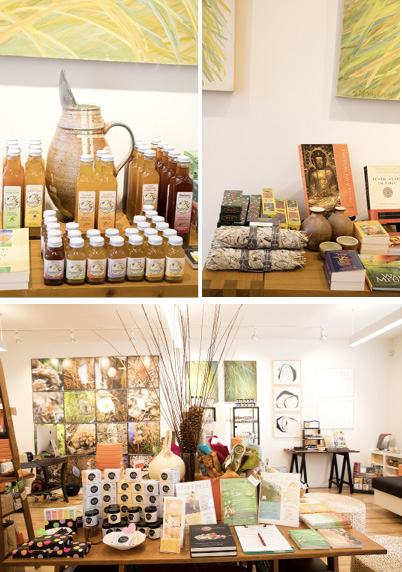 You also have a shop at the center… what kind of products do you sell?
We have a full Chinese Herbal Apothecary, books of and about meditation practice, yoga, Tai Chi and Qi Gong, healing superfoods and supplements, herbal teas and elixirs, fair trade jewelry and scarves, works of art by (local) artists including Nancy Lasar, Susan Monserud and Joe Gitterman, essential oils, top quality incense and more.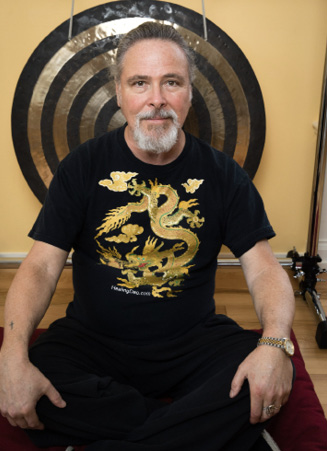 How do you find and vet your instructors and service providers?
Interestingly, they find us. The line "if you build it they will come" happens over and over again. Several have come to us through chance meetings at our booth at the local farmer's market or elsewhere. Pauline Koinis (our senior yoga instructor and massage therapist) showed up at my front door one day to teach me yoga. She had the right driveway but the "wrong" house. Turns out it was the right house after all! As we have grown, our practitioners and teachers have recommended us to other teachers and practitioners they know. Jampa, Pauline and I serve together interviewing prospective staff and checking references. Our staff has decades of experience and skill. A full list of our staff and their individual bios are available on our website.
Just as a recent example, the other day I was sending out a message to the universe that I'd like to work with someone in marketing and PR as we enter our second year. The next day a person with excellent marketing and PR skills and experience walked into Valley Spirit for a treatment. The law of attraction. It seems when you are on the right path, things fall readily into place. This has been a beautiful pattern I really cannot explain, but for which we are most grateful.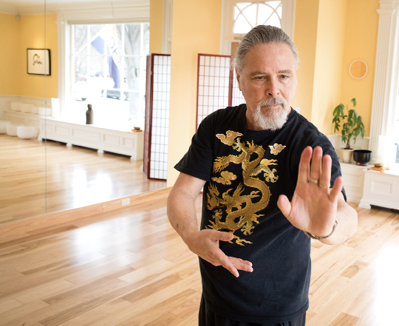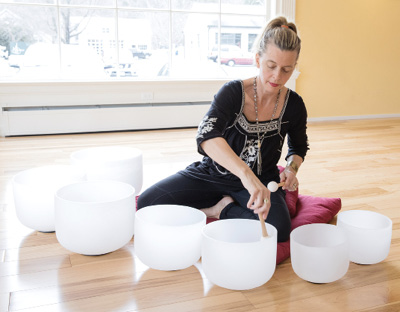 What are your hopes and plans for the future of Valley Spirit?
Our main goal in our second year is to continue to build awareness that Valley Spirit is neither a liquor store (funny, but true) nor "just a yoga studio" but rather a full service wellness center and unique, community gathering place. Soon we will be offering national teacher training and seminars led by Jampa Stewart and Pauline Koinis appropriate for those needing CEU credits. We will continue to offer seasonal Ayurvedic consultations with herbalist Sonam Targee of Rochester, NY and weekend workshops with resident and visiting teachers alike. Down the road, I have plans for some festival inspired musical events.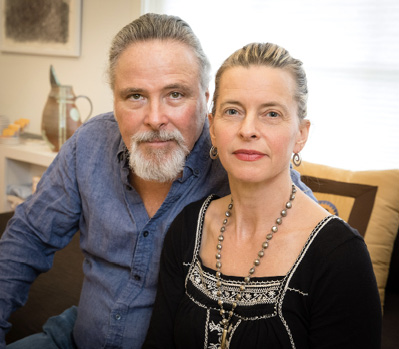 In the meantime, we are continuing to grow our First Friday offerings, incorporating more live music and dancing. April 6 will mark our first large, collaborative First Friday Fundraiser Event with The Owl Wine Bar and 9 Main of New Preston coming together with Valley Spirit as we host gypsy swing band The Lucky 5 and swing dance instructors from Danbury's Arthur Murray Dance Studio at Judy Black Memorial Park and Gardens to raise money for The Washington Community Fund.
The Arthur Murray Dance Studio and Valley Spirit will be offering on-going dance lessons. April 6 (swing dance event) and May 4 (Latin dance instruction to celebrate Cinco de Mayo) will give us an opportunity to build interest in ongoing classes we plan to launch mid-May.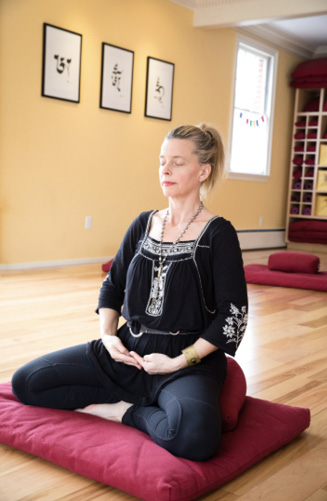 We also have plans to establish a Valley Spirit Cooperative membership program which will offer discounted treatments and classes, use of the studio for personal practice during designated hours, Amethyst Bio-mat treatments and other benefits. Part of the monies raised through the membership will help to establish Valley Spirit's Compassion Fund, a fund for those who would benefit from healing arts therapies but may need financial assistance. We have already introduced a sliding scale for all of our services and a 20% discount for Local Heroes (armed services and volunteer services alike). Our main goal continues to be that anyone who needs our support receives it.
Lastly, Valley Spirit is excited to announce plans for two upcoming destination retreats: ICELAND (fall of 2018) and COSTA RICA (winter of 2019). Details to be announced!
Shop hours: Sunday & Monday, 10 am to 2 pm; Tuesday to
Saturday, 10 am to 4 pm
Classes as scheduled and treatments by appointment.
Valley Spirit Cooperative & Wellness Center
6 Green Hill Road
Washington Depot
860-619-2788
[email protected]
www.valleyspiritcoop.com