With new exhibitions every 5 weeks and a growing stable of talented emerging artists, Five Points Gallery has become one of Connecticut's outstanding contemporary art venues.
Five Points Gallery presented it's first public arts project—The Torrington Yarn Bomb—in the summer of 2016. The summer project involved 200 sites in the downtown area and 500 participants ranging in age from 2 to 102. It brought thousands of people into downtown Torrington that summer.
Located in a historic building at the five-point intersection in downtown Torrington, Five Points Gallery is a non-profit contemporary art gallery showcasing professional regional, national and international visual artists. The gallery presents exhibitions in three beautifully renovated exhibition spaces and has earned the reputation as one of Connecticut's outstanding contemporary art venues. The gallery guestbook documents visitors from nearly every town in Connecticut, eighteen states, and 9 countries.
Founding Executive Director Judith McElhone is originally from Torrington and has lived in Litchfield county all of her life. With three degrees in the arts (an AS from Northwestern Connecticut Community College, and a BFA and MFA from the Hartford Art School), she has an extensive art background and has taught at Northwestern Connecticut Community College for some 20 years. She "retired" from teaching to direct Five Points Gallery. Here is what she had to say about the Gallery from its beginnings in 2012 to its successful position today, and a bit about its future plans: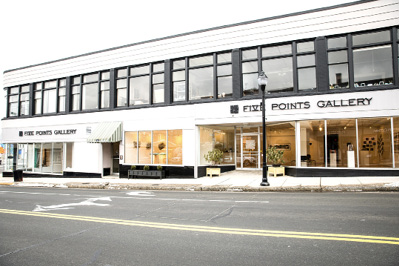 1. What inspired you to open Five Points Gallery?
In 2012, I was asked to consult with Torrington Arts and Culture Commission on a temporary summer storefront gallery (Art Space Torrington), which was conceived of as part of "Main Street Market Place". Five Points Gallery incorporated as a non-profit in 2012 as an offshoot of that initiative.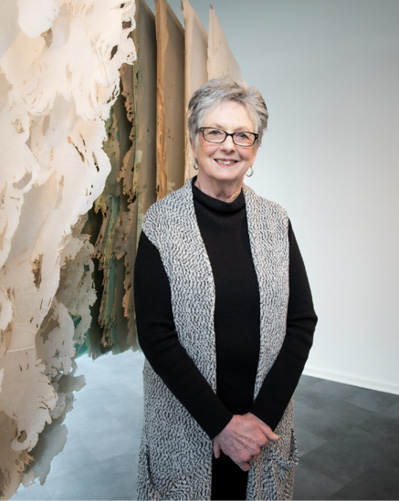 2. What is the mission of Five Points?
Five Point's mission is to champion and nurture artists at all stages of their careers and to empower a diverse community through the presentation of inspiring exhibitions and educational initiatives. An important goal of the gallery is to continue to present exhibitions and events which inspire a diverse audience. We also recognize the importance of Creating Economy to downtown Torrington and our region as a whole.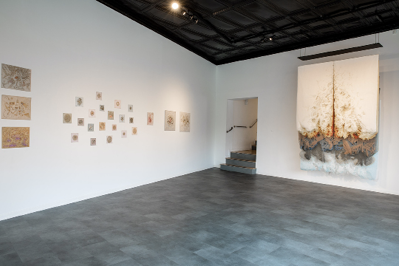 3. Education seems to play a large role in the gallery. How did that come about?
Education is central to our mission as a non-profit. We present artist conversations, a community critique day, and an annual lecture series featuring prominent art world figures. The college consortium is a natural aspect of that role given the proximity of the institutions to Torrington and the strong art programs associated with the schools. UConn no longer has a campus in Torrington, but we continue to have a strong productive relationship.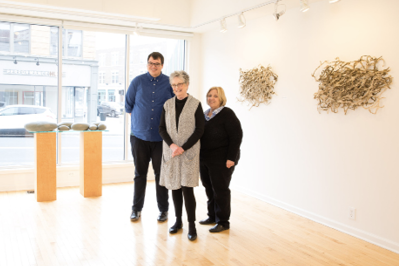 4. Tell us about the Launchpad program. How does it work?
The Five Points, Hartford Art School /University of Hartford Launchpad provides graduates of the Hartford Art School with affordable shared studio spaces located above Five Points Gallery in the heart of historic downtown Torrington. In addition to workspace, the initiative offers mentorship opportunities, a serious emerging artist community, and a Five Points biennial exhibition. The Launchpad is a two-year evolving program.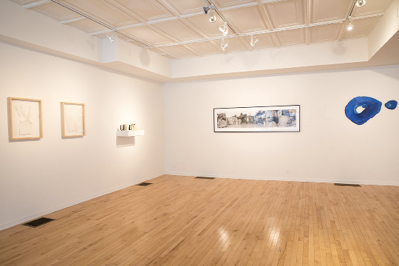 5. Five Points Gallery recently opened the Five Points Annex located at 17 Water Street in Torrington—two doors from the Five Points Water Street entrance. How does the Annex work?
The Annex, an expansion of the Five Points, Hartford Art School and University of Hartford Launchpad program, is designed as a community pop-up gallery managed by the Launchpad artists. Five Points Gallery Annex presents a unique opportunity for the Launchpad artists to learn gallery management while exhibiting their ongoing work in a professional environment. Local and regional artists and artisans will also have the opportunity to rent the Annex space for solo or group exhibitions. Five Points will not take a commission on works sold in the Annex; thus, encouraging sales which will directly benefit exhibiting artists.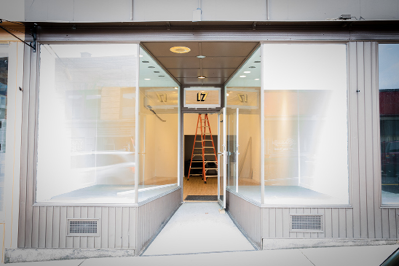 6. How do you manage such a large membership of volunteers?
The Five Points volunteers all have special areas of expertise and are deeply valued by staff and the Five Points executive board.
7. How do you select the artists and works to be featured in an exhibition?
The Five Points Annex is a non-juried community gallery. Five Points Gallery accepts artists' submissions in March and September.
8. Are there any particular exhibitions that you have presented at the gallery that stand out as very successful or shows that you are very proud of?
I am sincerely proud of all the artists that show in our spaces.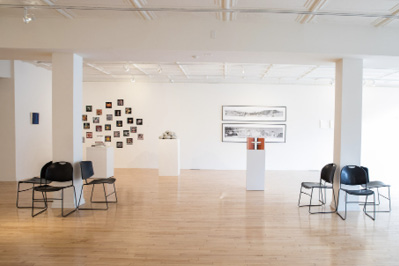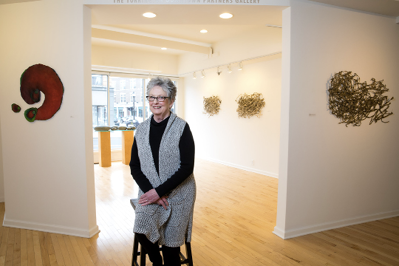 9. What are your hopes and goals for the future of Five Points Gallery? Is there something you would like to do that you haven't yet done?
Five Points will open a professional printmaking facility in the near future. This new addition to Five Points will offer critiques, classes and printmaking workshops for artists and members of the general public.
FPG installs new exhibitions every five weeks. At the start of each exhibition, FPG holds an Opening Reception to celebrate the launch of the exhibition and to provide the opportunity for gallery supporters and the public to meet the featured artists. FPG Opening Receptions, typically held on Friday evenings, regularly attract 250 plus people.
During the run of each exhibition, FPG hosts an Artist Conversation in which the artists speak to an audience about his/her work and career, thus allowing for personal insight into the presented exhibition. Distinguished interviewers such as Joseph Montebello and Power Boothe moderate these conversations. In addition to these events, the gallery welcomes visitors Thursday through Sunday and by appointment.
Currently, there are three exhibitions at Five Points Gallery: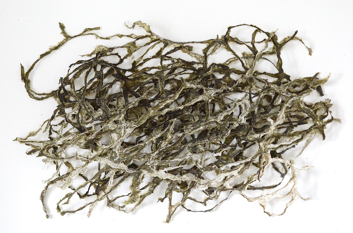 Paper Rock Scissors
March 1 – April 7
Opening Reception: Friday, March 2, 6 – 8:30 pm
Artists' Panel Discussion: Friday, March 23, 6 pm
West and TDP Galleries
Artists: May Babcock, Andrew Buck, Walter Kendra, Carole Kundstadt, Leslie Landau, Joyce Miller, Ben Parker, Chris Perry, and Rashmi Talpade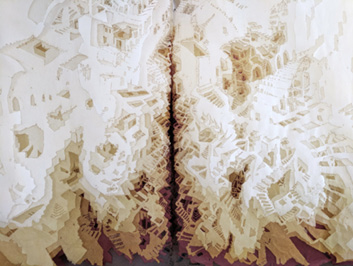 Floating Walls and Tectonic Ziggurats
Julie Pereira
East Gallery
March 1 – April 7
Opening Reception: Friday, March 2, 6 – 8:30 pm
Artist Panel Discussion: Friday, March 23, 6 pm
Presence: Encounters with the Figure
Curated by Ann Finholt
April 12 – May 19
Opening Reception: Friday, April 13, 6-8:30 pm
Artists' Panel Discussion: Friday, May 4, 6 pm
East West and TDP Galleries
Artists: Lexi Axon, Charles Cajori, Helen Cantrell, Barbara Grossman, Catherine Kehoe, Ken Kewley, and Larry Morelli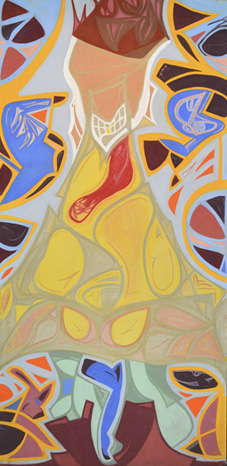 Five Points Gallery Annex will have its first show Pastel On Sheetrock, a solo exhibit featuring paintings by Ian James Roche beginning on April 19 to 29, 2018. The Annex will be open Thursday to Sunday, 1 to 5 pm. There will be an Opening Reception on Friday, April 20 from 4:30 to 7:30 pm.
Five Points Gallery
A Contemporary Art Gallery
33 Main Street
Torrington
Five Points Gallery Annex
17 Water Street
Torrington
860.618.7222
www.fivepointsgallery.org