With a Little Bit of Heat
By Charles Dubow
Torsten Gross is one of the coolest people you are ever likely to meet. Despite breaking his neck at the age of 15, today at 42 he is, as he says, "the world's only quadriplegic rescue SCUBA diver." He designed his own smart home in Sharon. He was a senior executive at J. Walter Thompson and Deloitte. He tells corny jokes. And he sells his own line of honey. But not just any honey.
"We left New York in March and came up here," he says as we sit outside his home on a chilly January morning while his dog Jake sniffs around the lawn—oblivious to the spectacular view over the valley. "I needed a hobby." So he and his wife Maggie started making their own hot honey. "I love hot food. I'd had hot honey before but nothing that really worked. It either scorched your mouth, instead of just producing a satisfying heat, or once you drizzled it on food it just sort of sat there. I wanted to create a honey that wouldn't burn your mouth but would instead heat your throat." Using locally sourced honey, Gross decided to go with Carolina Reaper chili pepper, the world's hottest.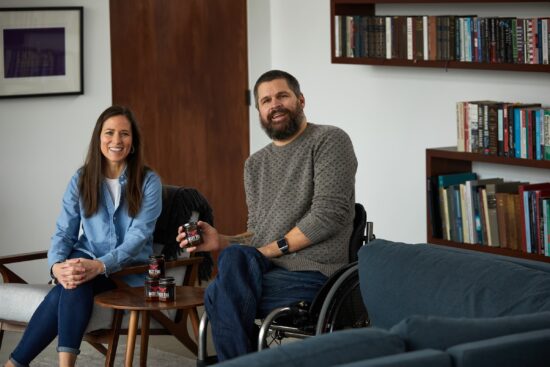 The result is a one-two punch of flavor: first, you get the familiar honey sweetness followed by a shot of heat. The initial sensation may be a little jarring to your taste buds but after the second bite all you can think about is, wow, what else can I put this on? (Here are a few suggestions: spicy chicken sandwiches, fried chicken, Manchego cheese, salad dressing, pizza, spare ribs, marinades and, yes, even ice cream. Try it. You'll love it.)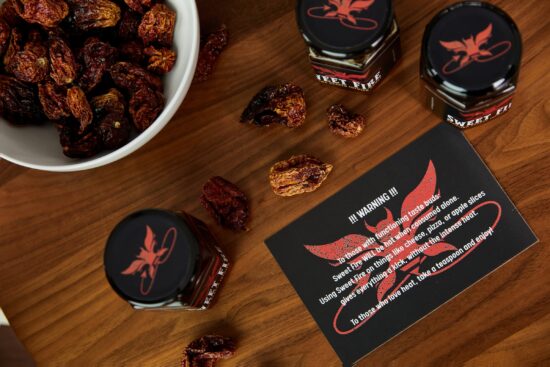 It wasn't until last October that Gross decided to turn his hobby into a business. "I had been making it for us and a few friends when one of them asked me for 25 jars to give for Christmas. That's when the light bulb went on." As a former ad exec he knew just what to do. He came up with a name, a logo, cards and a website. Sweet Fire Honey was officially born.
His first customers were friends, or friends of friends. However, it wasn't long before he started getting orders from people he didn't know. He started ordering 300 glass jars at a time, which are the only non-local products he uses. "We sold out three times in one month. I couldn't get the jars fast enough. Because of COVID, demand for glass has outstripped supply and my hope is that once things normalize I can get more jars."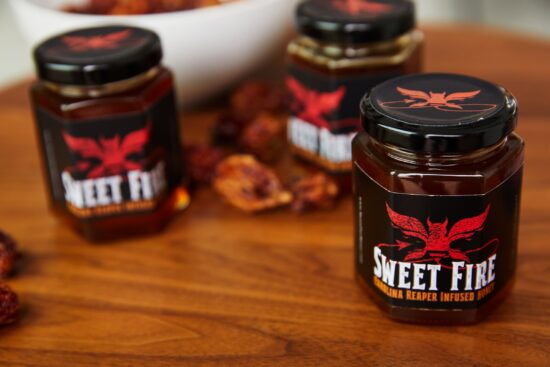 And he will need them. Gross has ambitious plans for Sweet Fire. In addition to selling it through his web site, he is reaching out to local vendors to get them to stock his honey. "Normally I'd bust right in and make my pitch but I'm high risk and have to be careful. My dream is to have Arethusa pick it up and put it in their gift boxes."
Sweet Fire Honey
thatshot@sweetfirehoney.com
203-952-3559