By Pamela Brown
As the saying goes, 'You can take the boy out of the country but you can't take the country out of the boy.' That statement has never been truer for Gregor McCluskey. "My heritage of spending summers in Scotland as a young boy then visiting our family home there and spending time with friends as I got older gave me a vision," says McCluskey.
Inspired by his homeland's coarse terrain and working class, McCluskey embarked on a mission to create an all-natural performance fabric for sportsmen like himself that offers comfort and durability. "I pulled my aspiration out of my lifestyle. As a kid I'd be out canoeing, building rafts, catching fish. My true love was the outdoors. It sent me on a purposeful life," he says.
After a successful career in corporate America, and more than 20 years of fine-tuning his idea, McCluskey created BRÃEVAL (pronounced brave-all), a high-end line of sporting apparel, and then opened a retail shop in 2011. "Scottish people are very outdoorsy. It's a sophisticated place yet rugged. It's a unique lifestyle. You can see farmers wearing beautiful tweed coats, but they're farmers, and that's what I fell in love with."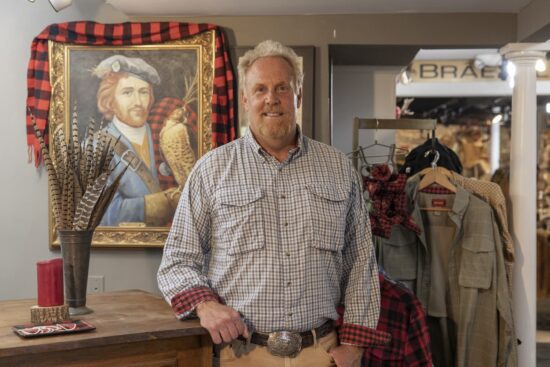 Aimed at the 'sporting adventurer,' a term McCluskey coined, it's for anyone seeking to wear one outfit for multiple purposes while looking presentable. "I wanted to take American plaid and make it more performance-oriented and sophisticated." As McCluskey explains it, he owes it all to his great-great uncle, Big Jock, a well-known character in Scotland who was caught hunting grouse on the lord's property in the 19th century. "He left the Upper River Valley and came to Connecticut, went up to Canada where he traded blankets and shirts in Buffalo plaid, then made his way to Montana where he traded with the Native Americans because they loved that red-black cloth. They thought he used blood from his great enemies to make that red dye, and he did little to dispel that. I'm proud of that story, of our heritage."
It was only fitting that McCluskey found the name of his store while attending his 106-year-old grandmother's funeral in Scotland. "I always loved the name of her home, BRÃEVAL House," he says. "I looked it up and the translation to English was the Upland River Valley between the mountains and rugged brae of the Scottish highland. That's me—I'm an outdoorsy guy, a little bit of a rebel. It gave me a vision of what the brand would be."
McCluskey fused American design with Scottish tradition, incorporating Rob Roy tartan of the Clan MacGregor in his sustainable designs. The apparel is made of proprietary all-natural Tiera fabric of Merino wool and long staple cotton. "You get the soft suppleness and absorption of cotton and the incredible performance attributes of wool, such as wicking and it's biodegradable and fire retardant," says McCluskey who is committed to promoting a more natural way of life that can be traced to his roots.
"There's no question I was meant to do this," he says. "I love it because of the connection to my family and Scotland. I'm proud of it and I'll work harder because of it."
3 South Street, Litchfield, 860-482-7260, braeval.net