A Renovated 19th Century Cottage on Lake Waramaug Stays True to its Roots
By Joseph Montebello
The 1880s fisherman's shack (or poker shack as it was also known) was in dire need of some TLC and an owner with a keen eye to its history and its potential. Enter Sheila Harley. Eight years ago, having just returned from London where she, her husband, and their three children had been living for twelve years, the family was invited to visit friends in Litchfield County. 
"We fell in love with the area," recalls Harley. "But since we had just bought an apartment in New York we had no intention of taking on another project." But they did. After looking at a handful of properties, Hartley settled on a cottage on the lake. While it didn't meet all their criteria by any means, it was only doors away from their friends, so the children could all play together, and it had the most spectacular view. 
"The house had apparently been a wedding gift to someone in a neighbor's family way back when," says Harley. "The theory is that the men would come down to play cards and drink during prohibition. It had no insulation and was truly inhabitable only in the summer. After a discussion with our contractor John Dinneen we wound up taking the house down to its studs, adding proper insulation, and bringing everything up to code."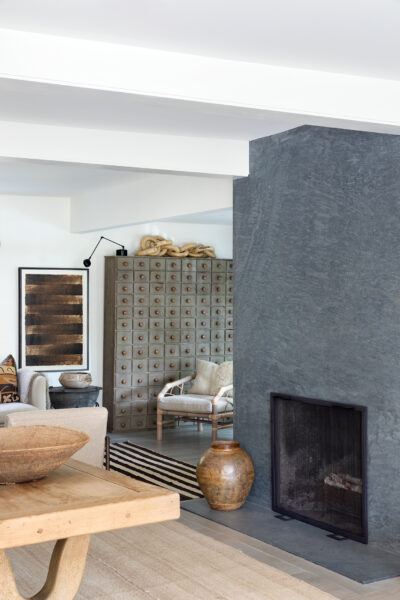 The old red barn on the property was built in the same time frame, but it was so compromised that it was torn down and rebuilt on the original foundation. The interior is made of salvaged barn wood. The owners retained the original footprint but pushed out on one side to create another bedroom, bringing the size of the house to 2500 square feet. They also added an open front porch.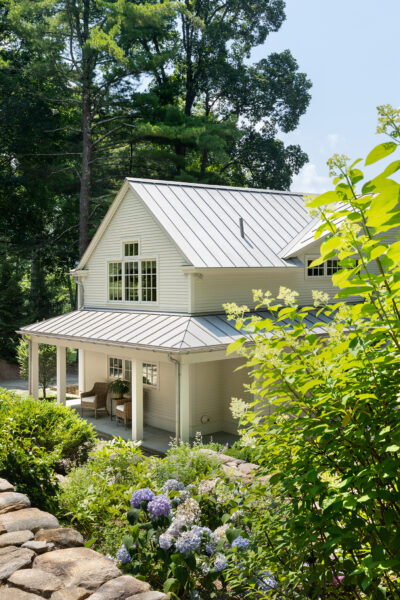 Harley, a family therapist, had a previous career as an interior designer and so creating a comfortable and stylish interior was easy for her. She did, however, need some guidance on structural issues. 
"It was definitely a collaboration," she explains. "I looked to Suzanne Greishel, an architect I knew from my first career. We brainstormed about how to honor the footprint and history of the cottage while incorporating modern elements such as the zinc roof, monolithic stone fireplace, zinc shelving, and gray oak sawed doors and flooring. Every decision around the architecture and interiors took into consideration the lake and how we could orient the space toward the view."
To furnish the house, Harley made use of pieces she already had and filled in with purchases from local merchants. "I buy things I love, even if I don't have a place for them at that moment; I know they will work out someday. I decided I would buy local for anything I needed and got my first piece of furniture for the house at Pergola in New Preston. Privet House, Plain Goods, J. Seitz, Michael Trapp, KMR Arts, and George Home provided the inspiration with their beautifully curated collections of objects and furniture. They all contributed by providing a wonderful point of view and ability to help edit and redefine along the way. It's truly a unique shopping experience for me."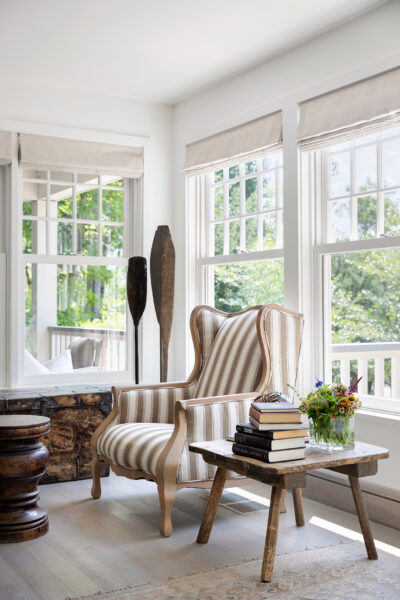 To create the vision for the exterior Harley consulted with landscape designer Liz Kay, of Liz Kay Finial Design, who focused on how to integrate the house and the barn with the front terrace and the garden in back of the house, again making the most of the lake view. Materials were limited to stone from the area, pea stone, boxwoods, and plantings of green and white. The goal was to create a calm backdrop with varied seating areas to enjoy the view at different times of the day. And it all works seamlessly.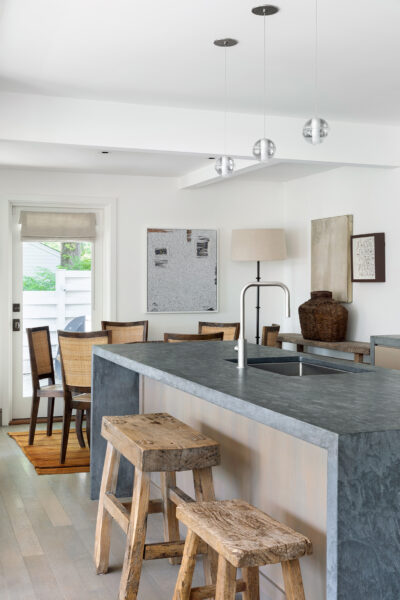 The property is just shy of one acre, although it appears to be much larger. "We have the advantage of backing on to our neighbor who gifted 100 acres to the land trust," Harley says. "So behind us are completely open woods with streams. I feel like the custodian of someone else's land."
"We spend as much time as we can here, our kids learned to water ski on the lake and we love grilling outdoors, shopping at the farmers market, and having friends over for an impromptu dinner—such a different experience from our city life." Nature provided the scenery and Harley created a perfect Shangri-La.