By Pamela Brown
When my dad was facing the end of his life, my family and I wanted him to spend it in a place near our home in Danbury that offered around-the-clock medical attention accompanied by personalized care and compassion. Until his last breath, the Center for Comfort Care & Healing at Regional Hospice of Danbury provided that tender loving care. Now the nonprofit is opening its arms to the Litchfield County community through New Milford Hospital.
"Hospice is an actual philosophy. It's about giving the patient everything they need in order for them to die with dignity and compassion, and allowing them to have the journey be exactly as they need it to be," says ToniAnn Marchione, LRT, (M) BS, COO of Regional Hospice, a nonprofit organization based in Danbury.
Regional Hospice has partnered with Nuvance Health to provide personalized care to adult patients with life-limiting illnesses at New Milford Hospital. In July they unveiled two newly renovated private suites. "Relationships such as this one with Regional Hospice allows for the most compassionate, respectful, and efficient care for those at the end of their lives. It's one more way we are innovating, partnering, and ultimately improving how we care for our patients no matter the stage of health or illness," says Sharon Adams, President of Danbury and New Milford Hospitals.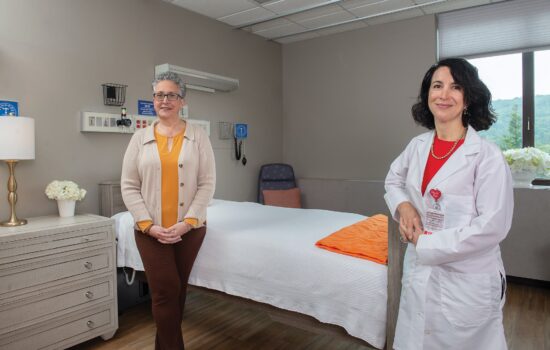 The two newly-designed suites each include hospice beds for easier mobility, a soothing color scheme, gentle lighting, and sleeper sofas to accommodate loved ones for overnight stays. "We tried to make it as peaceful and comforting as possible," says Marchione. Both rooms are located at the end of a hall and adjacent is a living room for family with comfortable couches and chairs for private relaxation.
New Milford Hospital staff has been trained in specialized hospice education and will provide 24/7 physician and nursing care. Family members will be supported by Hospice's interdisciplinary staff of registered nurses, aides, bereavement counselors, social workers, chaplains, trained volunteers, and specialized therapists.
"At our center in Danbury oftentimes we have a wait list, which is one of the most difficult things for me, Cynthia [Roy, President and CEO of Hospice], and our staff. It's painful for us because not everybody makes it here," says Marchione. "Adding these beds at New Milford Hospital coincided with our strategy over the next few years, which is to expand the compassionate care we offer, in the Center and in the community, further into Litchfield County."
No one ever wants to lose someone important to them, but I'm grateful my dad spent his last days in a place where I could spend time with him surrounded by professionals who offered him the specialized, heart-centric care that he needed at a time like this. "We want every patient to have an individualized hospice experience in which they live life to the fullest, whatever that means to them, until the end of life. We want their journey to be filled with peace and contentment," says Marchione.