By Kerri Arsenault
Erik Madigan Heck and Brianna Killion Heck designed their Roxbury, Connecticut home themselves, right down to the most elegant spoon. The interior is a soothing tribute to grayscale, with blond wood floors and intermittent warm oatmealy tones on the soft goods, which match the color of Rumpus, the family Spinone pup. Brianna's unblemished porcelain skin also complements the design. Color at the Heck's emerges in layers: a pale turquoise rug, a life-sized nude photograph of Brianna that Erik took, and the 14-foot plate glass windows that reflect the lush greens of the wooded forest below in the ravine, recasting color saturation as light glances through the room. Their two boys—Felix and Winston—both dressed in peppermint-striped cotton PJs, ping-pong on two big wooly sofas and skate the floors in stockinged feet, with Rumpus following close behind. Their stripes become a pink blur. When Brianna laughs, her face flushes a Beaujolais red. Their home parallels their work in tenor and tone, which is built meticulously and in layers of color and love from the ground up.
If you are not familiar with Erik's art yet, take note. His photography has won notable awards and he's a regular contributor to magazines like TIME, Harper's Bazaar, Vanity Fair, and The New York Times. His Instagram feed features images of Ruth Bader Ginsburg, Tony Bennett, Roger Federer, James Harden, Adele, and Joe Biden. And his website is a study in high fashion commissions and campaigns.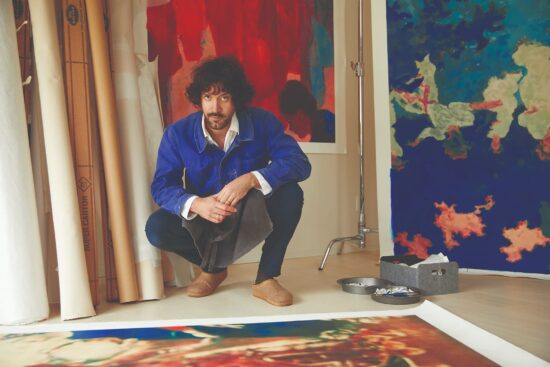 Photography is a fiction, Erik said one night while having drinks. Like a novel, I thought, one you want to desperately read. It has, like most good stories, a beginning, middle, and end but it's getting there that holds the mystery and surprise. In his photographic post-processing mode, I've watched him digitally build color and intent, creating stories within the bounds of the frame until he conveys the emotion he wants to convey. Watching him work and edit is like watching a watchmaker adjust time. Erik approaches paintings, music, film, even making perfume much the same way: constantly inventing and reinventing with precision and artfulness that also leaves a residue of ambiguity in its wake.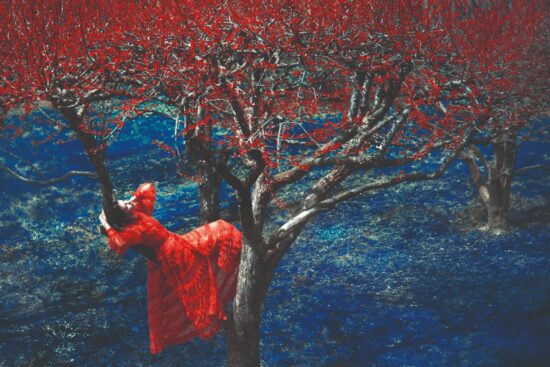 When the economic machinations screeched to a halt last March and Erik could no longer travel to London and Paris where he normally works, the Heck's adapted. Brianna, an artist too, upped the portrait commissions she completed and became Erik's sole collaborator, model, and muse. They shot for Van Cleef & Arpels, Rodarte, Carolina Herrera, and Harper's Bazaar UK, largely in their backyard, using Litchfield County's nature as the backdrop. Brianna, for her part, played the part Erik needed her to play, but always with strong opinions (usually differing) about which photographs to keep. What also emerged from this family affair was The Garden, four years in the making and released in February 2021. In it, both Erik and Brianna's intersectional talent and the intimacy of our pandemic bind is on full display.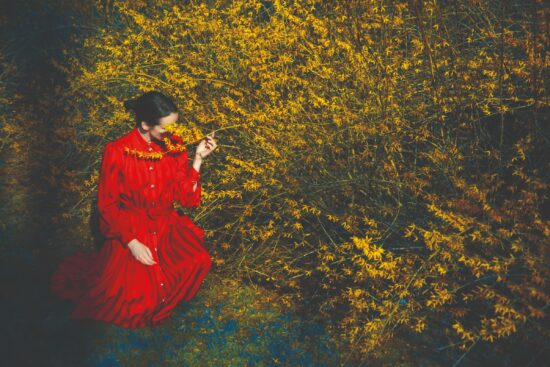 The book is a modern fairy tale, which amounts to a fair description of the Heck's marriage and Roxbury, too; they married three months after they met and Roxbury was love at first sight. A quiet life where their children run amok, playing with insects and in brooks to their heart's content. The Garden is part of a larger project that also includes a musical score/art mashup ("Safe Passage" with Dutch musician Frits Wentink) and perfumes—with Les Eaux Primordiales, France—and draws upon old masters, Catholic iconography, archetype, and myth while accessing the spontaneity of color and light. It's lush yet simple, and guided by Leanne Shapton's text, Erik's poetry, and Brianna's gestures and angles that feel like an angel in flight.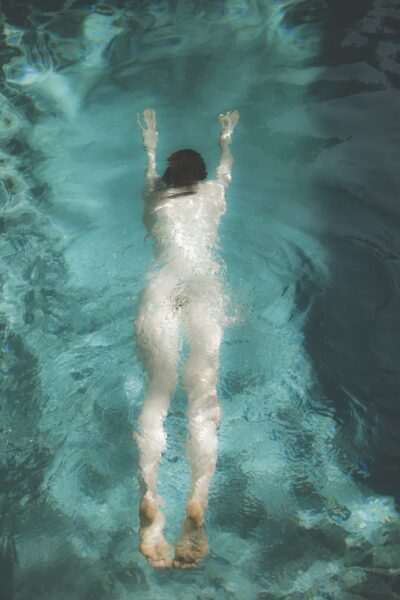 "Safe Passage" was half completed when Erik's mother passed away in February 2020, which added a new meaning to the title and score; he also built in field recordings of Roxbury, Tilda Swinton whispering Erik's poetry, and Felix recounting one of his dreams. It's as complex and thoughtful as the work as Erik and Brianna do. Weaving between classical, ambient, choral, and hard techno into a three part, 27-minute long modern symphony with the intimacy of family strewn throughout, "Safe Passage" also invokes hope; that with love as our base, we too can have safe passage from our modern day plights.