By the Community, For the Community
By John Torsiello
Since its inception, the Judy Black Park and Gardens in the center of Washington Depot, and Litchfield County geographically, has been a social hub for townspeople and others. During the COVID-19 pandemic, residents and visitors have needed that boost more than ever.
"The Judy Black Park has completely revitalized the center of town," opines Denise Trevenen, Board President of the Judy Black Memorial Park and Gardens, adding that the park benefits retail businesses. "The farmers market brings a flow of people in on Saturday mornings, and it has become a lively, vibrant place. More symbolically, the park has become the town square, as we had hoped."
Trevenen was one of four business owners that in 2013 decided they "had enough" of an abandoned gas station in the center of town. The group wanted to purchase the building and grounds and turn it into some form of green space, a town square, so to speak. So, as Trevenen puts it, they "fearlessly and somewhat blindly" entered into a contract and then proceeded to raise money to buy the property.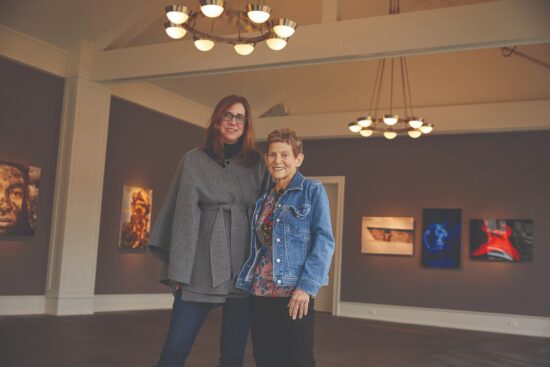 The group did raise additional funds to renovate the property and building and create a park and cultural center. The idea caught on, says Trevenen, "First came the farmer's market and then a few art shows. We were incredibly fortunate when the late Judy Black, a local resident, stepped up and donated funds to complete the park as you see it today."
Trevenen measures success of the park and gardens by community feedback "and the smiles on everyone's face on a Saturday morning or during an outdoor movie, a sports party, or an art opening that tell me this is a place loved by all."
The park and gardens provide solace, a place to gather safely, and something to do during the COVID-19 pandemic. "During the summer, we still had the farmers market, and people were great with COVID safety protocols," says Trevenen. "We held a number of drive-in movies, some live music, and some art exhibits. We kept children's programs going. In some ways, the pandemic has actually made people realize how important the park is to them."
Trevenen says park leadership "will continue to be creative" during the rest of the pandemic and beyond. "Our active board and wonderful executive director, Laura Neminski, are focused on how to meet the needs of our broad community—young, old, full-time, part-time, long-time residents, and newcomers. The park is open for everyone."
The pandemic "forced" park leadership "to think more creatively about how to fulfill our mission," says Trevenen, "how to enrich our programming so that there's something for everyone and how to sustain the park financially for today and the future, for our kids and their kids."
There is always a need for volunteers and donations. "Our resources are limited," says Trevenen, "so we depend on volunteers and donors. Most of our programs still depend upon volunteers to plan and execute them, and most of our operating budget depends on the annual financial support of our donors."
Judy Black Park and Gardens
1 Green Hill Rd
Washington
laura@thejudyblackparkandgardens.org