Artist Matt Wood talks about his work from his studio
on the bucolic Flanders Road in Woodbury.

Albert Einstein once wrote that "true art is characterized by an irresistible urge in the creative artist." On a recent summer afternoon, Matt Wood strode out of his studio in a paint-specked shirt, arms outstretched, with a welcoming, "Let me show you everything." That 'everything' is apparent on all the walls and in every corner of the artist's home. There is a mural on the bedroom wall depicting the time he spent in the 1980s living in his bronze 1979 Chevrolet Caprice and burying his art in New Mexico and Texas (more on that later). In the living room, a painting with a face sporting a Day-Glo afro created with his daughter's melted crayons lives alongside a dramatic drawing of a women covered by glass and black paint to reassemble a burka. As we ramble down to the downstairs studio, photographs spill over a large table and there is a rendering of Copernicus that encompasses the entire ceiling.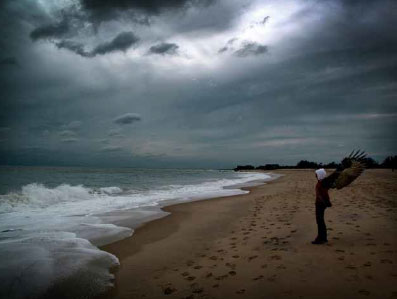 "For me, in my work, the personal can become universal. If you try to do the universal, it never works. I can talk about where I live and edit it down to its essence." Much of the art in his home is drawn from powerful life experiences. For example, after he participated in the NYC Open Swim, he drew the city and all the points of the course, in exactly 7 hours, 7 minutes and 32 seconds, the time it took to finish the race. When the time was up, he put down his pen and so part of the drawing remains unfinished.
Wood was a competitive swimmer in San Marino, California and earned a scholarship to the University of Iowa where he participated in Olympic trials. After struggling with academics, the swimming pool became the milieu in which he felt most free. Wood clarifies, "In swimming long distances you get into a cadence, your mind opens. We often get in the way of ourselves but in a 10,000 yard swim—your mind clears and it gave me the calmness to think about my art." At this time, to supplement his income, he had already painted large scale set designs for drama groups and was designing murals for bars and restaurants around the college.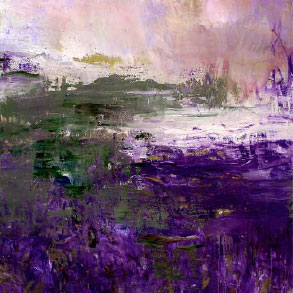 In 1990, Wood settled on Roosevelt Island in NYC but later jumped at the opportunity to work on a house in Westport in exchange for rent. It is here he met his Polish-born wife Joanna who he saw from the house's second floor window. "I remember her walking down the street in a beautiful bronze and gold dress holding hands with her daughter Bianca," Wood fondly recalls. It is here that the connection with Woodbury began with his first large commission for the local interior designer John B. Maurer. When he brought his wife to see the stunning sunset painted on Maurer's dining room ceiling, they fell in love with Woodbury and decided to purchase a home in the town in 1999.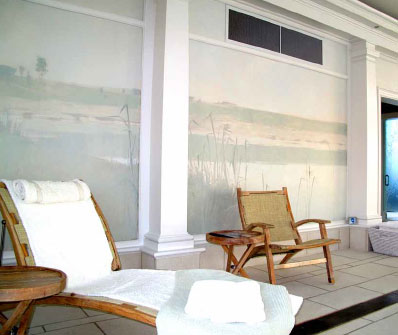 A notable mural painted by Wood that evokes the American Impressionist, John Singer Sargent, can be found on the wall of the indoor pool at the Mayflower Inn and Spa. Adriana Mnuchin, former owner of the Mayflower, enthuses, "He is a magician with paint." Another just finished project is a stunning aluminum tree foyer for the Aalto-Stewart home, also in Washington, where photographs of the property's trees were projected on the taped walls, cut in relief, and the rest of the surface was covered in silver leaf. The end result is a breathtaking artistic homage to nature. Wood's most recent mural project is in the Darien home of John and Whitney Lancaster on which Wood will recreate his own impressionistic view of a 24-hour day in Connecticut.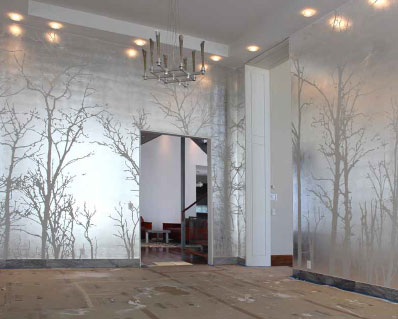 Wood's paintings have many recurring themes of time, distance, measurement and identity. In the artist's view, paintings often take on a life of their own. As mentioned, when Wood was young he drove across the country and lived in his Chevrolet during the 80s. Full of angst, he buried his paintings in New Mexico and Amarillo, Texas. He dug them up eventually and found he loved the changing patina created from the elements and the time underground. His 'Composite Head' series, shown at Westover's Schumacher Gallery, were each formed when the artist took features from many different genders and races to create one face. "One young girl who appears African-American is created from 5 or 6 people, none of whom are African-American. It makes you question identity and race. I am adopted and I always consider that my history starts now," Wood adds.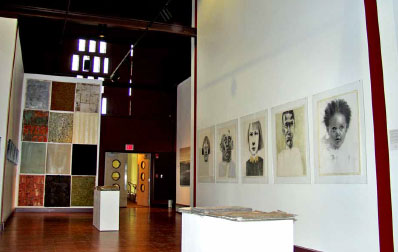 The Litchfield County community has benefited from the large-scale vision of Matt Wood as evident in his 2011 project with the After School Arts Program based in Washington Depot. A large group of children and teenagers from all economic backgrounds were invited to participate in creating a mural on one side of a commercial building in Torrington. "Matt Wood's artistic guidance and dedication to the project is something without which creating a mural of this scale and depth would have been impossible. The endless hours that Matt spent planning, designing, and working on the mural is a gift to all of us. We cannot thank him, and his wife Joanna, enough for their dedication and exceptional generosity," wrote Rachel from the ASAP program.

One of the most ambitious projects planned for the future is a performance piece to be presented at The Good News Café in Woodbury from October 11 to December 3 of this year. Wood intends to walk across the entire town of Woodbury, painting each step on the route across the town. He explains that he will use two volunteers; one to place a paper in front that he will step on with ink or paint and then another person behind to pick up the painted step, and so on, until he traverses all of Woodbury. Wood is still pondering how he will display these stacks of 'paper' which he estimates will be 17,000 steps when completed. This very exercise of art measuring distance, honoring community and identity seem to be at the very core of Wood's body of artistic work.
Matt Wood is available for commissions and can be reached at:
203.263.0450 or via email at matt@mattwoodart.com
To see more of Matt's work, go to: http://mattwoodart.com/