By Joseph Montebello
Twelve years ago Mike Higgins opened the Litchfield Hills Wine Market. In 2014, a few miles away, Jack Baker and his brothers Peter and David started Litchfield Distillery. Together they have brought new meaning and the highest standards to the worlds of wine and spirits. Now the two resources have collaborated on a specially prepared and bottled bourbon to be sold exclusively by Higgins in his shop.
"Jack's father was a neighbor of mine when I lived in Northfield," explains Higgins. "So I knew the family. They started the Crystal Rock Water Company and knew everything about manufacturing and distribution. The Baker brothers made a seamless transition when they opened Litchfield Distillery. We were probably one of their first customers. We sell everything they make—their bourbons, gin, vodka, and craft cocktail cans. In the eight years since its inception it has had an amazing impact on the industry and the community."
A small craft distillery like Baker's can be flexible and offer special opportunities to collaborate. Higgins and his acting manager Manuela Fassbender paid a visit to the distillery and began the process of creating their special bourbon.
"Mike has supported us from day one," says Baker, "so it was really nice to be able to collaborate and create something unique. We selected half a dozen barrels and a variety of flavor profiles and did some tastings to come up with something their client base would like."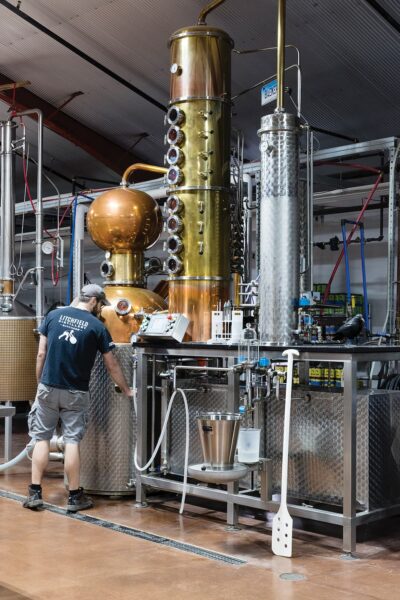 To qualify as a bourbon it must be made in the United States, just as scotch must come from Scotland. It has to be at least 51 percent corn-based, aged in new oak-charred barrels and distilled and bottled at specific proofs. Generally a barrel has to be at least 80 proof by federal regulation. It's usually barreled in 120 proof range because at the higher level it can absorb additional elements out of the barrel for more flavor.
Higgins and Fassbender found that perfect combination in the last barrel they tasted.
"People who drink bourbon are looking for smokiness and hints of vanilla," says Higgins. "Bourbon is made from American oak that is charred and scraped and aged. The distillery pays so much attention to detail and the ingredients they use are from local suppliers, making it even more special. The barrel we chose is five years old and rang all the right bells for us."
The selected bourbon, which is available now, will be exclusive to the Litchfield shop as well Higgins's new shop, The River Wine and Spirits, which will open in New Hartford.
Meanwhile Litchfield Distillery is expanding in its own right. Baker recently built a 7,000 square foot addition which will enable it to move about 800 barrels that were stored in an offsite facility. He has also added a second distillation line to double production capability.