Another Litchfield County success story: Melissa Evans launched a company with an organic, throat-soothing lollipop for children suffering from a cold or cough… then came the next product.
In 2016, Washington resident and mother of four Melissa Evans launched a company based on a simple product—a throat-soothing lollipop for children suffering from a cold or cough. Lolleez® are made from USDA Certified Organic ingredients like natural fruit pectin and organic honey. The key ingredient to ease sore throats is natural fruit pectin. Pectin is an ingredient that naturally occurs in and is derived from fruit. Pectin is also a natural demulcent, which means that as an active ingredient, it temporarily relieves swelling and irritation. Lolleez® are also Non-GMO, as well as gluten, dairy and nut free. The pops are flat and on a stick versus a round ball, which is a potential choking hazard, and they come in three delicious flavors: Watermelon, Strawberry and Orange Mango.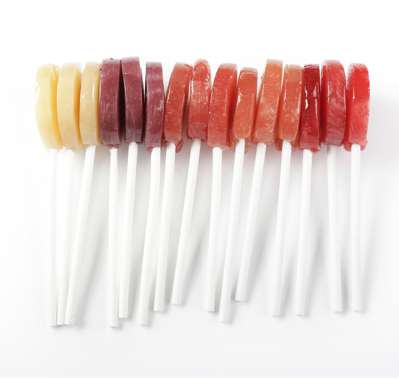 Melissa's next product is a similar pop for tummy aches. Tumeez™ are made from USDA Certified Organic and Organic compliant ingredients like organic cane sugar and organic honey. What makes it different from a regular lollipop is an active ingredient called calcium carbonate which is found in other antacid products. "We infused delicious organic ingredients with 200 mg of calcium carbonate (80mg of calcium) and a small dose of organic honey. Tumeez™ was created to help relieve heartburn, acid indigestion and an upset stomach. Knowing the sensitivity of kids, we wanted to create a product that offered a lower dosage per pop, with the hope that after one or two pops, they begin to feel better." Similar to Lolleez®, Tumeez™ are flat and on a stick versus a round ball, which is a potential choking hazard. Tumeez™ comes in two delicious flavors: Apple and Grape.
"As a mom, trying to keep life simple and healthy can be tricky. What do you do when your little one gets sick? Band-aids and Ice packs are miracle workers for scrapes and bruises, but what does a mom do for a sore throat or an upset tummy? I needed remedies that were organic, fun and most importantly effective. Lolleez® are great for soothing sore throats and Tumeez™ will ease that upset tummy," says Melissa Evans.
Here's what Melissa Evans, founder of Lolleez® and Tumeez™ had to say about how the idea for the products came about and how the company was started: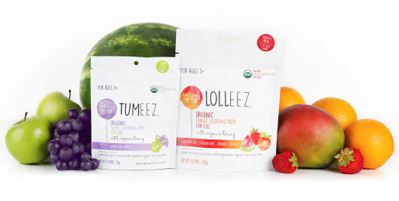 Where are you originally from? How did you end up living in Litchfield County?
I am originally from Washington, CT. After high school, I moved away for college and then spent many years traveling. When my husband and I decided to start our family, we agreed the best place to live was back home, in Washington.
Do you practice Health Coaching in Litchfield County?
I did until this past August. I ran 2 workout classes at Judy Black Park in Washington. It was a great group from the community and I look forward to someday getting back to it. For now, four kids and a start up company are keeping me busy.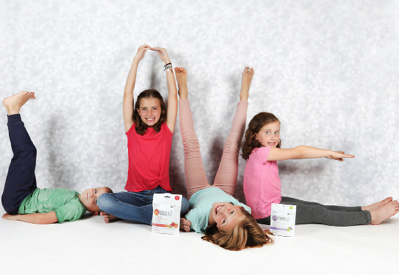 What is your background? You went from social services to health coaching?
I have a B.A. in Psychology and a Masters in Human Relations. I worked as a social worker with youth and teens for many years. When my twins were about 8 months old, I decided to make the transition to stay at home. As my four little ones grew older and more independent, I was ready to find something of my own again. I established a great network of friends all passionate about health and wellness. I attended a local bootcamp class that really peaked my interest in training. I was lucky to have a supportive group that encouraged me to go out on my own. This was the beginning of my Get Fit classes that I taught twice a week. By far, my favorite two days of the week. Great people and tons of fun!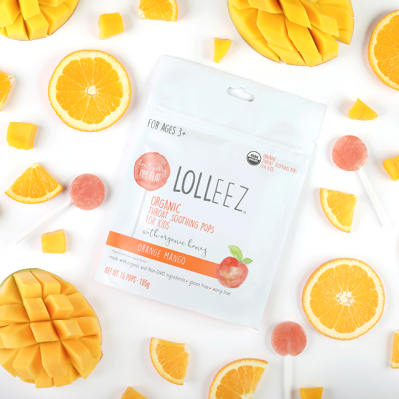 The connection from social services to health coaching and now to your products points to an affinity towards taking care of people. Would you say that your concern for others carries through in your work?
Yes, especially kids. My graduate and post-graduate work was always focused on at troubled youth. I worked for many years as a social worker and as a Director of group homes for children and teens. I was very passionate about this work.
When it was time to re-enter the workforce, I was ready for a change. I was having so much fun in the community workout classes, I decided to create my own. There was a lot of satisfaction in seeing people challenge themselves for the better. I was lucky to be apart of their transformations.
How did you come up with the idea for the first product?
My daughter was sick and we were driving to the doctor. I remember looking in the rearview mirror and feeling so bad that I couldn't do anything to make her feel better. She had strep and pneumonia; a double whammy. I thought how nice it would be to have a cough drop in the form of a lollipop. That's when the idea for Lolleez®, an organic throat-soothing lollipop, became my mission.
Lolleez® was an idea created out of concern and love for my kids. I never imagined it would grow into what it has, but I am so happy it did. Our team really values the comfort this simple idea brings to little ones and their families.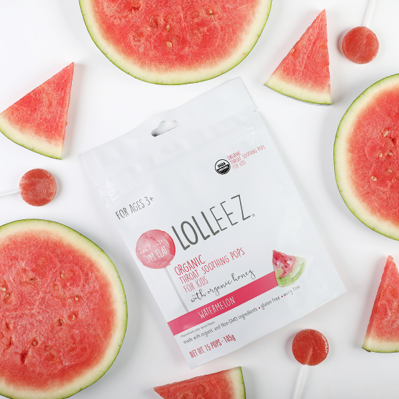 When we began to develop the idea for Lolleez®, other ideas naturally came to mind. The question was always, what can we do to make kids feel better while putting parents'minds at ease. Something for nausea and upset tummieswas at the top of our list. No parent enjoys motion sickness and upset tummy complaints… About a year after launching Lolleez®, we launched Tumeez™, organic tummy soothing pops for kids. I am very excited to have both on the market today at major retailers like Target, Stop & Shop and CVS – it's beyond my wildest dreams.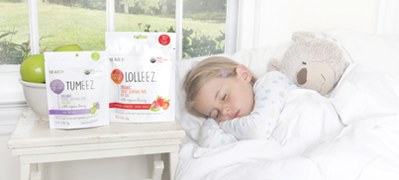 When did you actually start the Lolleez company?
The idea for Lolleez® happened in February of 2016. It was a very humble beginning that included drinking wine and brainstorming in my kitchen with family. My brother in law, who has a strong business and sales background, and I did a lot of research on products, branding, and talking with the experts on ingredient profiles. We would literally cut and paste to create packaging ideas. We spent hours tasting samples, dissecting packaging, brainstorming content and receiving feedback on all of the above from close family, friends and partners. There is a lot that goes behind building a brand, but the most important piece is a strong foundation.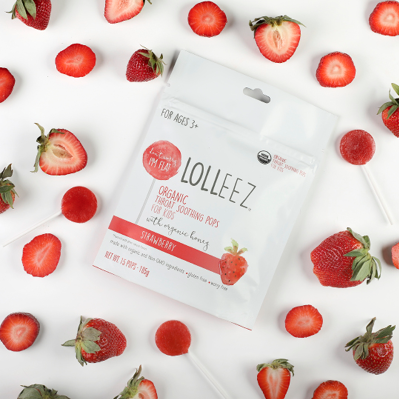 Your company is based in Washington Depot. Where are your products made?
Lolleez® and Tumeez™ are both manufactured in the Mid West. We are proud to say that our ingredients are USDA certified organic and made in the U.S.A.
How have your products been received? Do you get feedback from the stores that carry your products? Or from parents and children?
The consumer experience is the most important part to us. We value our customers opinions and are always trying to learn from them to grow and better our business. I really appreciate parents taking time out of their busy schedules to share a personal story or picture of their little one. The whole thing is all still very surreal and humbling. I am fortunate to be in a position where I can personally speak to each consumer whether its through email or a social media message.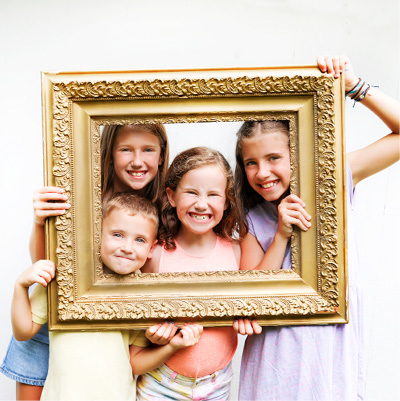 Your marketing and packaging is great. Who created it?
Thank you! We have a great team that puts a lot of time and love into everything we create. I really can't claim any one or two people who are responsible for it. In addition to our Lolleez® team, we pull in ideas from friends and family. It's a group effort with the guidelines of simplicity, humor and heart.
How do you get the exposure to build more awareness of Lolleez products?
Social media has been one of our greatest assets for building awareness. We have worked with many mommy bloggers and influencers to help spread the word (not the germs!). We also have an incredible PR consultant. If you've seen Lolleez in InTouch, People, Scary Mommy or on Fox News, it's because of her!
Do you have ideas for other products to develop in the future?
We do, but you will have to wait and see!!!
Lolleez® and Tumeez™ can be found at these stores and their websites:
Target
CVS
BJ's
Stop&Shop
Wegman's
Amazon.com
and Tumeez™ can be found at CVS and on Amazon.com
For more information, go to:
lolleez.com