Louis Lemieux has recreated Blueprint CT Home in a larger space and the result is delightful. Take a tour through the store and be astonished by the beauty and style within.
Blueprint CT Home is an emporium of tasteful furniture and art, objects with style and bold color. The business recently moved from the Litchfield green to Bantam, into a larger space—the former home of Housatonic Trading. The proprietor Louis Lemieux has reinvented his shop in this new space and elevated it to include decorating services and a much larger selection of merchandise. With a natural eye for design, he has filled the shop with beautiful rugs, linens, lamps, chairs, and serveware. It is a haven for home owners and those who love design.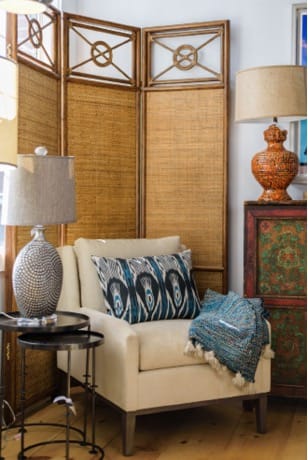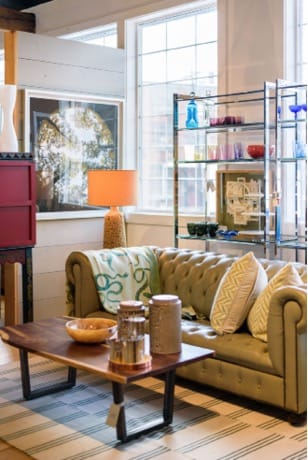 Born in Germany while his parents were stationed in Poland for the US Foreign Service, Louis Lemieux was raised in Africa and Asia. Lemieux inherited his parents' passion for collecting as he traveled and lived abroad. He learned to appreciate pieces with a soul, a history, and a story. Things that were not mass produced.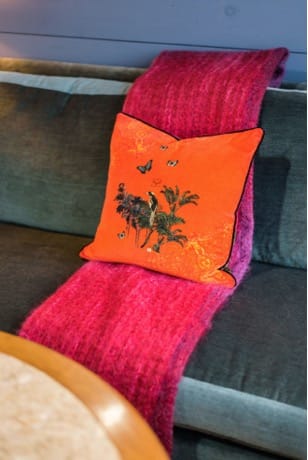 Lemieux's eclectic tastes were forged by his peripatetic life style – first with his parents as they represented the State Department all over the world, then on his own. After getting business degrees from Thunderbird and Harvard, he worked for Ernst & Young as a consultant. He's lived in Boston, London, Shanghai, Sydney, Singapore, Indonesia, Hong Kong, Brazil, and New York. And his love for art and design has been a constant throughout his life. He remains the one who disappears into back alleys, bazaars, the medinas, and flea markets — the one who finds unique things to live with. His store Blueprint CT Home is a testament to the beauty he discovered along the way. We caught up with him during this busy season and got the scoop on the business and where it's headed: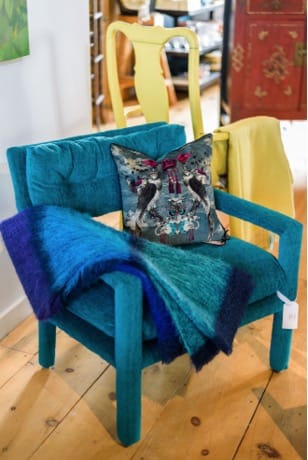 What is the difference between the Blueprint CT Home in Litchfield and the newly located one in Bantam?
The way we can display and present to our retail customers and our design clients is better. My choice in this space is to create "rooms" and vignettes so that it's an enjoyable stroll through our kitchen, living and dining rooms, a women's retreat, a men's study…our cocktail and entertaining lounge in addition to a curiosity presentation, a unique gifts area and more. The mood in the space is calm, enveloping and gives our guests a way to focus their eye as they move through the areas and discover either what they might be seeking to find or unexpected must-haves.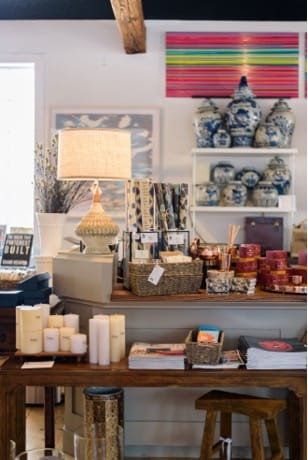 The space is much bigger — have you ventured into a wider range of merchandise?
Yes, and yes. The space is about six times larger than our first and three more than our second. The most significant opportunity is that we can now sell more furniture and larger items such as painting and photography, carpets, etc., as well as more options of each. All signature Blueprint CT but with a greater range of variety within styles.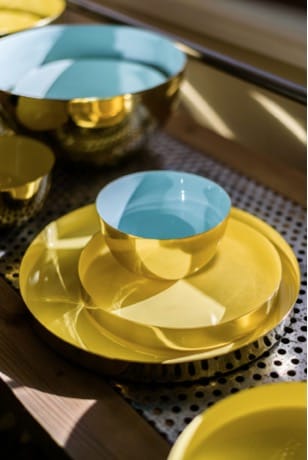 As a destination, people come for the experience and the benefit of fewer customers at a time means that I have the opportunity to spend more quality, 1:1 time with them. Often our guests are looking for something impossible to buy for a loved one, a unique and special gift for an important occasion, and/or a beautiful piece for their home. I truly enjoy time spent with them to find these elements that make them happy.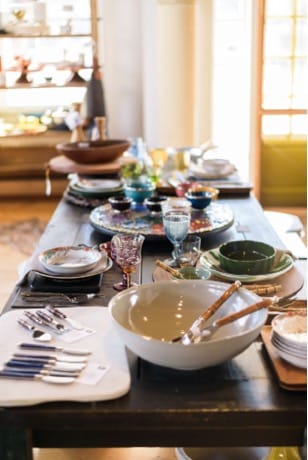 Lastly, the larger space affords us many opportunities for events introduce our community to artists, writers and taste makers, such as our mimosa brunch with design powerhouse Nora Murphy on December 2nd, to fundraising in support of ASAP in Washington Depot, a camp for underprivileged that builds hope in them for their future through a nurturing, caring and often transformative time (December 8th), to mixology classes in cooperation with local distillers that build community, introduce clients to each other while having a lot of fun and more. We just partnered with the very talented gallery owner and art consultant Kenise Barnes to bring multiple artist pieces to the store for an eight week pop-up that included an gallery opening event attended by more than 100 people and focused on art as an essential element to an inviting and personal home.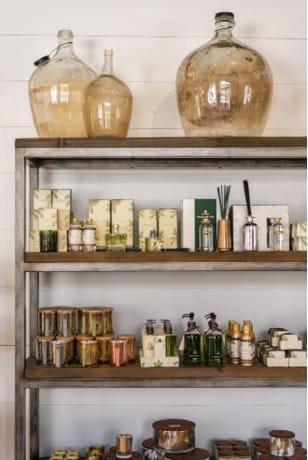 What makes your business different than other home design shops in Litchfield county?
The variety and presentation of our merchandise along with representing multiple local artists alongside items from around the world. We represent painters, photographers, furniture makers and more from the NW corner of Connecticut. This is important as it connects us with our community and offers us an opportunity to connect our customers with our area. We also focus on color and how to use colors together to create moods that can often change with the season. I tend to less "Connecticut camouflage" as I like to call it – grey, tan, beige, cream – I call it "greige" and I'm much more color, color, color – pops of it or rooms of it.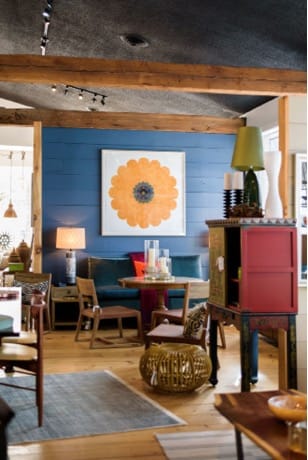 How has the response from the community been to the new shop, the new location?
Fantastic – it's a challenge to move from being amongst other shops with a fair amount of foot traffic to becoming a destination. We have had to advertise more and I am out-and-about to spread the word but the universal feedback I have received is that our previous and new guests really enjoy the space and the location. It's easy to access and Bantam is a dynamic, ever-changing and growing destination – thanks in large part to George and Tony from Arethusa, Darin and Travis at Bantam tile and more. Bantam is also super business-friendly and the businesses have been beyond welcoming to us and supportive with referrals.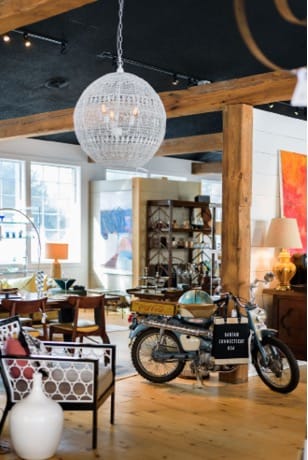 Do you offer interior design services as well?
I do, and I am thrilled to say that we currently have ten to twelve clients right now. They range from consulting on sofas and pillows, to updating a room, to furnishing a whole home. I love helping clients turn their visions in to reality. I start by listening a lot and asking a lot of questions. Design should be about both form and function. Many want spaces that are personal, comfortable and at the same time beautiful. It's imperative that I know how people live in the space they want to work with me to create. We offer a full range of furniture, fabrics, wall papers, custom furniture and access to hundreds of vintage and modern items.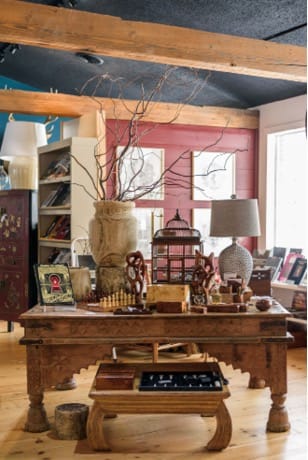 Where is you clientele from? Are they locals and weekenders, or from further away?
I would say we have four legs of a stool so-to-speak. NYC weekenders for sure, those who have a weekend home, updating their homes or new weekenders. Then there's Fairfield County couples, who perhaps moved to Greenwich, Darien, Westport, New Canaan from the City back when that was the "country." There once were shops more like ours in that area and now those towns have been taken over by Restoration Hardware, Williams Sonoma Home, and Design within Reach. People want unique, not mass market. Then there are those from the Farmington Valley, towns such as West Hartford, Avon, Simsbury. Many have relocated for insurance and other businesses in the area from around the country and the world and there is nothing like us in their area. Lastly, interior designers have selected us to source from for their projects and avail of our fabric, wallpaper, custom furniture and upholstery services.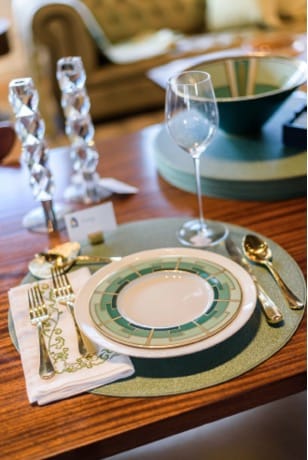 Do you find there is a difference in taste and preferences between customers who live in rural country versus city dwellers?
Not really, I believe our guests have a high taste level and their own definition of country that draws them to a particular style, always with variation within that. Hence the hunting and discovery in the shop or in our work design together results in a space very personal to their desires, whether it be modern/contemporary, transitional or traditional.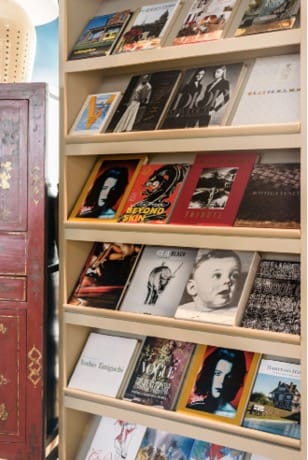 You source your merchandise from all over the world. What do you look for when selecting items for the store?
I am constantly finding unique, original and high-quality items largely through relationships I forge while traveling all over the world, through referrals from artisans I trust, to hours of personal research. I have also been fortunate to design furniture, specialty items and textiles with, for example, a 350-year-old weaver in Scotland and an even older house of family fabric makers in Morocco. I focus on themes when I am searching and create a story to tell with the items I bring back or introduce per season and vignette in the shop.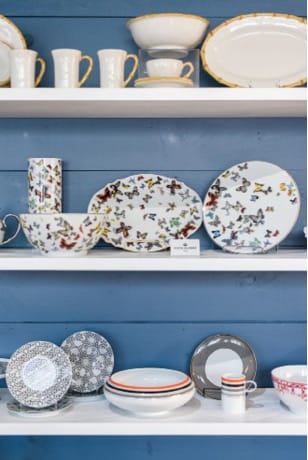 What are your best-selling products?
I would say that we have sold exponentially more furniture in this space. I believe that to be true because with the larger space comes the opportunity to present not just more furniture but not have to merchandise a lot on top of the furniture, thus making it easier to see and for customers to imagine in their space at home.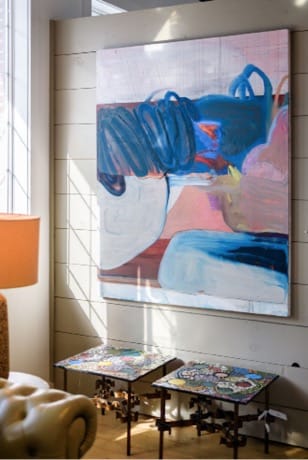 What are your goals and plans for the future of Blueprint?
I would like to continue to offer the community and our customers from near and far the most unique, high quality and special items for their homes and for the important people in their lives. We are launching a concierge service for special occasions such as weddings so that our clients and those who would like to buy for them can have a special experience. I am also considering a second location, a pop-up in either Charleston or Savannah during the winter months and expanding our design studio space to offer even more options. We will expand our events with unexpected lifestyle, offer more community-building and how-to classes (how to entertain for the holidays, set a table, style a bar cart and more).