Sherry and Eric Leitz have created a fabulous collection of leather luxury goods—from handbags and belts to wine totes and jewelry—that are handcrafted right here in Washington.
Eric Leitz has a natural gift for craftsmanship. He works with a piece of leather and turns it into a thing of beauty. He understands proportion and appreciates simplicity. He enjoys combining different materials such as leather with pearls, or leather with snakeskin and color beads, or copper studs and leather. His creations are a study in traditional with a touch of rebellion. In the handbags and wine totes, color shows up in unexpected places. Thin x-motifs connect handles to vessels, and patterns are created with silver studs. Belts and bracelet cuffs are timeless and one-of-a-kind. The whole body of work—the leather collection that he and his wife Sherry produce—has a language of its own.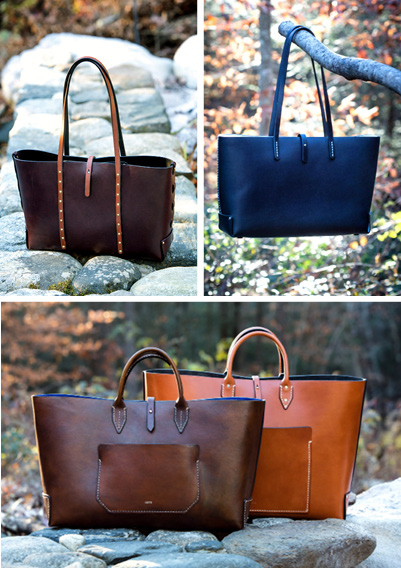 Eric's love for leather came from his grandparents, who lived in the countryside. Eric recalls fondly that his grandfather's leather-soled shoes would make a sound as he walked. As a young boy, he was drawn to old and used leather. Later, he was into motorcycles and wanted to make a leather seat for his bike. He taught himself how to craft leather by watching video tutorials and researching techniques. After the seat came a belt, and eventually a handbag for his wife. With Sherry's encouragement and direction, Eric honed in on a look and a style that would become their signature collection.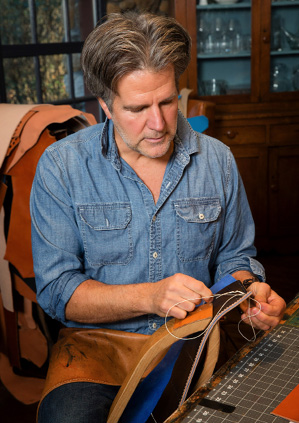 Both Sherry and Eric Leitz have experience working in the fashion industry. In fact, that's where they met. Sherry worked at a men's clothing business for 13 years. She worked with high-level executives. She was good at selling in a non-selling kind of way, and she ended up training new employees at her firm on how to sell. Early on when they were forming their leather business, Sherry took some of Eric's belts to a client and he bought them all on the spot.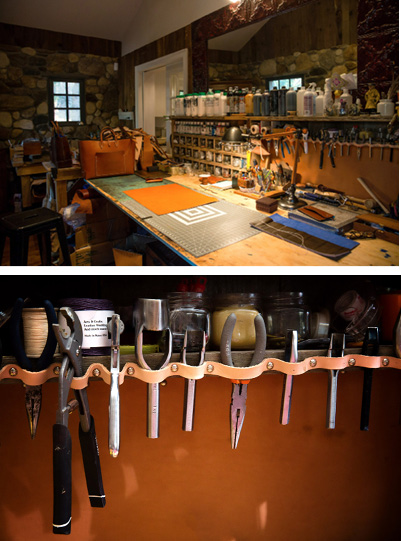 Eric graduated from F.I.T. and started working at Armani. He moved on to work for other designers, including Ralph Lauren. He sold high end clothing made in Italy for celebrities, politicians, and the film industry. Sherry and Eric met in New York City through their work and decided to launch their own custom clothing business for men. What came next was leather—and a move to Connecticut. They started spening time in the area on weekends, but 8 years ago, they moved here full time.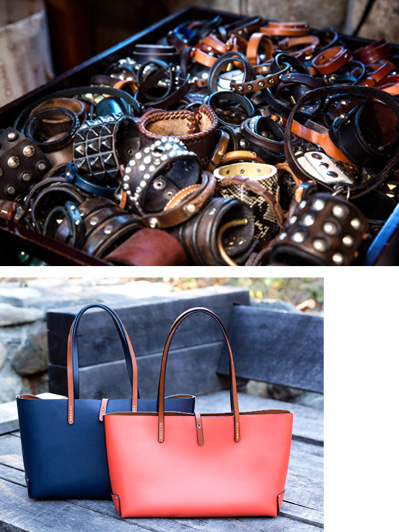 All of the leather goods at Leitz are handcrafted with bridal leather, dyed and stained, and saddle-stitched by Eric Leitz. The popular handbags are made using a single piece of leather and are available in a variety of color combinations with silver, copper, or gold studs. Sherry points out how the length of the handles is so important because the bag sits on the shoulder just right. As partner, she contributes ideas, handles the business end, and markets the brand.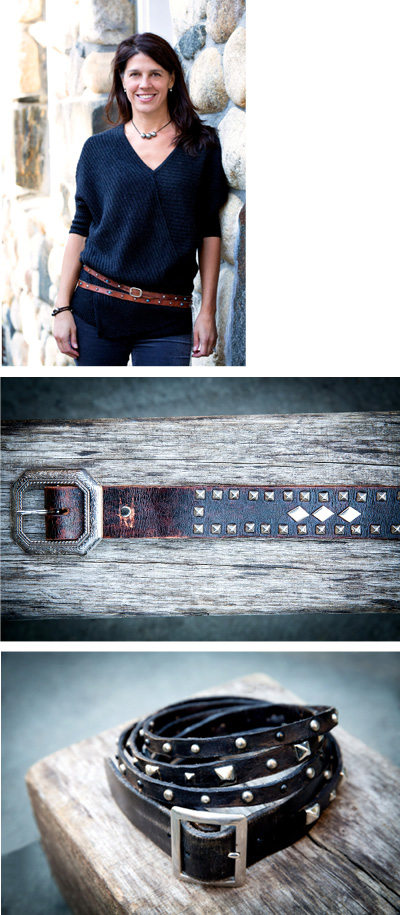 As an avid motorcyclist, Eric used to sell his leather goods at bike shows. He constructs the bags and the belts to look beautiful and to last forever. A true artist, he spends time and thought on getting the details right. For example, he buries the belt buckles to get a nice patina. Belts can have inlaid snake skin with vintage glass beads that look like reflectors.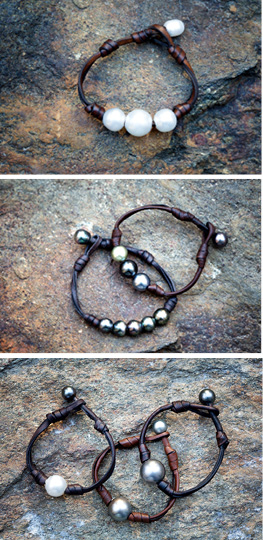 Almost all of the materials Eric uses are natural. He uses linen thread (the same as Hermes), unless it's color. He works with harness needles (used for saddle stitching) that he orders from London, and he uses bee's wax to thread. It protects the thread and keeps it from tangling and also conditions the thread at the same time. He rubs the leather with a leather conditioner. He weaves the seams with leather, punches holes and then weaves the strip of leather through them.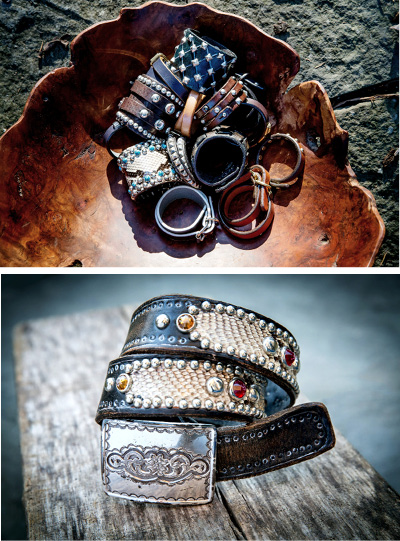 The necklaces and bracelets are made with leather and South Sea Tahitian Pearls in white, black, or dark grey. The wrap bracelets are closed with sturdy stud buttons and can be double or triple-wrapped. Cuff bracelets are decorated with embedded studs and snakeskin pieces.
Wine totes are made to order with bridal leather from one of America's oldest tanneries in oak bark or black leather, or your choice of a variety of trimmed saddle tones. Each single bottle wine tote is made with a 4-inch base, its seams are whip-stitched, and the interior is brightly leather-lined in the color of your choice, and comes with a dust cover made of cream cotton flannel. There are also wine totes that hold two bottles of wine. You can have your wine tote personalized with a monogram of either 1/2 or 3/4-inch high letters. The intials are hot foil stamped in gold, silver, or they are blind stamped. Coasters can also be stamped for a personal touch.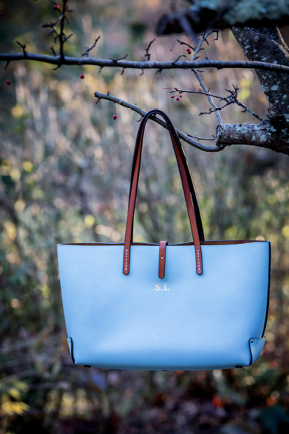 Leitz is not a commercial entity. There is no website and no business cards. They operate out of their home. They don't advertise, instead they rely on word-of-mouth. There is a wait list. Instagram generates some sales and pop-up shows have been a good method of selling their products and getting the word out. Once Eric was standing on Madison and 81st in the city and was stopped by a woman with a French accent inquiring about the leather bag he was holding. She ended up ordering one for herself. Loyalty is a big part of the relationship they have with their customers. 80% of their clients have ordered more than one bag. People even send pictures to them from their travels, in Paris with their handbags.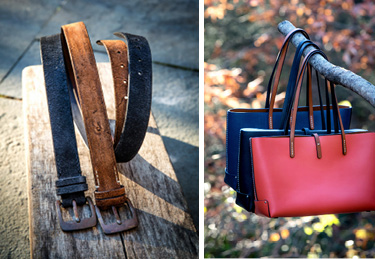 Custom orders can be taken by selecting an interior color, an exterior color, the style of the rivets, and more. Handbags come in 3 main sizes: weekender, mini-tote, and the work bag, but any size can be custom-made and ordered in a wide range of colors. Did we mention that they also make iPad and iPhone cases?
If you try to support local artisans and businesses, and you care that the products you purchase are handcrafted in America; if you value attention to detail and craftsmanship, originality and functionality, look no further than Leitz Leather Goods.
To see the products up close visit the Leitz  pop-up sale at "Live at the Garage with Lauren Booth" in the exhibit room at the Judy Black Memorial Park in Washington Depot on December 3 from 11am to 5 pm.
Another chance to see the collection is on December 10, where they will have a pop-up show at Sal Anthony Hair Studio and The Owl Wine Bar, during the Winter Stroll in New Preston. And you can also catch some items from the collection at the Washington Art Association Holiday Sale in Bryan Plaza in the Depot during the month of December.
To place an order or to contact Sherry
for a private appointment in their workshop:
Instagram: @LeitzLeather
[email protected]
917.735.5044