Walking through the Veronica Martin Gallery is like being in a crowded French bistro. It brings you back to the days when posters were an art form and sold a way of life.
The space in the old switch factory building in Bantam looks small, but it is filled with pictures of drawings and paintings with blocks of bold colors, gestural lines, and stunning typography. The gallery is called the Veronica Martin Gallery and it specializes in original Belle Epoque period posters from the 1880s to 1920s.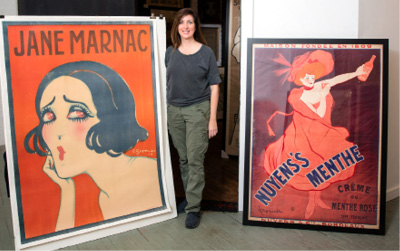 The gallery owner, Veronica Martin, is passionate about posters from the Art Nouveau period. It started when she was 19 years old and saw a tin at Dean & Deluca, in New York City, that had a lady dancing on it. The imagery combined with type appealed to her. "I didn't know much about art and knew nothing about the genre of poster art," she said. Today, the same tin sits in the gallery as a reminder of the beginning of this attraction. Veronica started collecting vintage postcards from the same period that she found in card shops. She loved these pieces of history, advertisements from another time, their historical significance in popular culture, and the artistic element. They seemed so different than the advertisements of today. She decided to study art history and find out more about art during that period.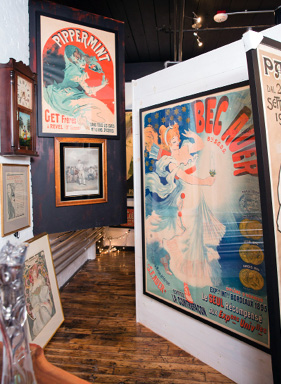 The posters were advertising everything from liquors, bicycles, cars, fuel, travel, dessert cremes, entertainment, biscuits, an Italian Exposition—and even literature. One poster hanging at the gallery advertised a new novel, The White Slave Trade, and caused such a scandal that the writer was fined and arrested. Some posters from that era are quite well-known such as the iconic one for the Folies Bergère, a cabaret music hall located in Paris that was very popular in the 1890s' Belle Époque until the Golden Twenties.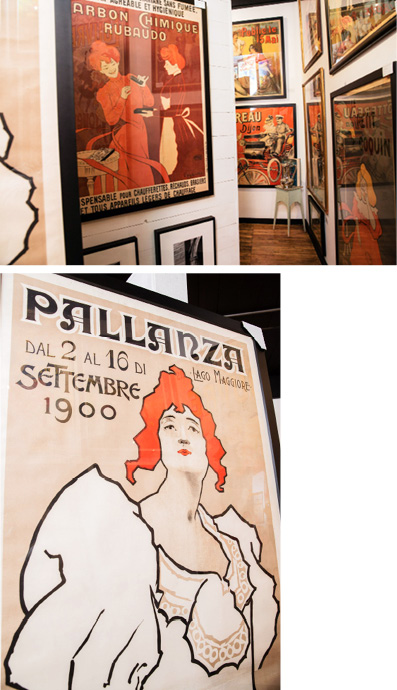 Veronica seems to know the backstory of many of the pieces she sells. The Creme de Menthe Rose poster, which she has for sale in her gallery, was created by artist Leonetto Cappiello in 1902 and was owned by Dr. Hans Sachs, a European dentist who had a collection of 12,500 posters. He and his wife who were both Jewish, were arrested during the Holocaust and his posters were confiscated by the Nazis in 1938. For unknown reasons, they were  released two weeks later and escaped to America. (It is said that one of his patients here in the U.S.A. was Albert Einstein.)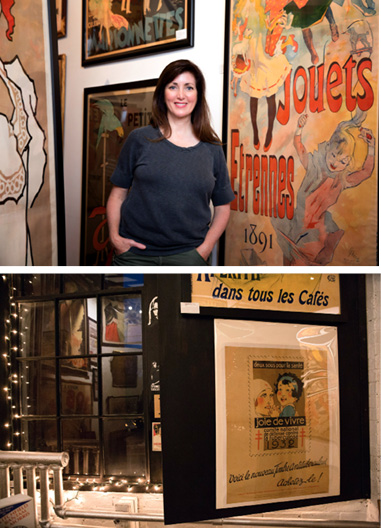 Her extensive knowledge on the matter of Art Nouveau Posters comes from years of studying and collecting. "My first poster, which I still have at home, is by Jean de Paleologue (aka PAL) from the 1890s advertising apricot liqueur, called Abricotine." Veronica studied Art History at Columbia University, and subsequently attended programs at the Musée D'Orsay in France, the Peabody Institute in Baltimore, the École du Louvre in Paris, the School of Nancy in France (studying art nouveau furniture), as well as a school in Nice, France.
While at the Musée D'Orsay she was inspired by the architecture of the building, by the Beaux Arts design, as well as by the works it housed, such as an original "Metropolitain" metro sign created by Hector Guimard. "Many of the pieces in the museum are from the same period as the posters I collect and show at the gallery — the Art Nouveau period." She also became fascinated with art and artists from the Secessionist movement in Eastern Europe, such as Gustav Klimt, who broke away from the Academy and changed views on what kind of art was acceptable.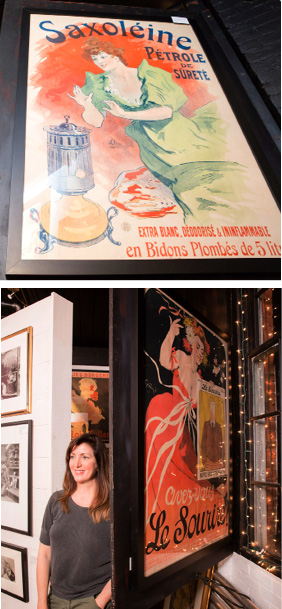 "I have three posters from the 1930s one by Emile Finot from 1930 called Les Waltons et ses Marionnettes,  Joie de Vivre by Rene Vincent from 1932, and Semaine Nationale de L'Enfance from 1935 by Delrieu." Some of the most famous poster artists are Alphonse Mucha, Henri de Toulouse-Lautrec, Theophile Steinlen, Jules Cheret, Leonetto Cappiello, Jules Grun, Henri Privat-Livemont, Eugene Grasset, Franz Laskoff, Marcello Dudovich, Jane Atche, and Roger Broders. "These are just a few at the very top. Often times, but not always, the graphic is more important than the name of the artist. A collector would prefer a very rare poster from a lesser artist than a poster image which is really well-known and over-circulated by a more renowned artist."
She goes on to name other known artists such as Cassandre (Adolphe Jean-Marie Mouron), Paul Colin, Charles Loupot, and Ludwig Hohlwein, all are artists who produced posters in the 1930s. "Additionally, some Belle Epoque poster artists also continued to work into the 1940s such as Leonetto Cappiello. His early 20th century posters have a different style to his later period from the 1920s – 1940s. Ludwig Hohlwein also worked in the early 20th century." In addition to antique posters, Veronica carries  original vintage photographs by such artists as Clemens Kalischer, Horst P. Horst, and Chiara Samugheo.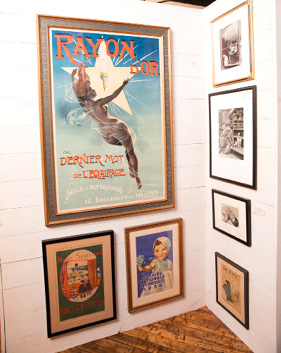 Having lived in New York City for 17 years, Veronica became  tired of the noise and the crowds. When a family member had a space available in Woodbury, she took it and has been living there for 1o years now. Litchfield County has many art galleries, artists, and art lovers, but there isn't a gallery that specializes in antique posters, so it turned out to be a good place to launch her business as well.
The posters at the gallery are primarily from circa 1880 to 1920, but there are a few that fall outside that period. Prices for the posters range from $1200 to $16,000. Next month an iconic Mucha poster will be arriving and will be priced at $25,000. Veronica sources the posters from major metropolitan areas such as London, Italy, France, Chicago and New York.
Posters can be shipped to anywhere in the USA and Europe. Veronica just sent an enormous framed poster to Seattle and some unframed posters to Austria, New York, and Beverly Hills; and she has delivered framed posters locally. "I sell and ship framed and unframed posters. I can accommodate a customer who would prefer to have a poster unframed, but so far, everyone has chosen to keep the posters in the frame in which its displayed at the gallery, even with the shipping costs."
Some of the gallery's clientele are from local towns such as Woodbury, Bantam, Ridgefield, and New Preston. Other customers have been visiting the area from out of town, from places like New York,  Seattle, and Beverly Hills. "And some people just stopped in to look—they were from Madrid, Russia, and France—just to give a few examples."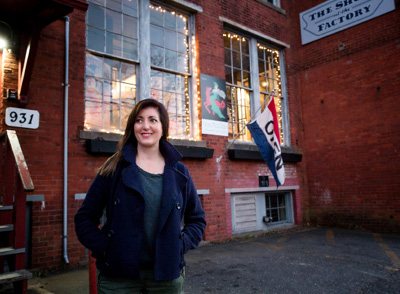 When asked to name her favorite poster artists, Veronica replied, "Some of my favorites are Leonetto Cappiello, Theophile Steinlen, Alphonse Mucha, Koloman Moser, Pierre Bonnard, Ludwig Hohlwein, Franz Laskoff, Wilhelm Schulz, and most posters that were created from the Secessionist movement in Austria."
Veronica Martin took an art form that she loved and turned it into her work. The town of Bantam, a vibrant arts haven, is perfect for the gallery. So far the response from the area has been enthusiastic and the business is taking off. We look forward to checking in with her to see what other gems she has picked up on her journey.
Veronica Martin Gallery
931 Bantam Rd.
Bantam, CT 06750
Sat.-Sun. 12-5, or by appointment.
(860) 866-8169
www.vmgantiqueposters.com