Kathryn McCarver Root, founder and owner of KMR Arts Gallery in Washington, has opened a significant exhibition of photographs by Lisa Elmaleh that create a visual narrative of Appalachia and the Musicians of West Virginia.
'How dear to my heart, how precious the moments
We stood shaking hands and singing a song.'
– Hazel Dickens, Won't You Come And Sing For Me
This quote appears in the artist's catalog of images from 'American Folk', the current exhibition at KMR Arts Gallery. The subject of the poem resonates with the show, as music seems to permeate the settings of the photographs, whispering among the standing musicians and lifting the textured leaves of tobacco plants. Lisa Elmaleh unveils the surreal beauty of the West Virginia and the people who inhabit it, where they live and the richly textured backgrounds.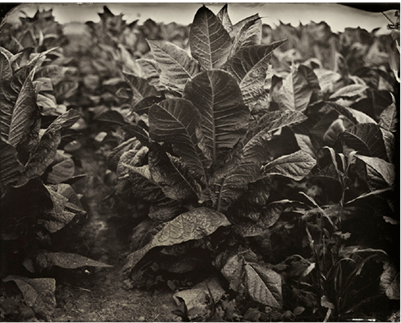 Lisa Elmaleh describes writing the musicians' stories with light and this is reflected in the meditative, authentic quality of the photographs. Lisa chose to use nineteenth century process of making photographs, including the wet collodion process on glass negative and the tintype. Because the exposure is much longer, 8 seconds, the subjects become more comfortable and the result is more real and naturally thoughtful.
"'I like to photograph people where they live, to spend the day with them and create a more conscious photograph. People are particularly present and illustrate their engagement," explains Lisa. The image below of Denis Rhodes, owner of the tobacco field, captures him on his 'dancing board', a platform used to create a beat that takes the place of traditional drums in local music.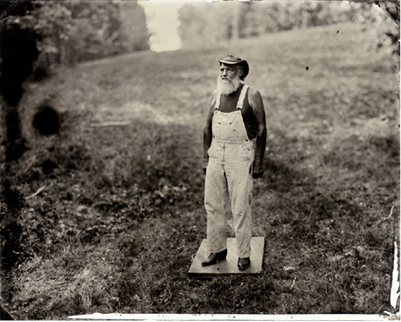 Lisa travels with her large format 8 x 10 camera (named Fitzgerald Fitzwilliam Fitzgeorge) and her darkroom is in the back of her 1996 Toyota Tacoma. She enthuses that her truck is a great house: a bed, a darkroom and a stove. By living among her subjectsthe photographer offers a visual cue to the rhythms and settings of the culture.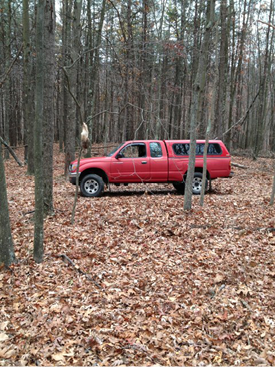 "While I am in the truck, I can hear them sitting and playing music as I am running the plates through in the darkroom," adds Lisa giving a picture of how naturally she herself has become a part of the landscape.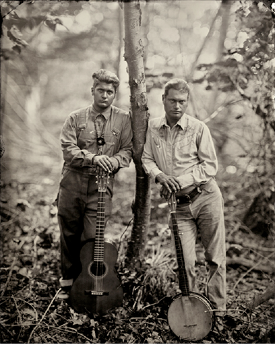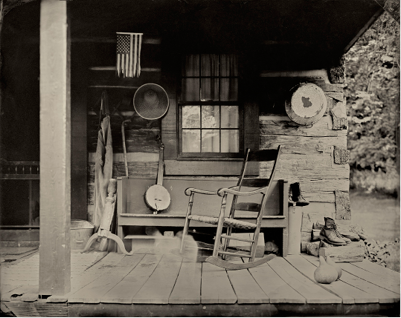 At the exhibition opening, we sat down with Kathryn McCarver Root to discuss the work of Lisa Elmaleh, the gallery and fine art photography.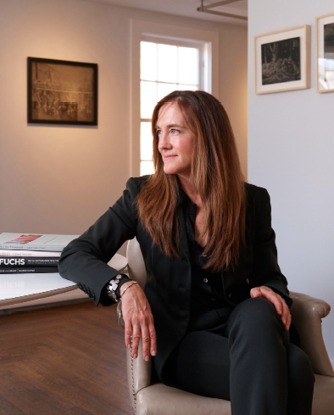 When did you first meet Lisa Elmaleh?
Kathy: I met Lisa 6 years ago, soon after she graduated with high honors from the School of Visual Arts in NYC. I was impressed by her devotion and commitment to the medium of photography. There is a connection to the past, with her choice of process, and the contemporary, or now, with her choice of subjects. Lisa is an extraordinary artist.
You had a show of Lisa's work before, what work was in the exhibit and when was it?
Kathy: The first show of Lisa's work at KMR Arts was The Everglades, September 25 – December 18, 2010. The Everglades photographs were made over a period from 2008-2012, using the wet plate collodion process on 8×10 inch glass plate. The prints were gelatin silver prints which Lisa made herself in the darkroom.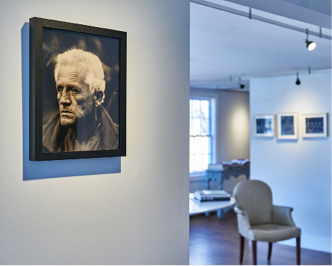 What are the elements of Lisa's work that appeal to you the most? 
Kathy: The key attributes of Lisa's work that I admire the most are the integrity and the authenticity of the work. Lisa has said about the portraits in American Folk, "There is an aspect of tradition and history in what I do that connects to the tradition and history in what they do." Also, in looking at Lisa's work, the viewer is always deeply aware of where the picture is, that is, a sense of place and undeniable connection between the person and the land."
You have worked with many diverse artistic photographers. Is there a common quality about these different photographers' work that you are attracted to?
Kathy: The singular common quality in the work of every artist exhibited at KMR Arts is that the work is worthy: it is work that I would want to collect and own myself.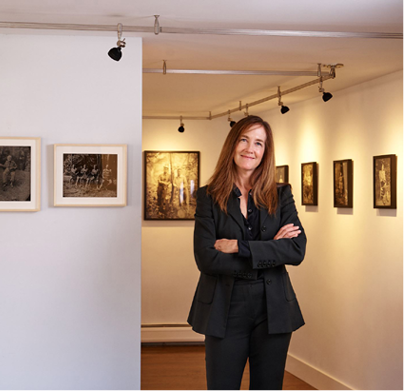 Your gallery has been called a rare gem in Litchfield County. You have brought many culturally important exhibits to this area. What has been your proudest moment as the gallery founder and owner?
Kathy: There have been some terrific moments in the gallery's history: opening day of the gallery in June, 2007 with friends and supporters from near and far, the first one-person show in 2009 at KMR Arts of Lillian Bassman's iconic fashion work with coverage in the NY Times, and the anniversary of the gallery (5 years) which culminated in an exhibit of Diane Arbus's work. Arbus was and is one of the most provocative and controversial 20th century American artists.
Do you see any current trends in modern fine art photography?
Kathy: In terms of current fine art photography, I think there will always be an audience for distinctive work with a sense of integrity. As technology progresses, the place for the photograph as object will be more collectible and desirable.
What are three things that make a great photograph?
Kathy:
1. A photograph should make the viewer stop for a moment and pay attention and feel something.
2. A photograph can be great because it tells a story or because it makes you look at something a different way: for example, Paul Caponigro's work is all about nature—trees, acorns, ice, water—but he sees these familiar things in a way different than we do. Arbus's work is a great example of this: photographs that highlight something or someone you didn't really see before.
3. The viewer always brings their perspective when they look at a photograph. I think that is one of the most interesting aspects of photography: there is a notion that because a photograph is made with a mechanical device, that it simply shows the viewer what is there. But actually, the mechanical device (the camera) in the hands of a talented photographer makes a photograph that shows the viewer exactly what the photographer wants them to see. Then it is up to the viewer to interpret or react to the photograph. I think the back story can be relevant but it is not required.
About Lisa Elmaleh:
Lisa Elmaleh, is based in Brooklyn, New York, and Paw Paw, West Virginia, and graduated with high honors from the School of Visual Arts in New York City. Ms. Elmaleh is the recipient of numerous scholarships, grants, and residencies including: the Tierney Family Foundation's Tierney Fellowship, the Nikon Vision Scholarship, the Silas H. Rhodes Scholarship (School of Visual Arts), and the Everglades National Park Artist in Residency (Everglades National Park, Florida). Elmaleh's work has been exhibited in numerous group shows as well as a one person show at KMR Arts in 2010. Ms. Elmaleh is also available for portrait commissions through KMR Arts. She teaches large format photography at the School of Visual Arts and the Fashion Institute of Technology.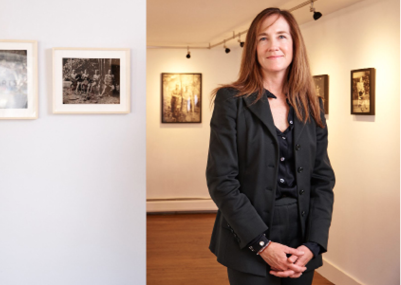 About KMR Arts:
Kathy McCarver Root is a photography dealer, working with individual and corporate clients to purchase and install fine art photography. McCarver Root gained her experience over two decades while working as a photography editor for books (Lillian Bassman, Bulfinch, Weekend Retreats, Rizzoli) and prestigious magazines (Esquire, US Weekly, and InStyle). KMR Arts marked its 5 year anniversary with a memorable show of vintage prints by the photographer, Diane Arbus in October, 2012. Kathryn McCarver Root was named one of Litchfield County's 50 Most Influential People by Litchfield Magazine. For more information on the gallery, visit www.kmrarts.com.
The show will run through January 3rd, 2015. 
KMR Arts
2 Titus Road
Washington Depot
860-868-7533
www.kmrarts.com