The art of giving goes local, with our holiday gift guide featuring the best from area artisans, artists, authors, and craftspeople.
'Tis the time to begin shopping for holiday gifts for friends and family. But there's no need to hit the mall or tackle the online frenzy of Cyber Monday. We have a wealth of creative neighbors right here in the Northwest Corner who offer homemade, handcrafted, one-of-a-kind items that make terrific gifts. Support our arts community while giving beautiful, natural products created with passion. Here are some of our favorites: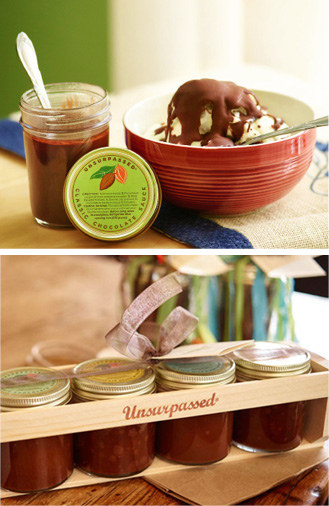 Rich and Delicious Chocolate Sauce
Made in New Preston by local resident and entrepreneur Vi Owens, Unsurpassed Chocolate Sauce is a delicious topping on ice cream or for dipping fresh fruit into. The original recipe was passed on to Vi by her mother, who developed the yummy sauce back in South Carolina when she and her siblings were growing up. Since then, Vi has updated the recipe and added some new flavors of her own.
After warming up an open jar of sauce in a boiling pot of water, pour some over your favorite ice cream and see it harden ino a crackling chocolatey covering. The combination of the soft, creamy ice cream and the hardened chocolate makes for a tasty treat.
The sauce is offered in an 8 oz. jar in 4 different flavors: Classic Chocolate ($10), Classic with a Hint of Mint ($10), Dark Chocolate ($14), Dark Chocolate with Ginger ($14). You can also purchase a set of 4 mini jars (4 oz. each; set priced at $26), which comes in a nicely packaged wooden crate. It's a great gift for the holidays.
Any of the Unsurpassed flavors hit the spot. Try the classic and the dark as a dipping sauce for strawberries, then sprinkle with nuts. Or drop a swirl of classic sauce into a bowl of butternut squash soup. A few of us have been known to dive in with a spoon and devour it straight from the jar!
Unsurpassed Chocolate Sauces are available at the following local shops: Nine Main Café in New Preston, The Pantry in Washington Depot, Sullivan Farm in New Milford, Averill Farm in Washington, and The Brookfield Craft Center in Brookfield.
Or you can place your special order by contacting Vi Owens:
suthnr45@mac.com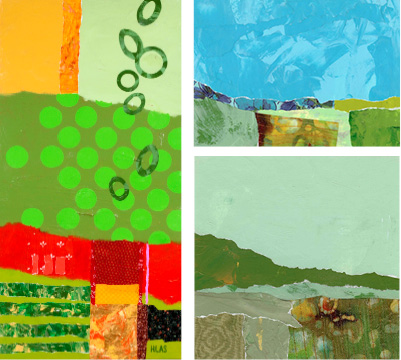 Paintings and Prints by Tom Hlas
Works of art are wonderful gifts to receive and to give, and this area has plenty of talented artists with paintings for purchase. Here, we feature one of our favorite local artists, Tom Hlas of Norfolk. His paintings are about balance, color, shape and movement. A sense of place is what one feels when looking at Tom's art. He points out that his paintings are not depictions of actual locations. "Rather my intent is to create spaces and places where the mind can travel, where one can daydream, where one can mentally rest and enjoy a sense of belonging and a sense of being at home."
Tom's works vary in price from $150 for a printed work on paper to $2,000 for a painting, and more.
The three works featured here are original paintings:
"Edges" – Mixed Media on Canvas, 36″ x 18″, $1,100.
"Beyond the Hills" – Mixed Media on Paper, Image 5″ x 7″ (matted and framed to 11″ x 14″), $150.
"Evergreen" – Mixed Media on Paper, Image 5" x 5" (matted and framed to 12" x 12"), $125.
To see more of Tom Hlas's work, to purchase a painting, or to
contact Tom, go to: tomhlas.com
To purchase small print reproductions of works on paper go to:
artworksbytom.com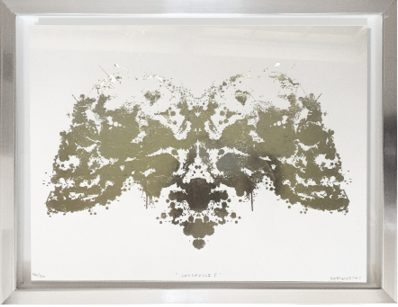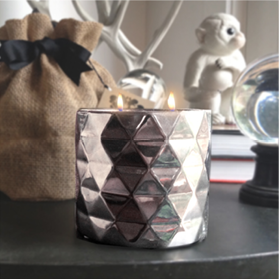 Silver, Graphic Ink Blots & Hand-Poured Candles
Artist Ron Norsworthy lives in Litchfield County, although his background is very international in the design world. He has worked on more than 300 commercials, music videos and photo shoots with some of today's biggest superstars like Madonna, as well as timeless icons like Aretha Franklin and Tony Bennett. One of Ron's career highlights came in 2009, when he designed the First Family's custom set for the National Christmas Tree Lighting Ceremony in Washington, D.C. He is the principal designer and founder of N•HOME, a line of luxury bed linens and home accessories.
Not too long ago, a line of Ink Blots was added to his home design portfolio, which are now available at J. Seitz in New Preston. Norsworthy creates framed "Rorschach" style imagery in hand applied silver leaf. The "hidden" imagery when you look very closely might be a stag or a skull, for example, but upon first look it is just a beautiful graphic design. They are quite intriguing and very popular.
Ron Norsworthy has also designed beautiful hand-poured candles in a Pine scent that are sold in chic gift bags. The containers are oversized, silver ceramic (reusable) and works of art, in themselves.
The hand-silver-gilded and limited edition Ink Blot Prints with skull imagery in glamorous frame are $398. The hand-poured jumbo candles in silver ceramic container with chic gift bag are $68.
J. Seitz
9 East Shore Rd
New Preston
860.868.0119
www.jseitz.com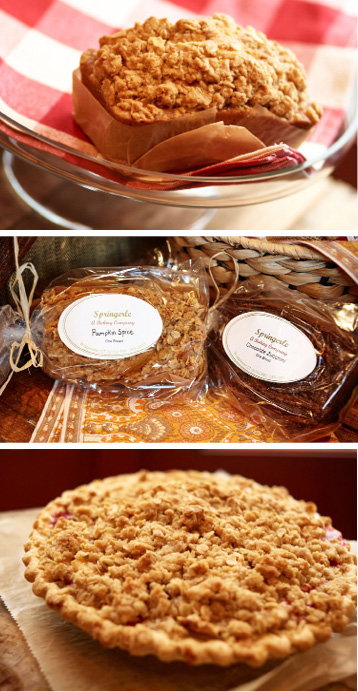 Delicious Homemade Goods by Local Bakers
There's nothing like receiving an edible gift during the holidays. The Smithy in New Preston offers a great selection of homemade goodies baked locally.
Lisa Klein, a local baker based in Bridgewater, has a line of Springerle Tea Breads which are sold at The Smithy. These delicious tea breads are seasonal, so right now there are French Apple, Pumpkin Spice, and Choclate Zucchini (which is very, very popular). For the upcoming holidays, she will be making Egg Nog Tea Breads, something we are all waiting for! The tea breads are sold for $6.50 each.
If it's a pie that you're after, try the Apple-Cranberry Sour Cream Crumb Pie (pictured above) from piemaker Linda Mazza in Warren. She also makes other pies including the all-time favorite Triple-Berry Pie, as well as a Chicken Pot Pie. Priced at $22 each.
The Smithy is located at the site of the last blacksmith shop in the town of New Preston. The store shelves are filled with varied, creative, and tasty offerings from the growing family of local Smithy vendors. Now open for the first time over the winter season from Wednesday through Sunday. Hours: Wednesday to Friday: 11am-5:30pm; Saturday & Sunday: 10am-5:30pm.
The Smithy
10 Main Street
New Preston
860-868-9003
www.thesmithystore.com
Good Reads Make Good Gifts
The Hickory Stick Book Shop carries a wonderful selection of books all year long, but we found four books that are particularly special because they were conceived, written, edited, created, or drawn by local authors, editors, cooks, and illustrators. These books are all of the highest quality in their genre and are most likely on everyone's holiday wish list: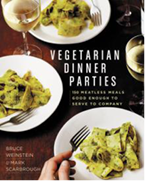 Vegetarian Dinner Parties
150 Meatless Meals Good Enough to Serve to Company 
by Bruce Weinstein and
Mark Scarbrough
Local cookbook authors Bruce Weinstein and Mark Scarbrough—residents of Colebrook—offer a modernist take on vegetables, while giving us advice on how to serve these dishes at dinner parties. In this beautifully designed book you will find advice on how to plan a dinner party, how to pair dishes, pour options for each recipe, and tips for make-aheads in almost every recipe. This cookbook is a sure winner! $32.50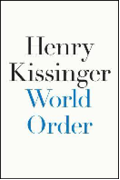 World Order
by Henry Kissinger
Local author and resident of Kent, Henry Kissinger offers a deep meditation on the roots of international harmony and global disorder. Drawing on his experience as one of the foremost statesmen of the modern era—advising presidents, traveling the world, observing and shaping the central foreign policy events of recent decades—Kissinger now reveals his analysis of the ultimate challenge for the twenty-first century: how to build a shared international order in a world of divergent historical perspectives, violent conflict, proliferating technology, and ideological extremism. $36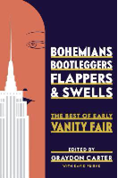 Bohemians, Bootleggers,
Flappers & Swells
The Best of Early Vanity Fair
Edited by Graydon Carter
Roxbury resident and editor of Vanity Fair Magazine, Graydon Carter brings to life the Roaring Twenties, the Jazz Age, and the age of Gatsby in this book honoring the 100th anniversary of Vanity Fair. Featuring great writers on great topics, including F. Scott Fitzgerald, Dorothy Parker, Noël Coward, P. G. Wodehouse, Jean Cocteau, Colette, Gertrude Stein, Edna St. Vincent Millay, Sherwood Anderson, Robert Benchley, Langston Hughes and many others, this book is entertaining. $29.95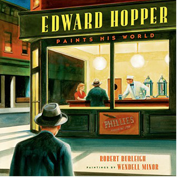 Edward Hopper Paints
His World
by Robert Burleigh &
illustrated by  Wendell Minor
This striking picture book biography offers a look into the world of American painter, Edward Hopper. As a boy, Hopper knew that he wanted to be an artist, and he never stopped believing in his dream. Local artist and Washington resident Wendell Minor has beautifully captured Hopper's story as well as his fascination with light and shadow. This is a great gift book for young readers and aspiring artists. $17.99
Hickory Stick Book Shop
2 Green Hill Road
Washington
860.868.0525
www.hickorystickbookshop.com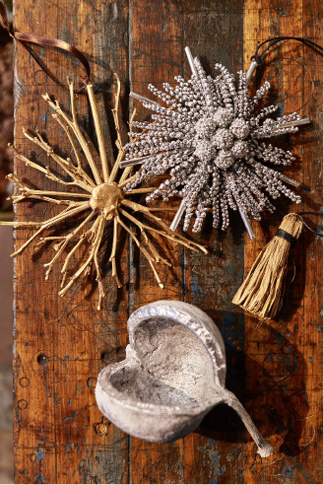 Hand Crafted Holiday Ornaments
Ray Baker is a master gardener and artist from Bethlehem, who gathers and dries various stems, leaves, and pods, and painstakingly creates amazing holiday ornaments, some tipped with gold. He has quite a following in Litchfield County. Pergola will be carrying them in their shop during the holiday season. Prices range from $6 to $36.
Pergola Home
7 East Shore Road
New Preston
860.868.4769
 www.pergolahome.com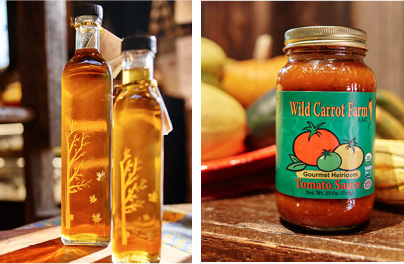 Locally Produced Syrups & Sauces
For gifts that delight the taste buds, try a pair of high quality maple syrups from the well-established Brookview Sugar House in Morris. Available in Grade A Light Amber and Dark Amber, a large bottle is $18 and a medium-sized bottle is $14.
Wild Carrot Farm in Bantam is known for its delicious organic pasta sauce, made from their gourmet heirloom tomatoes picked at the peak of the season. This sauce is very popular with the regulars at The Smithy, and makes a heartwarming gift. $9 per jar.
The Smithy is located at the site of the last blacksmith shop in the town of New Preston. The store shelves are filled with varied, creative, and tasty offerings from the growing family of local Smithy vendors. Now open for the first time over the winter season from Wednesday through Sunday. Hours: Wednesday to Friday: 11am-5:30pm; Saturday & Sunday: 10am-5:30pm.
The Smithy
10 Main Street
New Preston
860-868-9003
www.thesmithystore.com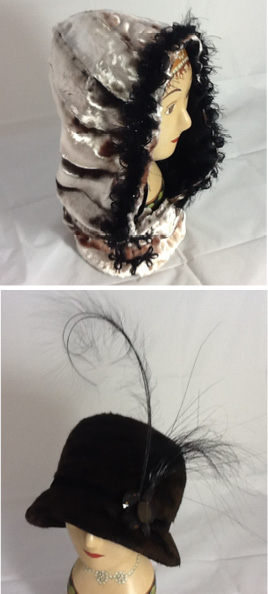 Mad for Hats
Laura Daly, a master milliner from Washington, sells gorgeous handcrafted hats for any season, in a variety of styles. Who doesn't need a hat for the blustery winter season? How about commissioning a custom hat from Laura to attend the annual Tea for Two Hundred affair this coming summer? The lovely faux-fur hood, shown above, is lined in black velvet and finished with frog closures. It comes in a size medium and is priced at $150. Shown below the hood is a fur felt cloche with leather and feather trim. It fits a 23″ head (size 7 3/8) and is priced at $250.
For these or custom hats, contact Laura Daly Millinery:
ldmillinery@gmail.com or call 860.248.0979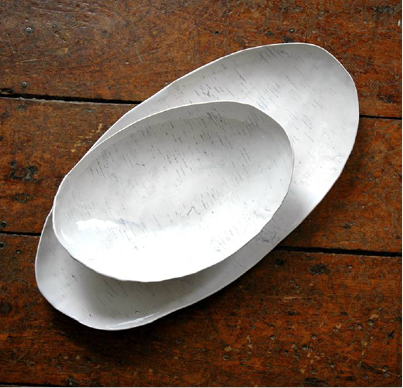 Artisanal Birch Bowls and Platters
Designer/maker Dana Brandwein from dbO HOME in Sharon, hand crafts these porcelain serving pieces by rolling birch bark into thin slabs of clay, then hand cuts and forms each piece. The perfectly imperfect variations reveal the artist's hand resulting in pieces that are as beautiful as they are functional. These stunning bowls and platters are the perfect gift for any home—traditional or modern—and are available at Privet House in New Preston, with prices ranging from $110 to $175.
Privet House
13 East Shore Road
New Preston
(860) 868-1800
privethouse.com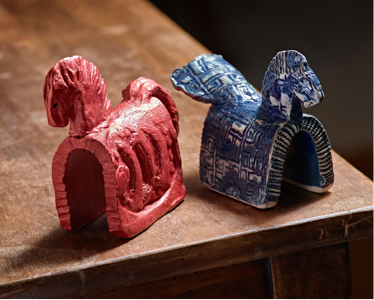 Mud Ponies Bring Good Luck
Louise King is a local artist from Bridgewater, who handcrafts clay ponies. Her horses are a lively mixture of Persian and Chinese representations of horses "crossed with the memory of carrousel horses I've known," says King. Gestural and whimsical, they prance, gallop flat out (supported by Sharon Blacksmith William Trowbridge's forged iron stands), or simply stand gazing at the passing scene with equine dignity. Mud Ponies are available at the Hickory Stick Book Shop in Washington and range in price from $45 to $65. They ship happily, eat nothing at all, and are happy in herds. Also known for bringing good luck!
Hickory Stick Book Shop
2 Green Hill Road
Washington
860.868.0525
www.hickorystickbookshop.com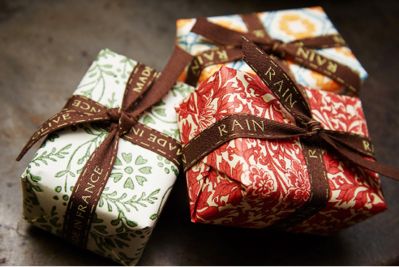 All Natural, Locally Crafted Soaps
All of your senses are affected when you pick up a bar of Rick Distel's RAIN Soaps. From the beautiful packaging to the subtle fragrances of the natural, plant-based products, these soaps brighten your home during the holidays and are wonderful gifts. The soaps are triple milled in France but the fragrance formulations are all done by Rick, and gorgeously wrapped right here. His own storefront/studio is closed, but he has chosen Pergola to continue providing Litchfield County with this very special soap. All soaps are priced at $12.
Pergola Home
7 East Shore Road
New Preston
860.868.4769
www.pergolahome.com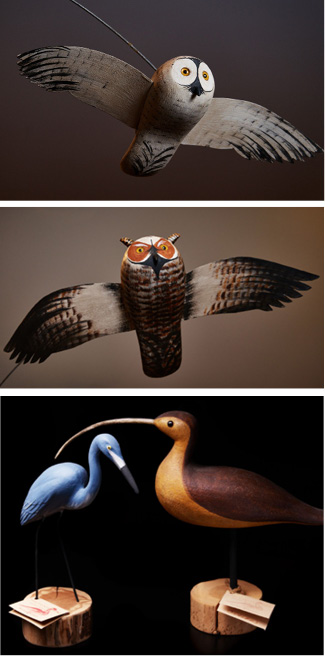 The Painted Bird
Renowned wildlife carver Richard A. Morgan creates one-of-a-kind decorative shore bird decoys from his studio in Warren. Each decoy is faithfully reproduced and finished by hand. No two are exactly alike. The fine quality shorebird decoys are patterned after authentic Early American hunting decoys. Completely handmade of native woods and hand painted to resemble the aged and painted appearance of the originals, they are authentic reproductions. Recognized and sought-after collectibles throughout the country, these delightful decoys are available right here in Litchfield County at The Hickory Stick Book Shop in Washington, prices range from $25 to $150.
Hickory Stick Book Shop
2 Green Hill Road
Washington
860.868.0525
www.hickorystickbookshop.com 
Clay Incense Holders and Planters Pots
Goshen resident and artist Ben Wolff has followed in the "hands" of his father, Guy Wolff, and throws very beautiful small planter pots in a modern palate of cream, rich brown, dipped grey, and sandstone. He has even just created a special incense holder for Pergola in New Preston. The incense holder is $16 and the pots start at $12, depending on the size of the pot.
Pergola Home
7 East Shore Road
New Preston
860.868.4769
www.pergolahome.com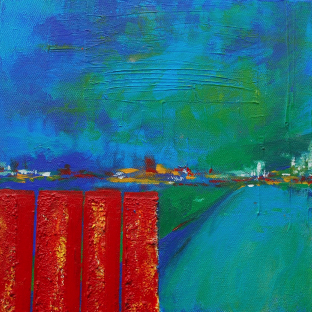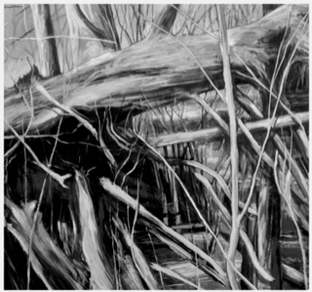 Square Pictures from Local Artists
Every year, the Hunt Library in Falls Village holds its popular year-end flash art exhibit, 12X12. Works in drawing, painting, photography, assemblage and other media range from the familiar fun pieces by Robert Cronin to sports illustration by Peter Bergamo Jr. and beautiful abstracts from Kathy Wismar, both new to the exhibit. The show opens on Friday, December 12 with a free reception from 6 to 8 p.m. Refreshments will be served. Artworks are all take-away in a 12" x 12" format and are priced at $100 each. A portion of the art sales will benefit the library. Artworks will be replaced on the wall as they are sold. The remaining works will be on display through Saturday, January 3. This is a great opportunity to purchase a locally created, original piece of art for your loved one!
David M. Hunt Library
63 Main Street
Falls Village
860.824.7424
huntlibrary.org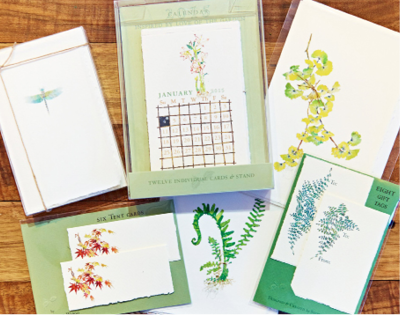 Botanicals on Handmade Paper
Stephanie Wargo of South Kent has a passion for paper and has worked exclusively with Pergola on a botanically-inspired stationery collection. Individual cards, boxed notes, gift tags, and place cards are printed on exquisite handmade paper with her own drawings/watercolors of plants direct from her garden. These delightful one-of-a-kind gifts range in price from $9 to $60.
Pergola Home
7 East Shore Road
New Preston
860.868.4769
www.pergolahome.com