Connecticut Firm Creates a New Life for a Lakeville Property
By Joseph Montebello
The view from the bungalow was breathtaking––an uninterrupted panorama of the stunning Wononskopomuc Lake. The bungalow, however, was not. At first the new owners thought they would simply renovate the original structure without increasing its size. The couple turned to Hendricks Churchill, an award-winning architecture and interior design firm with an office in Sharon, to help them create their dream house.
Wononskopomuc Lake is located in the Lakeville section of Salisbury. Nestled in the foothills of the Berkshires, it is Connecticut's deepest lake, with a maximum depth of 102 feet and a mean depth of 36 feet. In the summer it is a premier recreational venue for swimming, sailing, canoeing, and fishing,and skating and cross-country skiing in the winter. The area around the lake is primarily residential, with houses set back on fairly large lots to take advantage of the spectacular vistas.
Photo by Tim Lenz
"This particular cottage was built in the late 1930s," explains architect Rafe Churchill, "and like many structures of that era, it had been added on to several times and it wasn't very stable. Consequently the owners decided they wanted a different style house. So, in the end, we decided to demolish most of the building and leave the foundation."
"That was a big decision––to totally tear down the existing structure," he continues, "and that's a choice we don't take lightly. In many instances we've discovered that we can use the existing footprint and just divide the space differently. The owners were responding emotionally to the views and they were sure we could make it work. But then they realized that starting over was going to deliver a better house."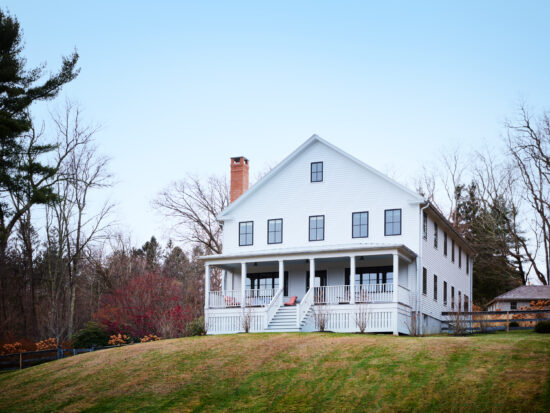 Once they agreed to rebuild, the owners envisioned a modern day farmhouse. The original footprint was slightly larger than Churchill would have made it had he been starting from scratch, bringing the final house to about 4000 square feet.
"The open floor plan was key to the success of the project," says Churchill," with large cased openings linking rooms, a wide center hall, and large black framed windows, the house feels distinctly contemporary."
Along with the black framed windows, which fill the interior with natural light, Hendricks's use of beige and white paint for the walls, along with the higher ceilings and wide center hall add to the openness and spacious feeling of the first floor.
The owners were moving from Long Island where their home was more tailored to their lifestyle of a young professional couple: midcentury furniture, very minimal, and fairly monochromatic. Now that they were planning a family, they wanted something more comfortable, more kid-friendly, décor that felt more settled and cozy, and embraced the farmhouse aesthetic that Hendricks Churchill had created for them. Shots of color were incorporated into the kitchen cabinets and door and window frames. Additionally, a small study with shelving for books was painted a pale blue to complement this cozy space.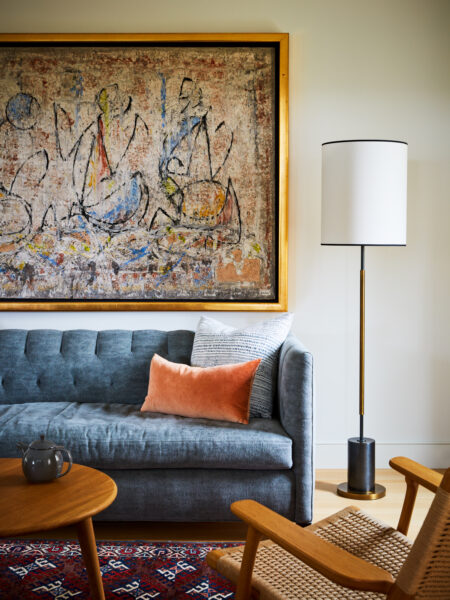 This home embodies Hendricks Churchill's hallmark style––traditional living spaces infused with modern touches and careful curation of color. "We feel so fortunate to be able to use so many local resources that are available in Lakeville and its surrounding towns," says Hendricks. "From our general contractor Riga Construction in Canaan to shops like Montage, Hunter Bee, and Cottage and Camp in Millerton, who offer an eclectic assortment, a bit of the unusual, along with a bit of patina and an aged quality. It made selections easier and the clients were delighted."