Boy Meets Girl, Boy Makes Candelabra, True Love Follows
By Cynthia Hochswender
Photos by David McCaughan
This is a love story—about home furnishings. The story begins with a courtship gift that grew into a business. The business threatened to break this couple apart (every good love story needs a crisis), but ultimately brought them closer together.
Stacy Kunstel had grown up in Kansas, but moved east to pursue a career as a writer and stylist for magazines. She traveled across America shooting interiors; one of her favorite photographers was Michael Partenio, a native of Danbury. 
Danbury for many people evokes shopping malls and discount stores, but for Partenio it was the location of Candlewood Lake, where he spent his childhood (and adult life) constantly in and around water.
"We call him Dunes because he always has sand in his pockets," explains Kunstel—who earned the nickname "Duchess" from Partenio's young sons when she was commuting from New Hampshire to visit her beau in the early days of their relationship. The Duchess of Hampshire is coming to see us, they would say.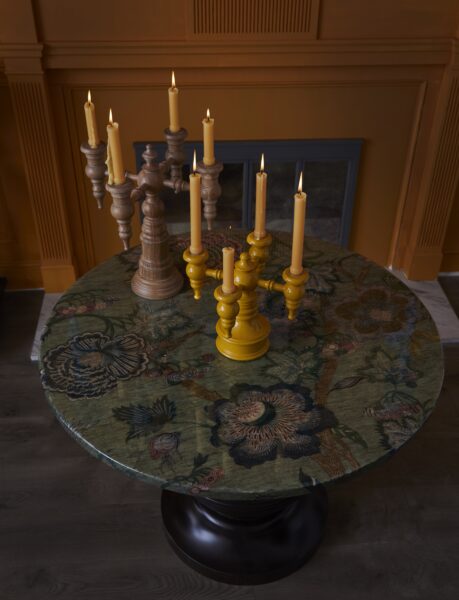 Early on, Partenio made a hand-turned wood candelabra for his new love. An interior designer friend saw it, and suggested they take some samples to the gift show in New York City. The candelabra was offered in black, white, and turquoise. A buyer from the Gump's stores in San Francisco came by, and put in a large order; Barneys New York was another early buyer.
Partenio and Kunstel worked hard and fast to fill the orders, using their living room as a workshop. Their new business, Dunes and Duchess was a success. They rented increasingly large workshop spaces in New Milford and then Danbury. They began traveling to six or seven trade shows a year. They eventually gave up their regular jobs doing editorial work. They were exhausted. They began to quarrel. The business and the relationship almost fell apart.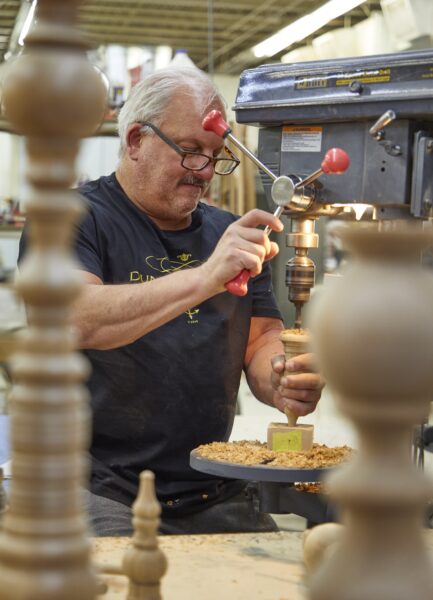 But then, as happens with couples and businesses that are going to go the distance, they reaffirmed their love for each other and the work they were doing, pulled themselves out of the mud, and got the show back on the road. It's now been 13 and a half years for this fine romance and these fine home furnishings. The product line has expanded from candelabras and smaller decorative items to lighting, seating, mirrors, and more—especially dining tables and beds, which are their biggest sellers. 
Nearly all the Dunes and Duchess products feature riffs on the turned-wood style of Partenio's original gift to Kunstel. 
All the products are made in a 15,000-square-foot workshop in New Milford. Although some items are still sold at retail, nearly everything now is "to the trade." 
The duo no longer needs to travel to trade shows every two months; designers come to New Milford to discuss sizes, shapes, and colors (there are 16 stock lacquer finishes and an infinity of custom colors).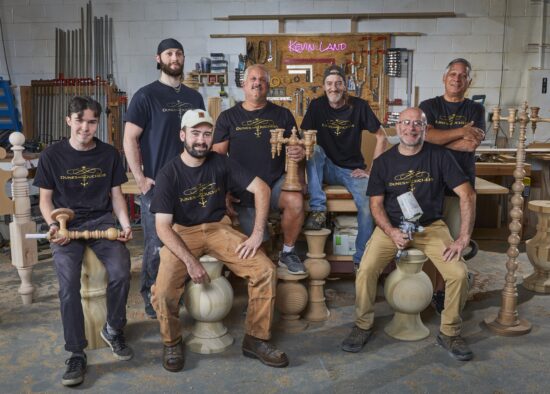 "Our clients love to visit us here," Kunstel says. "People are blown away when they see how beautiful this area is."
Partenio and Kunstel are happy to give back to their community; they hire workers who live in the area, and source all their materials as locally as possible. Because, after all, Dunes and Duchess has given them so much of what matters in their lives.
"We like to think of ourselves as the world's most romantic furniture company," Kunstel says. "We fell in love and started making things that we love. We want every piece to remind us why we started." —dunesandduchess.com