Dobson Pools Building Bespoke Pools for Over Fifty Years
SPONSORED CONTENT
By Clementina Verge
Imagine lounging by an exquisite swimming pool perfectly blended into the natural world surrounding it. Envision feeling deeply relaxed and restored within the bucolic Litchfield Hills. For the past 52 years, Dobson Pools has infused life into such dreams by creating more than 2,500 breathtaking backyard oases—pools that are not just refreshing centerpieces, but artistic components of properties throughout Connecticut and beyond.
While founder Jim Dobson now enjoys retirement and spending time with his 6-year-old grandson Colton James, his legacy of creativity and diligence continues, embraced by a son and daughter team who share his passion and commitment to excellence. Together, Brian and Julie Dobson co-own the company whose mission is combining the simplicity of time-honored joys with the extraordinary aesthetic of modern gunite pools.
With a loyal team of 30 beside them, Brian and Julie work year-round, developing their business with a focus on providing unmatched customer care, from installation to routine maintenance.
Brian, a nationally-recognized Certified Pool Builder, has raised the bar for innovative pool designs reflective of today's contemporary lifestyle. Automated pool operations with remote capability have become standard, along with features such as spas, sunshelves, full width steps, salt systems, automatic water fillers, and automatic covers. The technology, however, never overshadows the art.
Designed exclusively to meet each homeowner's unique preferences, pools are created to complement the architectural style of a home and maximize its topography and views.
"When we arrive at a property we immediately think 'Where would we want to be and why?'" remarks Julie, noting that ultimately, pools add a superior landscape element.
In Kent, a precise rectangle surrounded by formal hedges capitalizes on the very traditional Connecticut country estate feel. In Falls Village, Greek Revival architecture guides a pool and pool house to emulate a Greek temple. In Warren, infinity pools overlook Lake Waramaug while in Salisbury they merge with exceptional views of Lake Wononscopomuc, creating unforgettable drama. These are just a few examples of the vast design freedom gunite provides.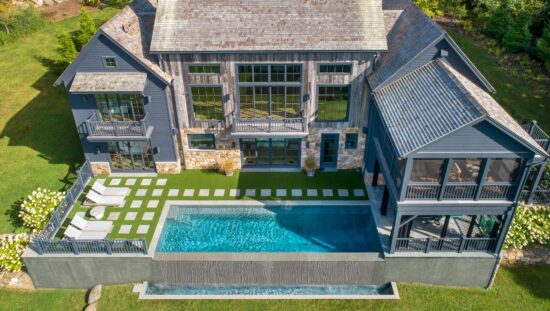 Undoubtedly, those incredible vantage points transform properties, but also the lives of those who own them. Swimming fosters physical and social benefits; water eases aches, splashing incites giggles, and floating in the sunshine offers respite from screen time.
"The beauty of swimming is that it has no age limit," Julie emphasizes, recollecting childhood memories when family celebrations were always around the pool.
"Watching my father and son swim together through my office window on a late summer afternoon, or watching them swim laps together come wintertime in the indoor pool room simply fills me with heartfelt gratitude," she adds, expressing appreciation for being part of "a happy business" that makes such positivity possible for others.
In partnership with local businesses and realtors, Dobson plans to host a swimming pool tour later this year, educating the community regarding options involved in building a pool or purchasing a home with an existing one. So start dreaming of your perfectly tranquil aquatic escape; the fulfillment can be just around the corner—like summer.
Dobson Pools
1 Spruce Lane
New Milford
860-354-9227