By Nancy McMillan
Dixie DeLuca inherited a passion for collecting from both her parents. Because of her father's love of Dickens, shown in his leather-bound volumes, the family enjoyed a performance of A Christmas Carol every year. In 1984, her mother Jean Sullivan, an avid collector herself, could not resist adding Department 56's new Dickens' Village Series to their holiday traditions.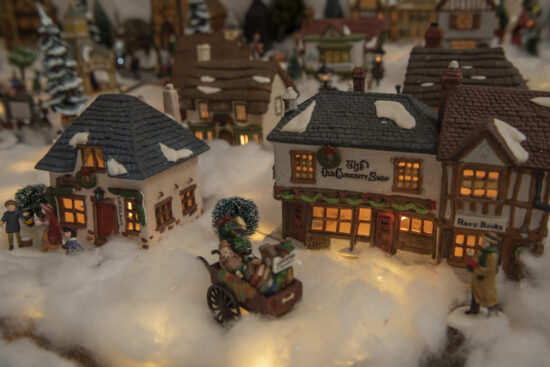 A native New Englander transplanted to Houston by marriage, Sullivan is a devoted fan of "decking the halls" during the holiday season. She installed the first Dickens' Village on top of an upright piano. The ceramic pieces, handmade and hand-painted, feature interior lighting in the miniature buildings. Each year, the set grew until it covered the grand piano; a card table handled the overflow. Today, the set consumes two weeks in assembly and fills a ping-pong table.
DeLuca recalls how she and her two siblings would "race home from school to see the progress. We all wanted to live there; it looked so cozy."
Sullivan kept New England traditions alive for her children. Every summer she packed them up for an "antiques road trip." They traveled to New England then down to Florida, stopping to peruse American furniture, silver, leather-bound books, Persian rugs, and antique china. In Florida, DeLuca, the budding collector, assisted her grandmother in her antique store, cleaning and restoring items. "I loved seeing things come to life."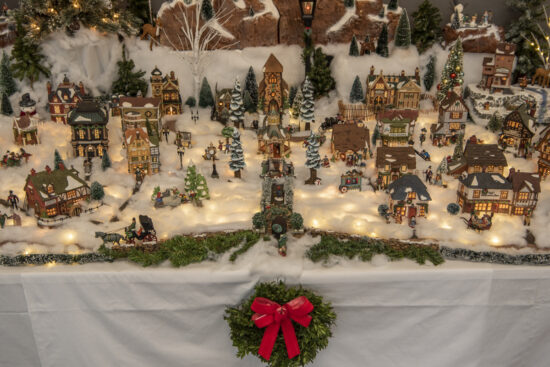 When DeLuca and her husband David bought their 1834 Greek Revival home in New Milford, "Americana looked best in our stone home and collecting became a way to decorate it," she says. The couple have diverse tastes—American glass, pewter, redware, early New England furniture, Staffordshire transferware, and folk art—and have traveled the world gathering treasures.
"We have met the most wonderful people, including experts in their fields. Although we have never displayed our collections publicly, groups have visited our home to view them."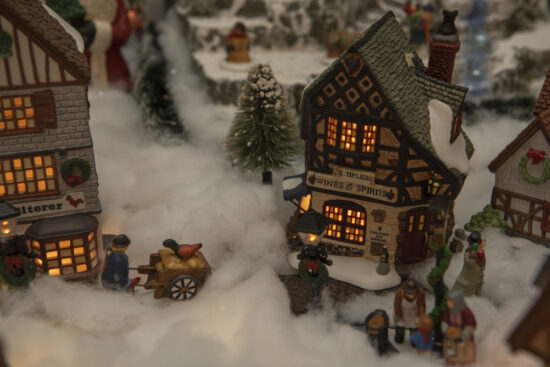 DeLuca admits to an obsession with tabletop designs, which she loves to mix and match, and seasonal decorations. On the day I visited, a glorious tree festooned with ornaments from around the globe held a place of honor in her home. "The Dickens' Village feels very much at home in our Connecticut living room surrounded by a Mexican creche, Three Wise Men from Spain, Venetian ornaments, and mantelpiece trees from Vienna and the Dominican Republic," DeLuca says.
The Dickens' set found its way from Texas to Connecticut in 2010 when DeLuca's parents downsized. Its first public display took place in 2021 at the Judy Black Memorial Park and Garden in Washington Depot, where the ceramic buildings glowed against their snowy padding, making it look, as DeLuca said as a child, cozy and inviting.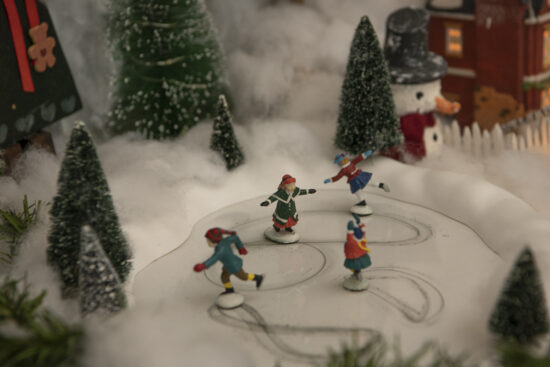 "We display, view, and share our collections within the privacy of our homes because it gives us pleasure. It was a true joy to see my mother delight in sharing a lifelong passion with all who visited. We were warmed to hear people say they were now inspired to resurrect their own holiday collections for their young children."