By Charles Dubow
For years I would drive by the large white clapboard inn on Main Street South in Woodbury and think "Gee, I should go there for lunch." But friends warned me off, saying the old place had seen better days. Well, that was then. Better days have returned. Today under chef and owner Michael Bates-Walsh the rechristened 1754 House is cooking some of the best food in Litchfield County.
A native Vermonter, Bates-Walsh had long had his eye on the property. "I'm an old New England guy and I fell in love with its old New England charm." The building, parts of which date back to 1733 but which is believed to have first opened as an inn in 1754, has been renovated and has retained many of its historical details. The overall effect is an atmosphere that is light and airy, embodying a style that might be dubbed Colonial Cool.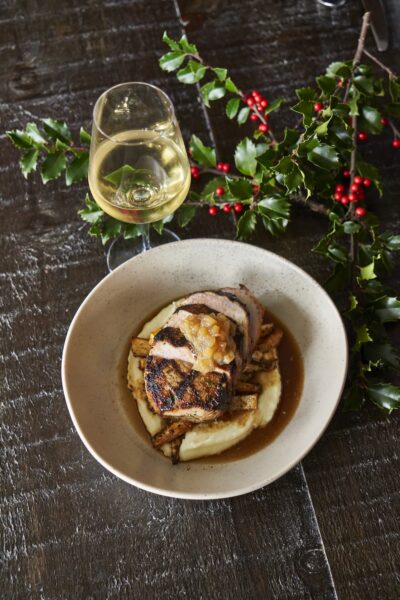 Clearly it is more than the décor that is drawing the crowds. On a recent visit the bar and tables were filled with patrons happily eating and drinking. A glance at the menu shows why. Not only are the offerings pleasantly diverse but also the prices are reasonable. But what really makes 1754 special is the food you get for your money. For the most part, this is a place for hungry eaters, where you could have a Martini, a shrimp cocktail followed by steak frites, all washed down by a decent California Cabernet. Or, as I did, wood-fired pork loin served with parsnip/potato purée over roasted root vegetables. This is solid American cooking but with just enough panache to make you realize a few bites in that it might be one of the best meals you've eaten in a while. And if you really want to indulge yourself, book one of the nine upstairs rooms, and have a snifter or two of cognac.
Book ahead for special Christmas Eve and New Year's Eve events.
506 Main Street South, Woodbury, 1754house.com