By Charles Dubow
Christian Hunter is not shy about his ambitions. "I want to win a James Beard Award," he says. No argument here. Since arriving as the new chef at Community Table in New Preston last May he has been cooking the kind of inventive—and delicious—food that the prestigious foundation is famous for recognizing.
"Every plate I put on the table I want to tell a story," says Hunter. "I want people to sit back and say 'Wow. This is the best thing I've ever eaten.'" What makes his cooking sing is the combination of experience and tastes that has informed his palette. A native of Lexington, Kentucky, he earned a culinary degree from Paul Smith's College in upstate New York and cooked at Relais & Châteaux's Lake Placid Lodge and The Weekapaug Inn in Rhode Island. It was when he moved to South Carolina that his cooking really took off. "I had technical proficiency but the restaurant scene in Charleston is incredibly exciting, and it introduced me to all kinds of new ingredients and ideas."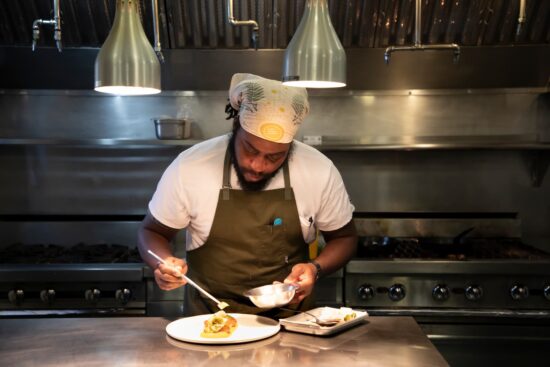 Being the chef at CT (as the local favorite is commonly known) is a big deal given the restaurant's reputation in Litchfield and beyond. "I knew that CT needed an energetic, sophisticated chef to lead the kitchen team into our future," says Jo-Ann Makovitzky, CT's managing partner and a veteran restaurateur. "When interviewing Christian, he was easy to get along with and we had the same views and philosophies about food, restaurants, and how growth and change occurs."
When he was invited to be the chef at CT he was already familiar with the area, having worked previously at the former Millstone Café in Kent. "One of the most exciting things about cooking here now is the explosion of small organic farms in the area," he says. "Everything we do at CT is seasonal and almost all our ingredients are locally sourced. It's an intimate thing, working with farmers. Getting to know them and their culture really informs how I feel about the food I make." To him the great advantage of working seasonally is that not only is he always getting the freshest ingredients but it also permits him to continually innovate with the menu and provide his guests with an exciting variety of new dishes. "People don't want the same thing all the time. They want an experience that will give them a memory."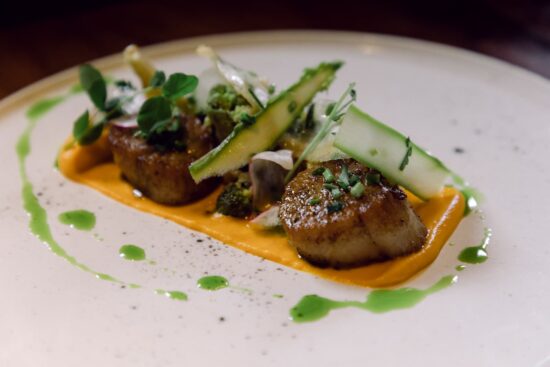 Exploring and juxtaposing global flavor profiles are key to his cooking. Hunter takes what at first glance might appear to be your standard New American fare but gives it an extra zing by adding unexpected ingredients or spices. Take for example his grilled marinated quail, which comes with asparagus, white beans, and mushrooms, but he punches it up with chermoula, a traditional North African cumin-based marinade. Or his roasted rack of lamb that is served with freekeh, a North African barley. He also draws on tastes from South America, such as piquillo peppers, which are a key component of his slow-poached monkfish, as well as sourcing bourbon from Litchfield Distillery for his New England seafood chowder.
Hunter has been extremely grateful to CT's regulars, who kept the kitchen busy despite the pandemic. "When I arrived last spring it was incredibly challenging but my team here is excellent and our patrons rolled with it. We had to change the dynamic of the restaurant and switch to doing take-out meals and outdoor dining, which was totally new for CT but we did it. You'd think that because of COVID we would have been quiet but it's been crazy since I got here." Hello? James Beard Foundation?
Community Table
223 Litchfield Turnpike
860-868-9354