A Historic Litchfield Home Gets a Brooklyn Style Whiskey-Infused Makeover
By Zachary Schwartz 
Driving through the town of Litchfield presents a masterclass in historic American architecture. Wonderfully preserved and restored homes dating back to the 1700s and 1800s line the streets, exemplifying magnificent Colonial and Federal architectural styles. But the façades of these homes are not always reflective of the interiors within.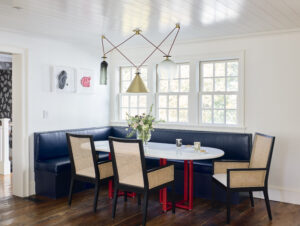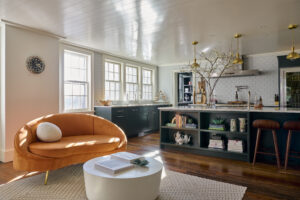 One example of this architectural contrast is a Federal style house built in 1807 on South Street. The white clapboard siding exterior features symmetrical windows and grand chimneys. The inside, on the other hand, is current, modern, and aesthetically more Brooklyn than Litchfield.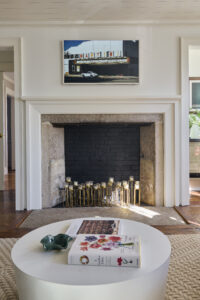 Purchased in late 2020 by a family from Brooklyn, the property boasts four floors, five bedrooms, nine bathrooms, and seven fireplaces. The structural bones of the home offer innate personality, including repurposed wood flooring, a two-story library, various entertaining parlors, and a large backyard. The homeowners inserted their eclectic point of view, opting for colorful floral wallpapers, modern furnishings, and contemporary art, much of which was inspired by or acquired in New York City.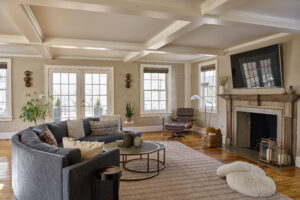 "New York itself is such a big part of us. I think that comes through in the house. We have a lot of Brooklyn artists. We definitely brought a piece of Brooklyn with us," says the homeowner. Boerum Hill references range from brownstone style parlor lighting to street art and hip hop photography books to pottery crafted by Brooklyn-based artists. The design choices lend a youthful, cosmopolitan, and Instagram-era touch to the historic home.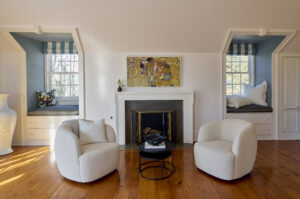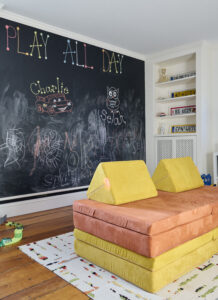 Perhaps nowhere is the polarity between Federal architecture and 21st century Brooklyn design more prevalent than the formal living room. "When we first got this house, my thought was to try and keep it in a classic antique style decor, but incorporate modern pieces within. But it took a whole turn, and the house has become completely modern in style," says the homeowner. Artistic accents include a large black and white Gardar Eide Einarsson painting, Kehinde Wiley basketball, and Jenna Krypell sculpture. Furniture is from Jonathan Adler, CB2, and West Elm, paired with curated pieces sourced by Rex Todd Rogers and Housatonic Trading Co.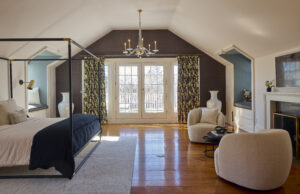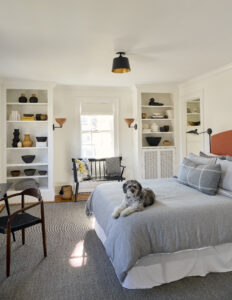 The home's nonpareil is its two-story library. A bromidic design choice would have displayed books and decorative objects. Instead, the homeowners showcase their whiskey and spirits collection with accent lighting. Floor-to-ceiling shelves exhibit an impressive selection of coveted whiskeys, scotches, and bourbons. Spirits brands range from Macallan to Laphroaig to Yamazaki. Genres vary from pre-1970s bourbons to private-label versus distillery-released scotches to novelties like pre-embargo Cuban rum. "The collection represents diversified whiskeys, each from an important moment in time for the whiskey and the distillery," says the homeowner. The bottles are intended to be imbibed directly from the library stacks, not just displayed. Arranged aside the bottles are vintage memorabilia, including prohibition era liquor prescriptions, estate sale flasks, collegiate trophies, and a functional ladder to reach upper shelf bottles.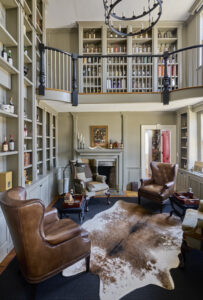 Aside from the whiskey library, the homeowners added a fitness studio, sauna, adult game room with foosball and darts, and a childrens' playroom. In the backyard of the home, they planted a new garden. "Having a garden that I can soil with organic materials and eat from garden to table has been such a blessing," the homeowner rhapsodizes. In the summer, the homeowners enjoy fresh cut flowers and produce from their garden, a far cry from their Brooklyn origins.