'COVID newbies' Find Their Way in Litchfield County
By Linda Tuccio-Koonz
Sure, the occasional field mouse may appear indoors if your new address is near the woods. And no, you can't order every type of ethnic-cuisine takeout at all hours of the night.
But critters and cravings aside, a sampling of Litchfield County residents–all of whom relocated from urban areas when the pandemic set in–say they're glad to be here, even though it's meant starting over in many ways.
"Litchfield, without a doubt, took in a lot of new residents over the course of the pandemic," says Megan O'Dell, formerly of Manhattan. She and her family moved here part-time in 2020, but now consider it home.
The O'Dells were among thousands of families that bought homes in Litchfield County in 2020, according to Julie King, Litchfield Hills regional brokerage manager for William Pitt Sotheby's International Realty.
King says 3,112 single-family homes were sold in Litchfield County in 2020, compared to 2,370 in 2019. The figure was 2,791 in 2021, so "clearly there's been significant interest."
O'Dell says she and her husband, George, who work in the art world, left Manhattan for a Cape Cod house on Bantam River. They would rather their two boys be hunting frogs than hailing taxis.
"It's a different pace of life; it's not like you can call and order Lebanese food at two in the morning and have it delivered, but that's also a reason we moved here." It's a "slightly slower, wholesome" way to live.
"Raising our children in a small town where they have more space to explore and really feel like part of a great community was a major motivator," O'Dell says.
Some refer to folks who relocated during the pandemic as "COVID newbies," and while everyone's stories of settling in are slightly different, there are similarities, too. Most say working remotely is key, and community and school events, from fundraisers to art festivals, are great for meeting people. But you can't be shy.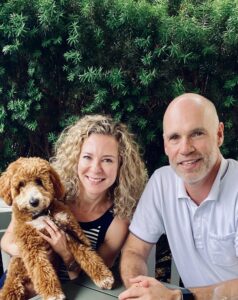 "Say yes to every invitation," says Lisa Harvey, who, with her boyfriend, Andy Wright, moved from Manhattan to a 1750s farmhouse in New Milford. Home ownership means more to contend with, she says, but the beauty here "has added richness to our lives."
Elyse and Peter Fields, formerly of Westchester County, began looking for a Litchfield County home the week COVID-19 hit.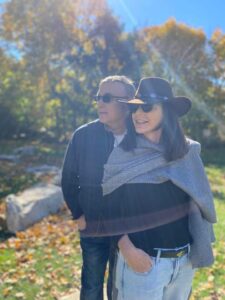 "It was a very strange time to move anywhere," says Elyse Fields, who found social-distancing protocols made it harder to meet people. One new friendship was forged when they met another newcomer at an outdoor festival, and conversed about her fedora.
"We spend a lot of time in the town of Litchfield and bring our dog (Hank, a Cavapoo)," Fields says. "People with dogs are the friendliest. That's a good ice breaker."
Also embracing Litchfield are Marisa and Robert Schmidt, who reside in the historic district. "We had a bit of PTSD living in Brooklyn with the pandemic, hearing all the sirens from ambulances as people around us were getting sick," Marisa Schmidt says. Now, it's "just a quick walk, or scooter ride for the kids, to town to grab a sandwich for lunch from the deli, or to Espresso 59 for ice cream after dinner."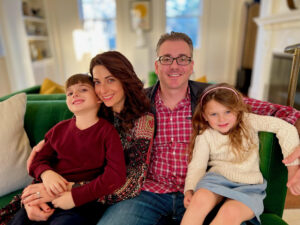 Meanwhile, Hollyn and Shawn Baron, also from Brooklyn, say their children are thriving here–enjoying nature and all the open space. Their daughter especially loves that their neighbors have horses, chickens, pigs and goats. "We call her our country mouse," Hollyn says.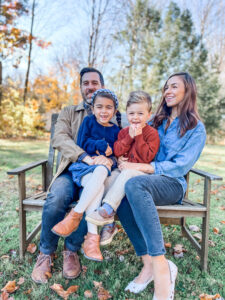 She and her husband work in tech, and now work remotely. "The pandemic was completely transformational for our lives," she says, but people have been very welcoming and there's lots of fun things to do. The only thing she hasn't yet found are Brooklyn bagels! 
King says although some families that relocated with kids during the pandemic have since returned to educating their children in the city during the week, most have held onto their homes here for use on weekends.