Goshen Native Takes Local to a Whole New Level in Norfolk 
By Hannah Van Sickle 
Ryan Craig's very first job, secured on the eve of his 15th birthday, was steeped in serendipity. After transferring from the regional public high school, where he was falling through the cracks, Craig enrolled at Marvelwood School; most mornings, on the daily drive from Goshen to Kent, he and his parents stopped at the original Berkshire Country Store in West Cornwall. "It became our spot," says Craig who was drawn to the jovial guy behind the counter. One day a help wanted sign appeared in the window which ultimately opened a door for Craig. After five years spent serving coffee, making deli sandwiches and running the cash register—plus a decade spent in the corporate world gleaning customer service and communication skills—Craig returned to his roots and revived the very establishment where he cemented his retail footing.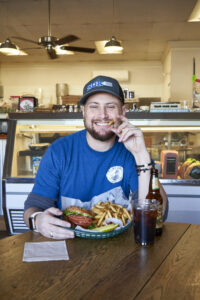 "Building that foundation didn't happen overnight," Craig recalls, citing the gift of time and energy the previous owners took to shape him from a punk kid into a small business owner. 
Five years into the venture, Craig and his team aspire to make living in Norfolk—pronounced Nor-fork by a majority of his customers, a colloquialism that ultimately gave rise to a line of hats, t-shirts, and bumper stickers Craig is using to brand his business—a bit more enjoyable and convenient than it would be without the Berkshire Country Store.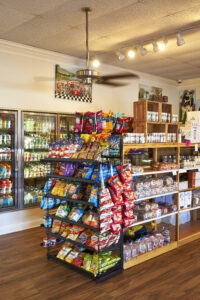 "Norfolk is very much trending toward a seasonal town," says Craig, citing breakfast to-go (plus house-baked cinnamon rolls and donuts) as a big draw among working class locals and tradespeople whose support keeps the lights on. In an effort to serve as a one-stop shop for weekenders' local needs, Craig stocks an impressive array of regional goods including fair-trade, certified organic coffee (both brewed and bagged) from Coffee-Tea-Etc. in Goshen; Mead's maple syrup from Canaan; Peter Sadlon's local honey from Salisbury; and a wide array of local meat—including heritage pork and chicken, pastured lamb, grass-fed beef plus sausage and duck from Tory Hill Marketplace in Lakeville and Birdseye and Tanner Brooks Farm in West Cornwall. Felted wool mittens (lined with cashmere) are handmade in Colebrook and Rolling Rock Farm in Sheffield, Mass. created and bottled a unique-to-the-northwest-corner product: Norfolk ice sea salt which pays homage to the town's nickname, "The IceBox of Connecticut."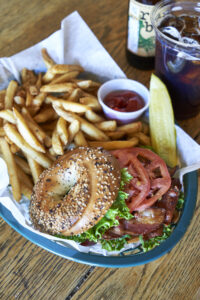 Craig, now on the brink of 40, continues to fine tune his model: to provide a gathering place for locals and a welcoming stop for out-of-town visitors. He was initially recruited by the town's Economic Development Commission and the Norfolk Foundation—which operates the adjacent Norfolk Hub (a central co-working space for nonprofit and community members)—remains his landlord. 
"These types of businesses are not inherently profitable," Craig says, admitting that he mows a few lawns and offers small-business consulting on the side to make ends meet; still, he's fueled by a commitment to his community and keeps finding creative ways to stay afloat. He recently found a vintage velvet sofa online (a perfect match for the pair of orange upholstered rockers inherited from a great aunt) and a welcoming lounge, complete with electric fireplace and free wi-fi, making the 3,200 square-foot space feel cozy for winter. 
Craig continues to be fueled by passion over profit. "We try to be a little bit of everything for everybody, which the market has made very challenging, but we're out here trying."