Hard Work Benefits Everyone
By Clementina Verge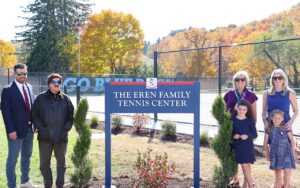 Whether they are passionate about tennis, basketball, or pickleball—currently, the fastest-growing sport in the United States—Classic Turf makes sure its clients have home court advantage. 
With decades of industry experience, the award-winning Woodbury company's reputation has been "building the world's most durable and longest-lasting tennis and basketball courts, running tracks, and multi-sport facilities."
The legacy began in 1980 with one question: "How can we do this better?" The inquisitive mind was Tumer H. Eren, who emigrated from Turkey in the 1970s and was working at a small ski and racquet club in northwestern Connecticut. There, winter responsibilities related to skiing reflected his personal Olympic-level abilities in the sport. In the summer, he maintained tennis courts in need of constant repair, leading to frustration and the desire to find a more efficient, longer-lasting solution. 
Like many American Dream stories, after much grit, creativity, and effort, Tumer founded Classic Turf Company. Based on Classic Turf's patented new systems, it was one of the first businesses in the New England area to use post-tension concrete technology and end the asphalt base application.

Along with his son John, company vice president, and daughter-in-law Kate, director of finance, Tumer helped set industry quality standards with one of the first companies to offer a 20-year structural guarantee—an incredible feat given New England's seasonal shifts. Today, Classic Turf exclusively installs courts and tracks using post-tension concrete, replacing rusted rebar with fiberglass rebar. 
The second-generation owned family builds courts for a wide range of clients, including schools, municipalities, and an increase in residential properties, especially during the recent Covid-19 pandemic. Though their work has taken them far beyond Connecticut borders, from Bermuda to Florida and Montreal, Litchfield County is home.
Raised in the Woodbury area, John attended local schools, including Rumsey Hall School in Washington Depot, to which the family recently gifted four new tennis courts, appropriately named "The Eren Family Tennis Center." 
"It is a place that shaped my husband, a school that our daughters now attend, and it is important for us to give back," notes Kate. 
Industry-recognized and the winner of many awards, including the Award of Excellence from the Post-Tensioning Institute, the company credits its success to the durability of the courts. At 76, Tumer's days still begin early, as he ponders ongoing enhancements—from faster build times, to greater affordability for clients, and sustainable material use.
Having inherited his father's work ethic, John likewise strives for continuous professional development. Following a degree in engineering from Northeastern, he went on to earn his MBA. John is a certified post-tension installer from the Post-Tensioning Institute (PTI); as well as a certified tennis court and certified track builder by the American Sport Builders Association (ASBA). 
"There is no question that my father is my inspiration, influence, and mentor," reflects John. "He created something out of nothing: he seized an opportunity to start our business and truly lives Classic Turf's fundamental core values of partnership, education, and innovation each and every day." 
The satisfaction comes from knowing that their expertise and dedication have helped countless individuals to stay active and healthy while enjoying games they love, making memories, and enjoying products that are aesthetically-pleasing, property value-enhancing, and highly customizable—such as a state-of-the-art tennis court recently built on a Washington estate. From windscreens, to court lighting, creative fence design and personalized monograms and colors, the products are as beautiful as they are lasting.
"What we deliver for families, organizations, and communities is the result of this commitment to excellence—and we pour our expertise, sweat, and skill into every project," assures Tumer. "We do this because we know we're building more than courts and tracks. We are building an experience. Our constant aim is to build lasting, safe, and stunning courts and tracks that bring people together, nurture talent, and create memories." —classicturf.org