A Washington Garden Gets its Fairytale Ending
By Tovah Martin
When an ultra-energetic novice gardener waves her magic wand, a Washington landscape gets its fairytale ending.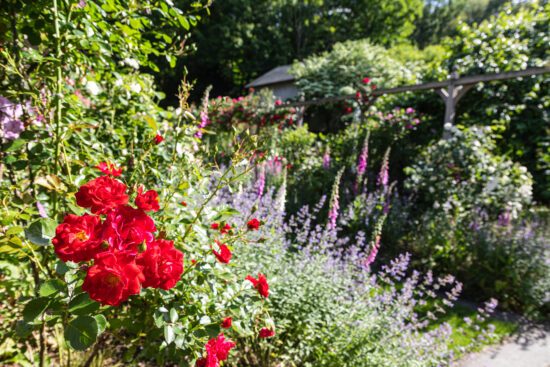 If Barbara Paul Robinson were the type to roll her eyes, that would be her response when asked how her Washington garden has evolved since she bought the original 20-acre property in 1971 with husband Charlie Raskob Robinson and two babies in tow. She was a New York-based lawyer, Charlie was a banker, and she summed up the property-upon-purchase that became Brush Hill in one succinct word. "It was a wreck."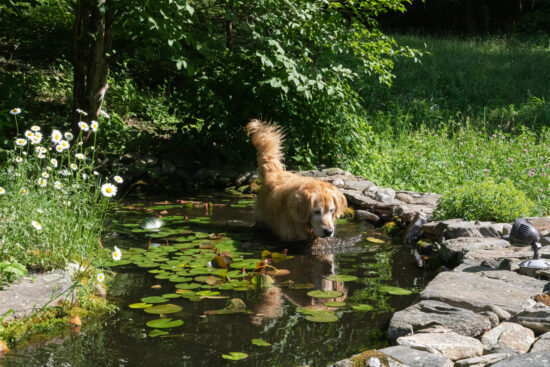 Fortunately, Charlie had gardening in his roots. As for Barbara Paul Robinson, she didn't know a radish seedling from a pea sprout, but she had enthusiasm to spare. So, they dug into the landscape at a time when gardening wasn't on everybody's radar. The "miserable woods" was made spick and span while the tangle of suckered lilacs got their nip and tuck. Eventually, the gravel pit became a pond and the canvas in general was prepped. But those steps were just setting the stage because, simultaneously, Barbara was determined to become a gardener far beyond just juggling the vestiges of old peonies, bearded iris, and spiderwort that remained from the original homestead that they purchased.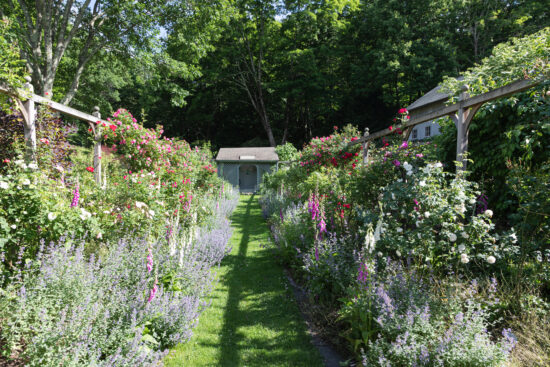 Rather than dismissing the property's sorry past inventory of plants verbatim, Barbara Paul Robinson took some of her cues from the survivors. For example, a sprawling yellow single rose stubbornly remained, which ultimately inspired a rose garden. In fact, the nascent gardener became so deeply submerged that Barbara decided to take a sabbatical from her law firm (by that point, she was a partner in the firm) and follow a friend's suggestion to briefly work in a great garden. Since the greatest gardens at the time (1991) were in Britain, she contacted two legendary icons—Rosemary Verey and Penelope Hobhouse. Both gratefully invited her to come and get her hands very dirty for a few laborious weeks. Not surprisingly, the experience changed her Litchfield County landscape.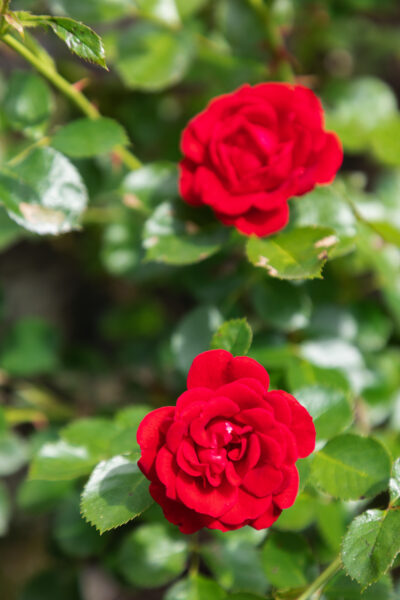 The current landscape is light-years from its original wreckage. Barbara Paul Robinson loves focal points, outdoor drama, and strong old-fashioned plant-filled gardens. She doesn't do anything by halves and each space is thoughtfully wrought with a theme. For example, when she sent her initial order to Roses of Yesteryear to fill the rose garden, she purchased no fewer than 85 plants. From her British learning spree, she brought back ideas for underplanting with blossoms rather than bedding with boring brown mulch. So a double rose allée is draped in survivor/climbers such as 'Dortmund,' 'New Dawn,' 'Henry Kelsey,' and 'William Baffin' as well as rugosas like 'Therese Bugnet' and 'Will Alderman' is underplanted in forget-me-nots and Nepeta 'Six Hills Giant' with self-seeding foxgloves contributing just the right dose of romance. She loves color themes—so the "moon garden" is thus named because it shines in yellow Chamaecyparis and cornus with deep burgundy cordylines and purple smokebush. A serpentine garden planted with tiers of colorful tropicals and annuals traces the curve up a hill. And streaming down the wooded hillside, Charlie installed "Water Works"—a series of 14 interconnecting pools with corresponding waterfalls. Meanwhile, a vintage greenhouse inherited from Charlie's family furnishes the seedlings that populate the garden while overwintering the tropicals that fill the beds.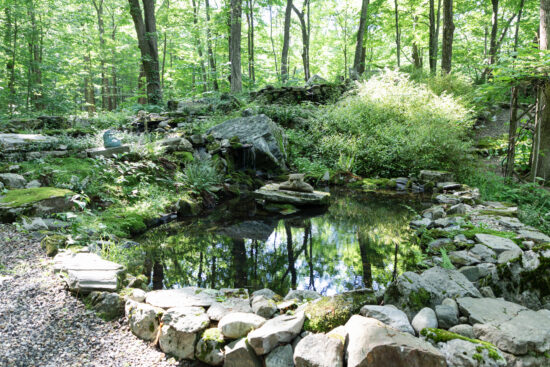 Barbara is the plantaholic, but Charlie is the engineer behind the scenes. He is responsible for the one-of-a-kind tuteur/sprinkler towers, mahogany braces for the roses, gates, pergolas, and all the various carpentry projects on the property—each with a vision. In a nutshell, it's almost impossible to imagine that Brush Hill was once a wreck. Now, it's everyone's fondest floral fantasy.