Artist Tina Scepanovic Transformed a 1970s Rectangle into Her Creative Retreat
By Zachary Schwartz
Tina Scepanovic has led multiple lives. The multi-hyphenate studied psychobiology in university, music education in graduate school, and traditional painted finishes in art school. When the Covid-19 pandemic hit, the ex-strategy consultant and choir founder decided to pursue her art practice full-time. Her Falls Village home turned out to be the perfect art studio.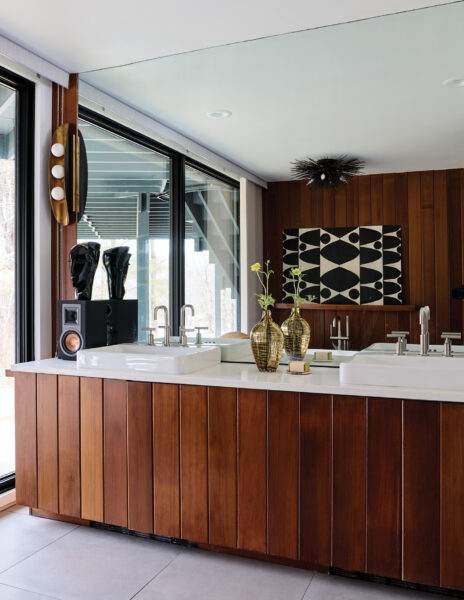 In 2018, Scepanovic's family was growing out of their Manhattan apartment. She happened upon an unusual 20 x 60 foot rectangular building in Falls Village from the 1970s. "I came across this house that seemed so promising. It was a modern contemporary style, nothing like what we had seen before," says Scepanovic. Recognizing a hidden gem, she purchased the home and performed an extensive renovation with Riga Construction and Woodbury Supply, then relocated her family in 2020.
The modern architecture of the two-story home revolves around the nature surrounding it. The forested outdoors can be admired from any vantage point in the home. "It's a really unique house. It's completely open. Any living space we have is connected to a view. Everything internal is bathrooms and kitchen. It's quite an efficient use of space," says the homeowner.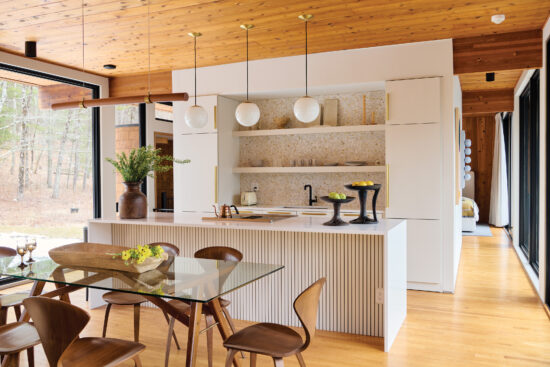 Scepanovic herself designed the interiors. She was inspired by the earthy golds in the home's cedar wood walls, Litchfield County's lichen-embossed trails, and her California upbringing. "I drew from the environment, the palate nearby, and nature to direct design decisions. This was the perfect introduction to interior design because the architecture and the original elements gave me so many clues," says Scepanovic. Furniture selections include an Uni chandelier, dining room set of Cherner chairs, and sconces by Litchfield-based Dumais Made.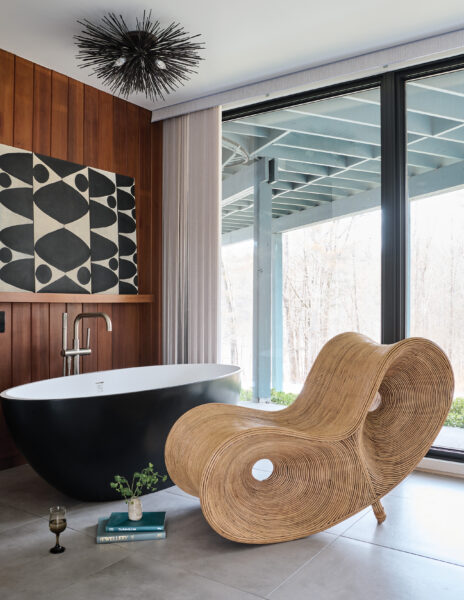 With only two bedrooms in the rectangular home, Scepanovic had to get creative with space. She annexed one of the bathrooms for her art studio where she conceived her premier series, Gobstoppers, on top of the bathtub. "My practice is based in historical finishes, which is an incredibly labor intensive process that is focused on transforming materials into what they are not," says the artist. "My Gobstoppers collection is very much inspired by the rinse and repeat of lockdown life. They are spheres affixed to a panel in a regular pattern. It's an abstraction of a calendar. In our time in lockdown, we had become completely unmoored from external references from time. It was a way of tracking time."
Scepanovic's move to Falls Village not only inspired her output, but also informed her creative process. "Since being in Litchfield, I've been on this mission to completely switch out my oil-based materials for water-based materials. It made me conscious of what I was washing down the drain," says the artist. This eco-conscious approach extended to her next conceptual series using reclaimed glass and found materials. This abstract collection, titled You Always! You Never, is inspired by imperfect expectations in domestic relationships.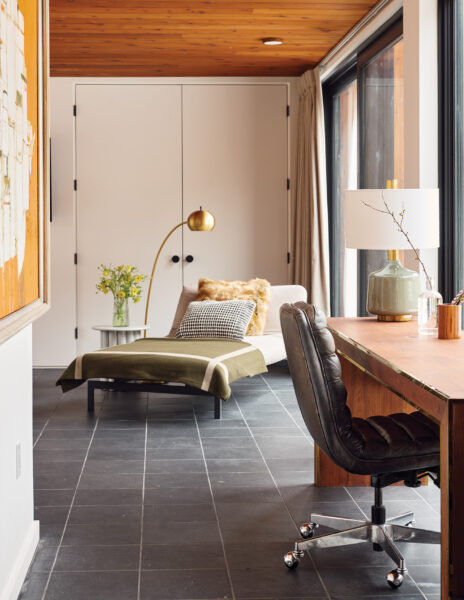 As Tina Scepanovic's artistic practice evolves, she is an artist to keep an eye on. And with an inspiring residence, her oeuvre is certain to flourish. —tinascepanovic.com