At Arethusa al tavolo, Chef Dan Magill's creative dishes are made with a delicate balance of flavor, freshness, texture, and beauty. His passion for cooking is evident in every bite.
Litchfield County is the fortunate home of several top Connecticut restaurants, restaurants that measure up to the best New York – and the world beyond – has to offer. They are all the results of vision, investment and talent, yet each possesses a unique story of how that beautiful meal made it to your plate. In the mind of a great chef, the creative juices are (almost) always flowing.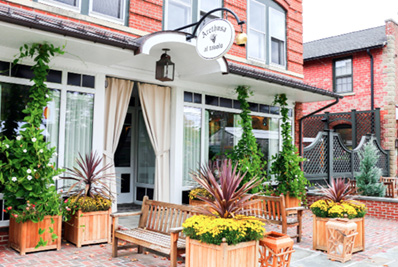 Dan Magill has a lot to say about the creative impulse, and it doesn't take long to understand he is driven. The chef of Arethusa al tavolo in Bantam since its opening in 2013, Magill is precise, demanding, articulate, confident, focused, and passionate – and he's playing the game at a very high level. His menus are intellectually engaging: grounded in classical detail, built on impeccable ingredients, executed with finesse, and suffused with genuine creativity. For example, tartare of yellowtail & yellowfin with watermelon radish, cucumber, avocado, tobiko, and soy-yuzu dressing. There is nothing on your plate that isn't there for a reason, no pretense, no trendy culinary artifice. And the visual precision of his craftsmanship is high art.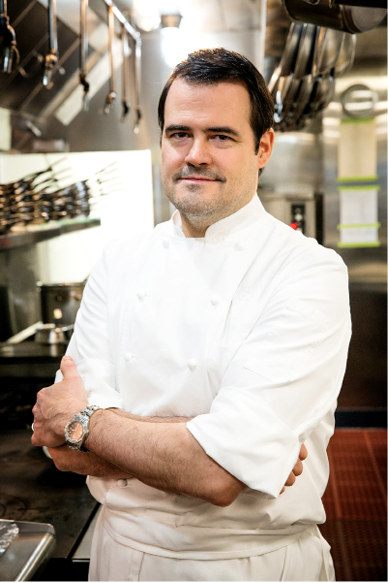 Happily, we do not need to know any of this to enjoy the results but understanding the man behind the experience is illuminating. Working from the age of 14 as dishwasher, prep cook, and then line cook, Dan knew early on that food was his milieu. "My mother was a great home cook, and cooked for our family of six every single night growing up. It was my father who encouraged me to get a job washing dishes, and I've been in the kitchen ever since." In high school Naval ROTC he thrived on the discipline and organization that, not coincidentally, also distinguishes a professional kitchen. Following a degree in restaurant management, Dan enrolled at the Culinary Institute of America (CIA), committed to becoming a chef.

At a rare loss for words, Dan strains to remember at what point he realized he's a creative person. "Maybe in my twenties? People have always commented on my eye for detail, and I'm super-critical, mostly of myself." It took the first ten years of his cooking career, he says, to begin understanding how foods, flavors and textures play off each other in a dish. "It's the yin and yang – what I hope people notice about my cooking is that it's balanced."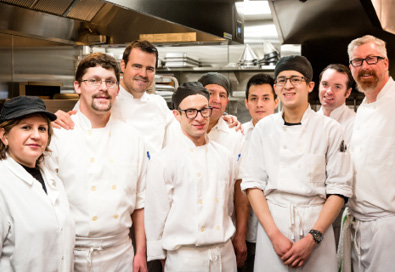 The daily pre-meal briefing with his 15-member service staff is equal parts lecture, Q&A, and pop quiz, and it pays off at the table: the al tavolo servers are knowledgeable, engaged, and engaging.  Discovery and hospitality in equal measure are hallmarks of Magill's pervasive influence throughout the restaurant; he touches every part of the guest experience. Asked where he learned to think like that, Dan replies without hesitation, "It's the chef-owned business model, not just cooking and taking a paycheck." Post-CIA, he worked stages (brief unpaid internships in other chefs' kitchens to gain insight and experience) in some of the great kitchens of New York, eventually landing a coveted spot under superstar Chef Daniel Boulud. It's this same proprietary attitude that fosters a bond of mutual respect between the chef and al tavolo's owners, George Malkemus and Tony Yurgaitis.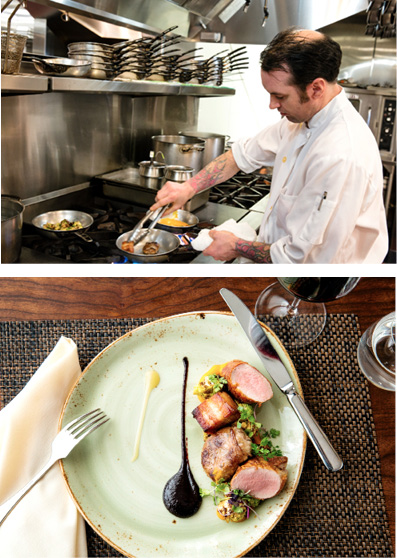 "The kitchen window at al tavolo goes both ways – guests enjoy watching the kitchen while I monitor the dining room," Magill explains. The flurry of orders from the kitchen printer bear time stamps, and the chef knows precisely how many minutes later each course "walked." Occasionally, he notices a guest arriving when the host is away from the front door, and dispatches a staffer to meet and greet. All the while he's actually cooking in the brigade (usually the fish station, a sentimental favorite having grown up on the north shore of Long Island), and setting the pace for his talented team of eleven.

"Hospitality is the entire experience." For Magill, it goes far beyond a well-crafted meal in al Tavolo's unpretentiously elegant dining room. "It's seamless service, attentive and knowledgeable but unaffected, with sincere attention to personal requests." He keeps it real with approachable menu descriptions, avoiding intimidating culinary terminology: seared Berkshire pork tenderloin wrapped in serrano, with sweet potato puree, red cabbage, romanesco, green apple, rosemary. No gimmicks.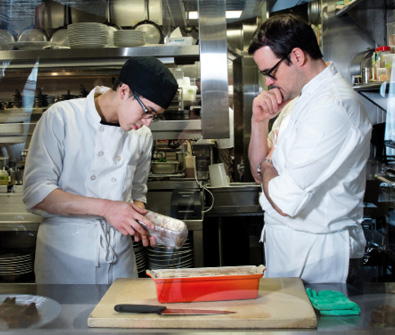 The very directness that makes Dan's cooking so fascinating also makes it hard to pigeonhole. There are certainly international influences from his training and his travels in Spain and France, but it's not ethnically identifiable. Much better, it is highly personal, inventive and genuine.
Such mastery is the essence of professional hospitality, and Chef Magill leads by example, inspiring and cajoling his experienced colleagues while mentoring a young novice who persisted until he earned a chance as prep cook. Ironically, you never learn more than when you're teaching. "There's no radio, no drinking, no cursing. It's all focus."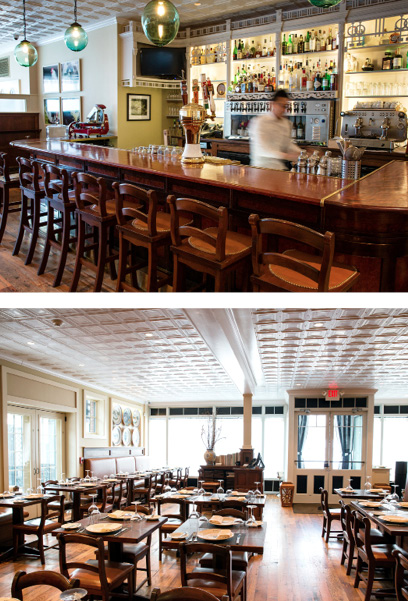 Magill takes pride in his focus at work; he checks his civilian life at the door and gives the restaurant his full attention.  But that compartmentalization seems to go only so far. Asked his secret for stress detox, he confesses he depends on his wife, also a veteran of very sophisticated restaurants, for reflection and counsel. "I come up with a lot of ideas on my day off – quiet time is important." The family recently purchased a home in Bethlehem. "Now we're as local as the food we serve."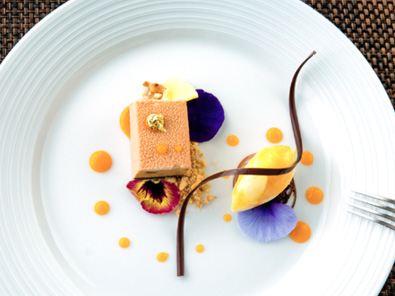 The occasional creative block? "The red flag is when I find myself bored of plating a particular dish. We start bouncing ideas around with cooks and service staff." Trials and variations ensue: one ingredient provides a savory note, but it lacks snap – add some acidity, a pinch of salt. A textural crunch, an aromatic grace note. The new dish is "built" on fertile creative collaboration. Menu changes are driven as much by the emotions of the season as by market availability. "March has a lot of the same feel to the menu as winter: root vegetables, squashes, hearty greens, citrus, and lots of braised meats. I always refer to March as winter's last stand."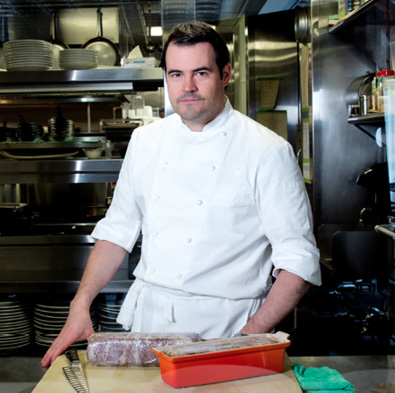 "April is when you really start to see some early spring produce. Ramps are by far the one item that I personally get most excited for. We pickle the bulbs, and serve them with many things from our chicken liver pâté, to garnishing fish, and just about everything in between! The ramp greens are sweated down and turned into a crust for our prime strip; we also bake the greens in tarts with Arethusa Farm cheeses."
Casually observed, it would appear that as Magill imagines it, the dish magically flows from his fingers. In point of fact, he's achieved fluency in his medium that affords him the confidence to cook freely, with originality and artistic intelligence. The chef keeps a kitchen journal full of ideas, formulas, references and influences. He also sketches, often in the margins of the daily menu, developing a visual illustration of a dish simultaneously with its practical evolution in his mind. All his senses are ticking in sync.
Perhaps it's that right-brain/left-brain tension that makes the process – and the product – so compelling. Discipline and inspiration. Imagination and order. Dan Magill wouldn't want us to notice. Just sit down and enjoy the meal.
Arethusa al tavolo
828 Bantam Road
Bantam, CT 06750
860.567.0043
[email protected]
Winter hours are:
Thursday: 5:30 – 9 pm
Friday & Saturday: 5:30 – 10 pm
Sunday: 5 – 8:30 pm
Saturday & Sunday Lunch: 11:30 am – 2 pm
Parking is conveniently located behind the Arethusa Dairy Store off of Doyle Road.
Bill Fore is the former owner of County Wine and Spirits. Since his departure from County Wine, Bill has been writing, working part time at the Hickory Stick Book Shop, and training his dog. See our past article about Bill Fore HERE.