Lakeville Poet Helps Troubled Girls Through the Written Word
By Joseph Montebello
For Sharon Charde writing has been the ultimate healer. Many years ago her teenage son fell to his death in Rome during his junior year abroad. She was at home and felt totally helpless. It is a loss she carries with her to this day. Putting words to paper and writing poetry has helped her through the pain, which is ever-present to this day.
"The fall after Geoffrey died, my older son had left to start a new life in Boston," Charde explains. "I was left as a mother whose services and attention were no longer needed. I had a career as a practicing psychotherapist, but I was lost. I began attending various writing conferences with some amazing teachers and learned how to craft poetry."
Charde is not a poet who likes to write alone in a garret. She likes people and loves to share ideas. So she started a writing group for local women and while that enabled her to share her writing, she felt she needed something else.
"I really didn't know how lost I was," says Charde. "I was stuck in the morass of complicated grief. I couldn't let go of Geoff. When you lose someone you love, it seems like loyalty to hold on to your grief. It gets into your bloodstream and it never goes away."
One day while visiting Wisdom House Retreat and Conference Center in Litchfield, Charde remarked to Sister Jo-Ann Iannotti that she wanted to work with the incarcerated—perhaps helping them through writing to gain confidence and start on a new path. Iannotti responded immediately and suggested going to Touchstone, a facility for delinquent girls, which happened to be just across the street.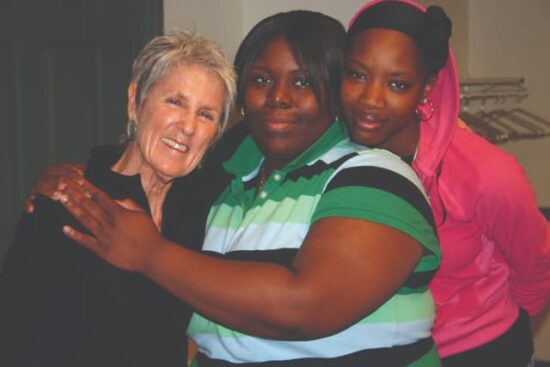 "I spoke to the director and explained what I hoped to achieve and she agreed to give me a chance. I would present ideas to the girls and ask them to write something. There were 25 girls, so I did it in two sessions and had no idea what to expect," says Charde.
The girls were at the facility for various reasons, from prostitution to theft to drug-related issues and assault. Many were still in their teens. After a period of some skepticism, they took to Charde and wrote from the heart and shared their stories. Not all of the pieces were poetry but Charde was so grateful that they were attentive and in tune with her mission.
Charde taught at Touchstone for ten years and kept notes on the sessions. In 2005 she published an anthology of the girls' work. Now she has taken her experiences a step further and written I Am Not a Juvenile Delinquent: How Poetry Changed a Group of At-Risk Young Women. It is Charde's story as well as theirs—her unflinching loyalty and belief in what these girls could do if given a chance.
"I want people to know about these girls—their humanity, their gifts, to see what they can offer the world, without the cruel labels assigned to them by society," says Charde. "These young women saved me. My gratitude for them is immeasurable and my book is a small expression of that gratitude."